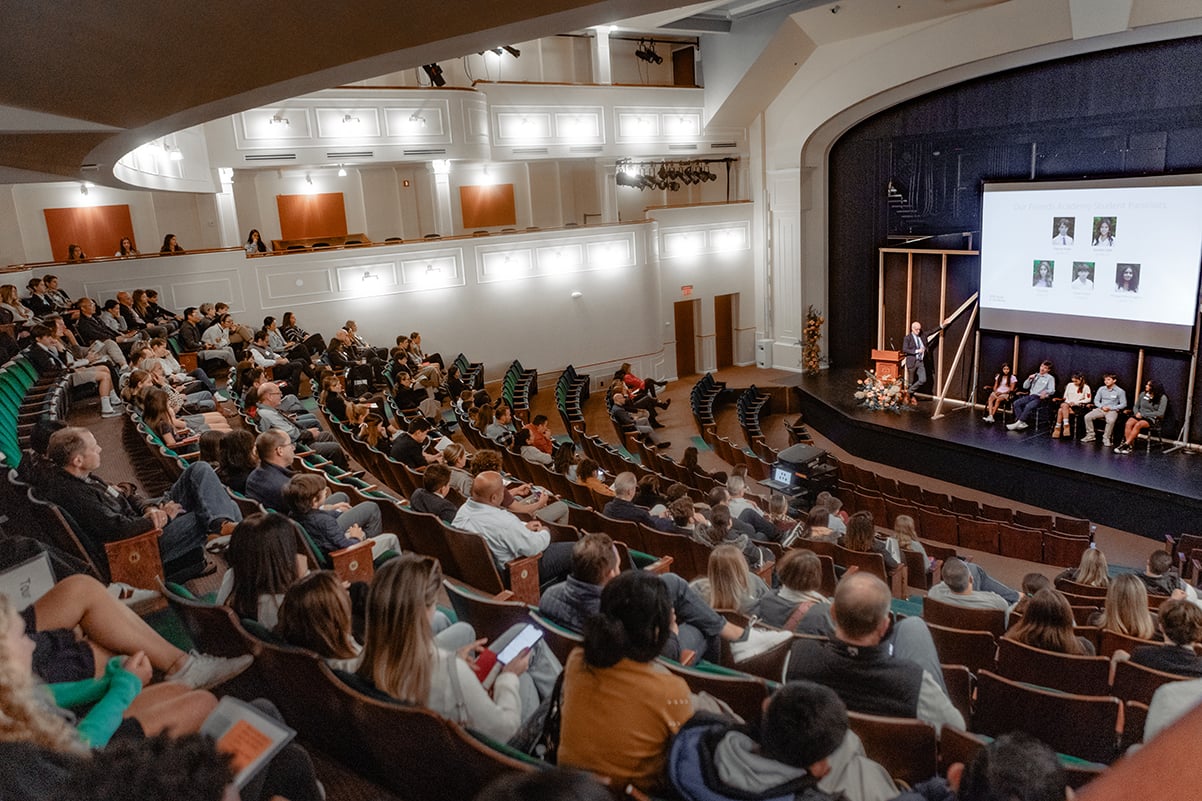 Over 200 hundred interested visitors attended Friends Academy Upper and Middle School Open Houses on Tuesday, Oct. 24 and Wednesday, Oct. 25, as they heard from school leadership to student panels about the unique differences present in a Quaker school educational experience.
"What has been proven for almost 150 years here is the connection between Quakerism and achievement, Quakerism and confidence, and Quakerism and depth of understanding," remarked Head of School Paul J. Stellato. "At a Quaker school, you sacrifice nothing and gain everything," he added.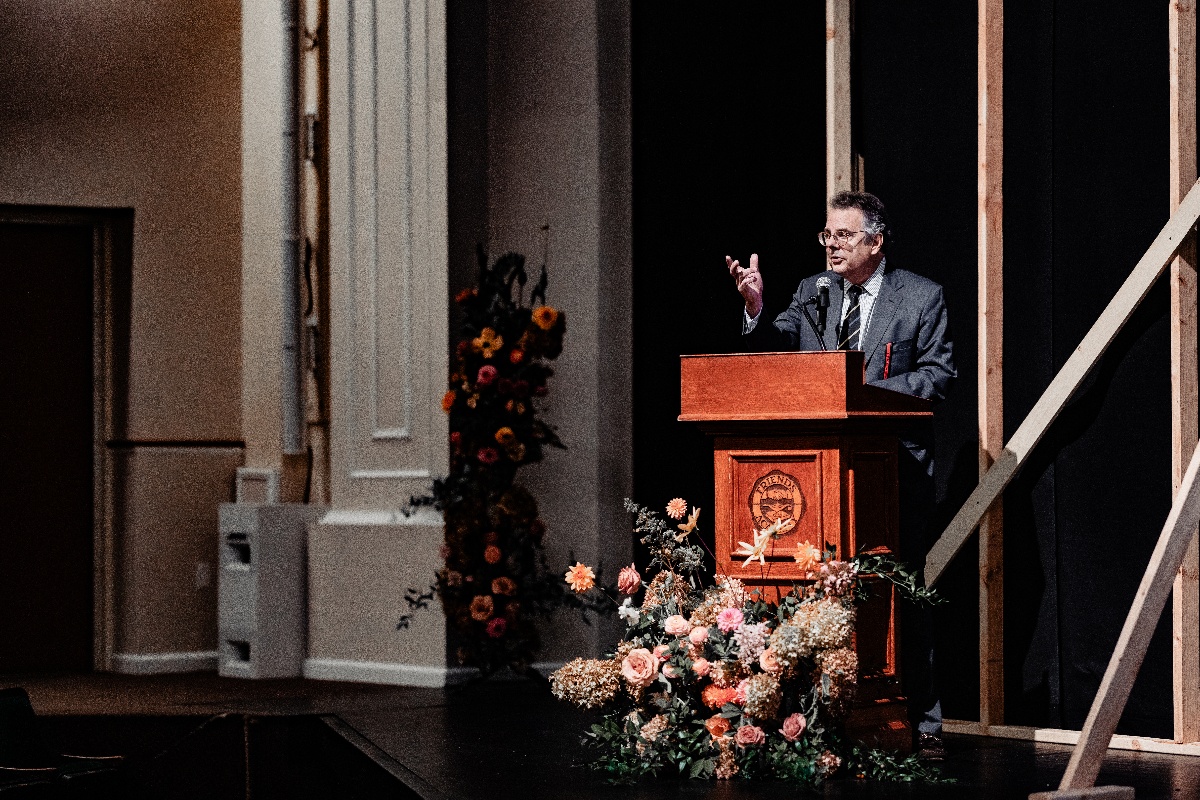 Head of School Paul J. Stellato addresses Open House attendees in the Helen A. Dolan Center Theater and in front of the school's set for its upcoming immersive production, Wake.
Director of Admissions and Financial Aid Taisha Thompson recounted her own personal journey with Quaker schools and spoke to the transformative experience that both a student and family can have. "When I was 14, my parents ended up giving me the greatest gift – a Quaker education," she said, urging visitors that it is not only important to feel the school, but also to hear from students and faculty.
Mrs. Thompson also highlighted the school's commitment to affordability and accessibility. "We know this is extremely important," said Mrs. Thompson. "Parents are making sacrifices and we have a thoughtful financial aid process that we will help you through."
Parents/caregivers and students at both Open Houses were able to meet and listen to divisional principals (Upper School's Mark Schoeffel and Middle School's Christine Saunders) as they highlighted the opportunities present to enrich a student's cognitive and emotional spheres, as well as their spiritual humanity.
"Friends schools are committed to helping young people come closer to truth," shared Mr. Schoeffel. "In Quakerism, this is sometimes referred to as 'the light'; and we believe that each person... each student has this light."
The Open Houses featured nine students who spoke of their experiences – from life-long Friends Academy members to one who had just joined the community last year. Transformative relationships with their teachers were pivotal themes for all students. "I was terrified of failure," revealed senior Dylan Shore, "because, then, I thought that high school was all about getting into college. I failed a math test and I was too scared to go to my teacher, but then I made the decision to get extra help. That's when I discovered that all my teacher cared about was seeing me succeed," he said. "Now I'm in Calculus AB... and I'm not afraid of failure anymore," Dylan finished, adding that he wants to major in math at college and ultimately earn his Ph.D. in order to teach university-level Physics.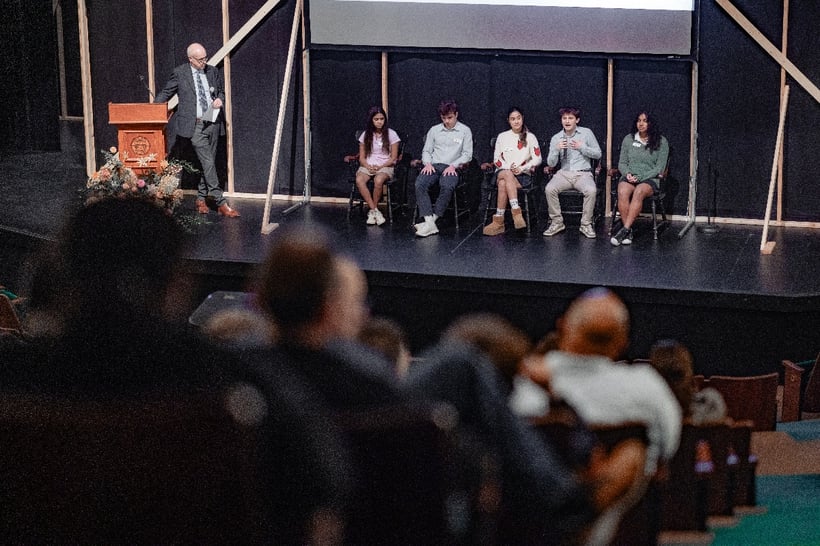 As Friends Academy's 25th and newest Head of School, Mr. Stellato connected his own hopes in choosing a new school to the hopes of attending families. "The quality of a program is critically important. I wanted to come to a school that valued the life of a mind. And I found it here."
As a Quaker school, Friends Academy is also committed to teaching students to use the life of their mind to give back and better the communities and world around them. This concept is crystallized in the Quaker saying, "Let your life speak." In her remarks, Mrs. Saunders pointed out that three pathways exist within the Middle School program to make this happen – a culture of leadership; active practice of the skills of Community and Stewardship; and providing unique and singular opportunities.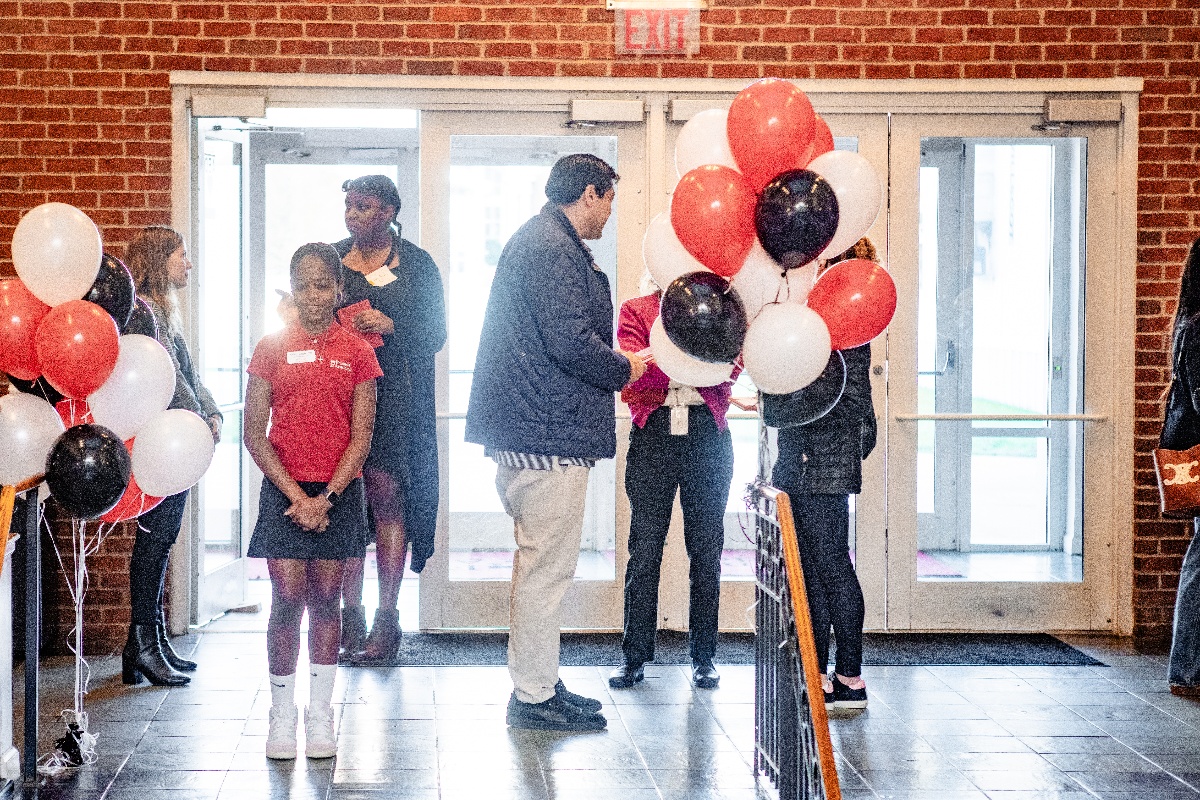 "In our 8th grade Entrepreneurial Studies class, our students are working with their non-profit client, MOMMAS House, a local Glen Cove neighbor, who provides housing and support to young homeless mothers. In small groups, they are collaborating in order to improve the center's daycare transportation system and ultimately improve the lives of the moms that this organization supports," explained Mrs. Saunders, adding that students will be presenting their solutions to the Executive Director in a week's time.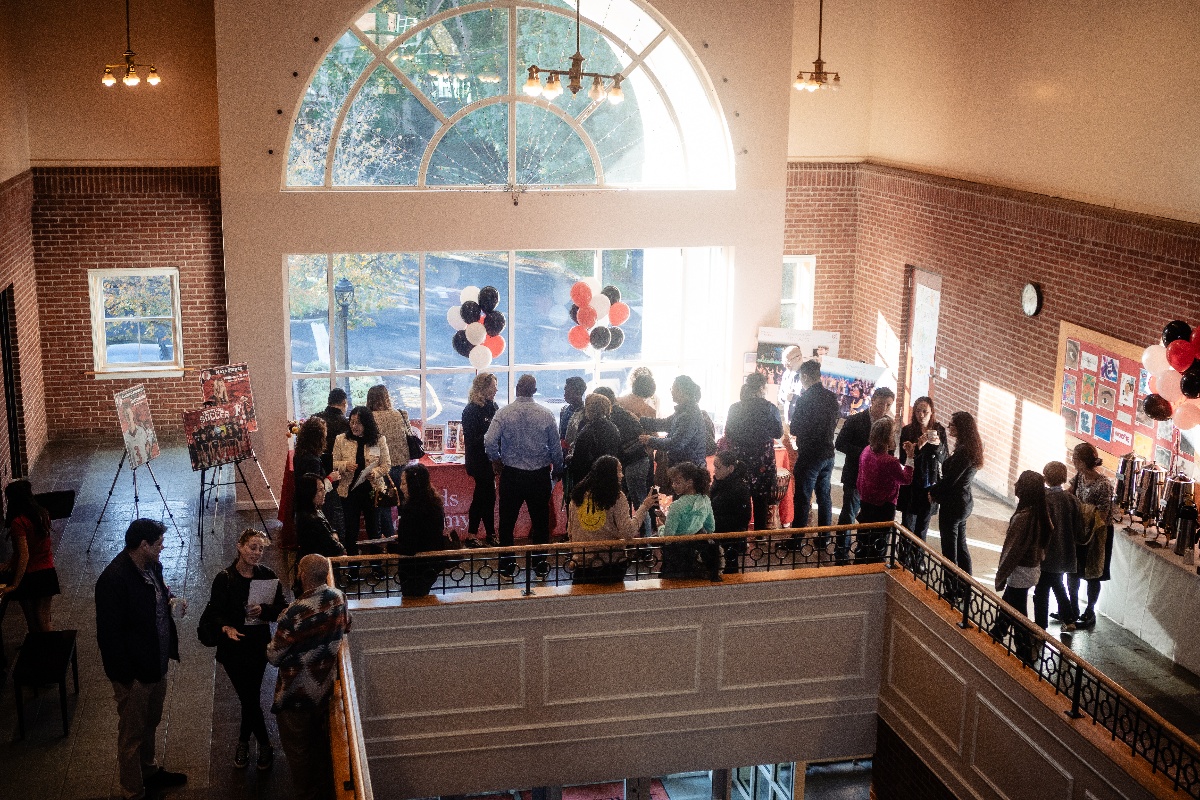 Opportunities and access are key components to a Friends Academy education, as Director of Arts Andrew Geha and Director of Athletics Dr. Diana Parente underscored. "In Middle School, we want you to try everything," invited Mr. Geha, who also spoke about the upcoming immersive production, Wake in the Upper School (running Nov. 2-4). "This is a devised experience, in which our students are helping to co-create; where we will invite audience members to join us inside the set and up on the stage," said Mr. Geha.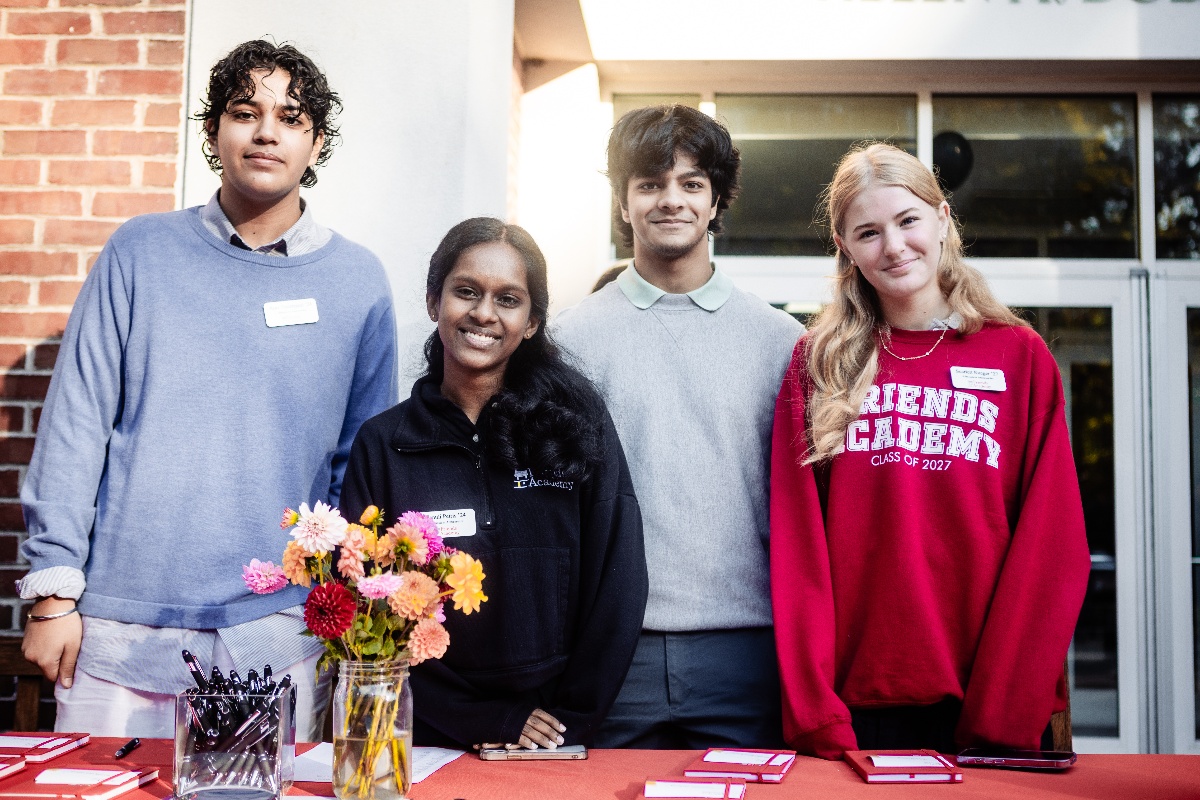 If academic programs teach students about the world around them, Friends Academy co-curriculars of Arts and Athletics "teach you about yourself," Mr. Geha further shared. The Quaker values of Community run deep through Athletics programming. "Winning is not the sole purpose of sports," Dr. Parente underscored. "Athletics is where we unite community and integrity and one wonderful example of this is our annual Lower School Sports Clinic, where our Varsity athletes work in a mentoring environment with our younger students." This process, undergirded by Quaker practice, has led to a high level of Friends Academy athletes who compete at the collegiate level. "Last year, 14% of the senior class was recruited to play at the collegiate level; this year we are tracking to 15 or 16%. Most schools are at 3 to 5%," said Dr. Parente. As the only private school to compete in the Section VIII public school league, that distinction leads to added recognition. "This fall we've had seven athletes who have been selected as either Newsday's Top 100 or Top 50."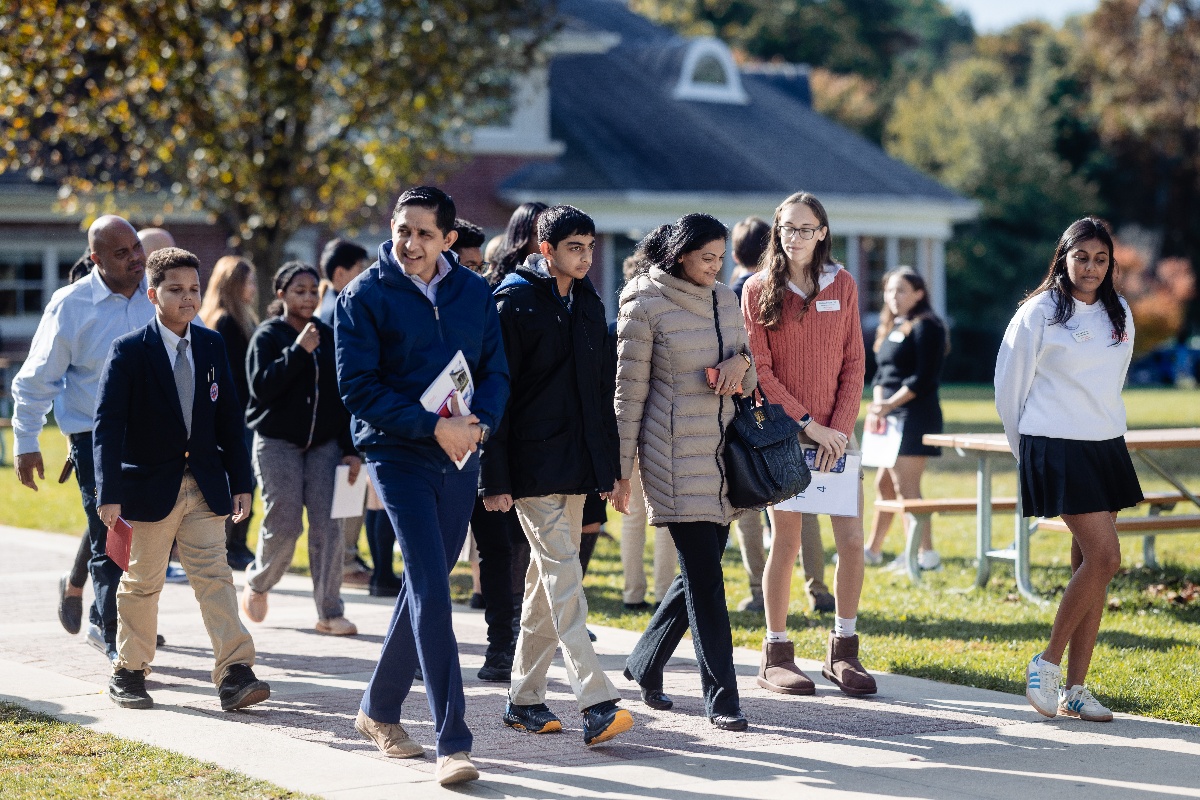 Director of College Counseling Edward Dugger shared his thoughts about today's competitive college process and the role that Friends Academy can play. "What has kept me here for 27 years is my belief in this institution and the power of this institution to transform individuals," began Mr. Dugger. "The college search is about finding that right fit – what the institution can do for you, but most importantly what you can bring to the institution; in essence, we and they will ask you how have you let your life speak."
Friends Academy application deadlines
Dec. 15 – Early deadline (Notification by Jan. 15, 2024)
Jan. 15 – Regular deadline (Notification by Feb. 15, 2024)
Apply to Friends Academy for the 2024-25 school year.
Photography by Alvin Caal/Friends Academy