Our programs offer engaging and hands-on activities that will give participants the opportunity to learn, socialize and have lots of fun
Make Memories That Will Last a Lifetime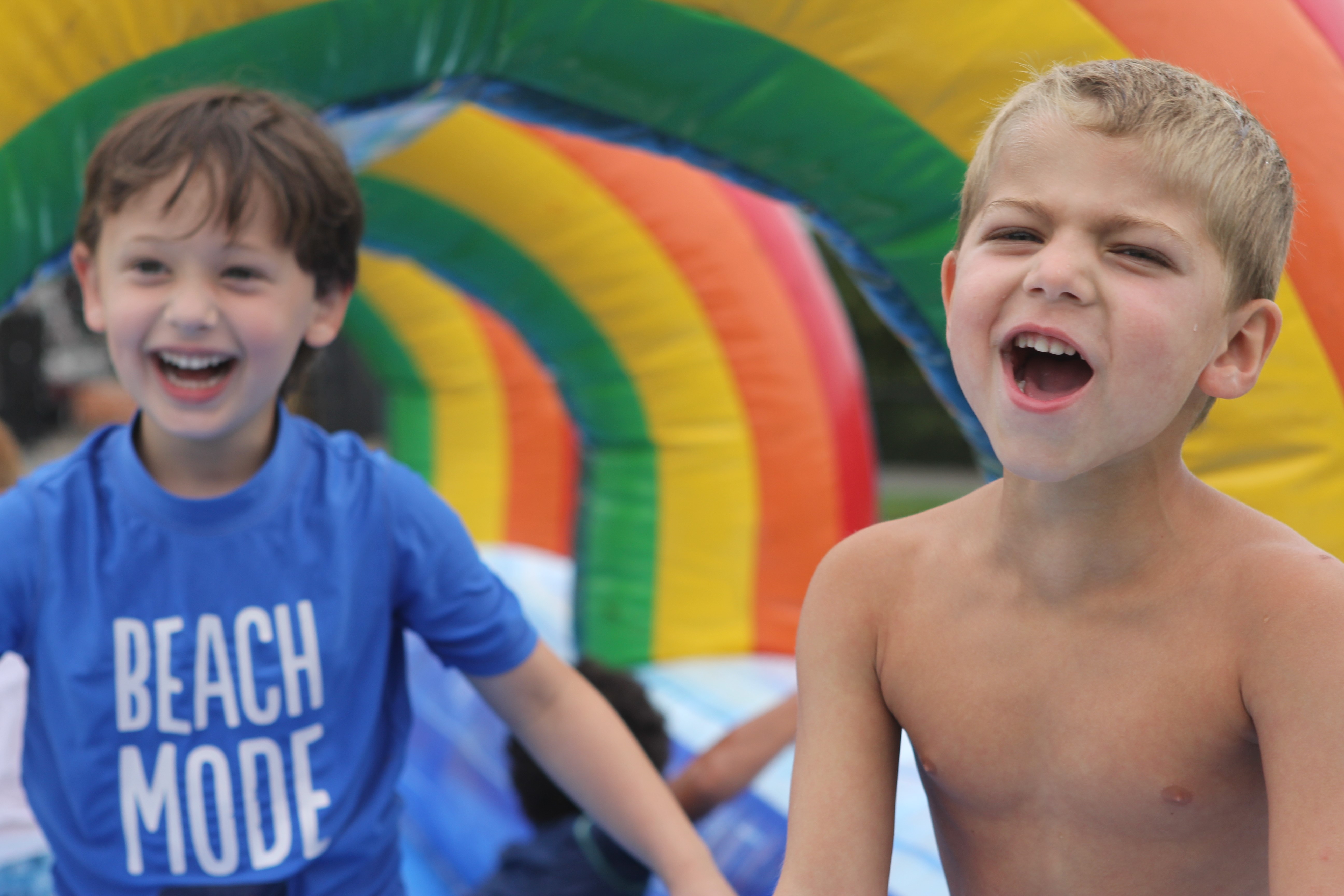 #BestSummerEver
Our program begins Monday, June 27, 2022 and ends Friday, August 12, 2022. Our flexible program allows families to register for the weeks that they prefer.
Each week we will offer engaging and hands-on activities that will give participants the opportunity to learn, socialize and have lots of fun!
Classes will be taught by Friends Academy faculty/staff members and industry professionals.
Registering for Summer Programs
Registering for the first time? Click here.
Have registered for a summer program before? Click here.
Our Explorers Program is tailored toward children age 3 + and/or will enter Pre-k through - Grade 2 (Fall 2022).
Our ratio is 4:1, children to adults.
Each week children will participate in age-appropriate, sensory rich, theme-based activities in addition to daily sports, outdoor play, and swimming. A calendar of events will be provided. Lunch and snacks are included in tuition. Click here for a PDF of our weekly themes.
Parents whose children are 3 to 5 years old may register for either a full day or a mini day which ends at 1:30pm. Mini Day participants may opt for transportation in the morning but must be picked up by a parent/guardian at 1:30pm each afternoon.
2022 Weekly Themes:
Week 1: Summer Spirit
Week 2: Amazing Races
Week 3: Animal Planet
Week 4: Under the Big Top
Week 5: Passport to Fun
Week 6: Wonders of the World
Week 7: The Great Outdoors
2022 Explorers Weekly Themes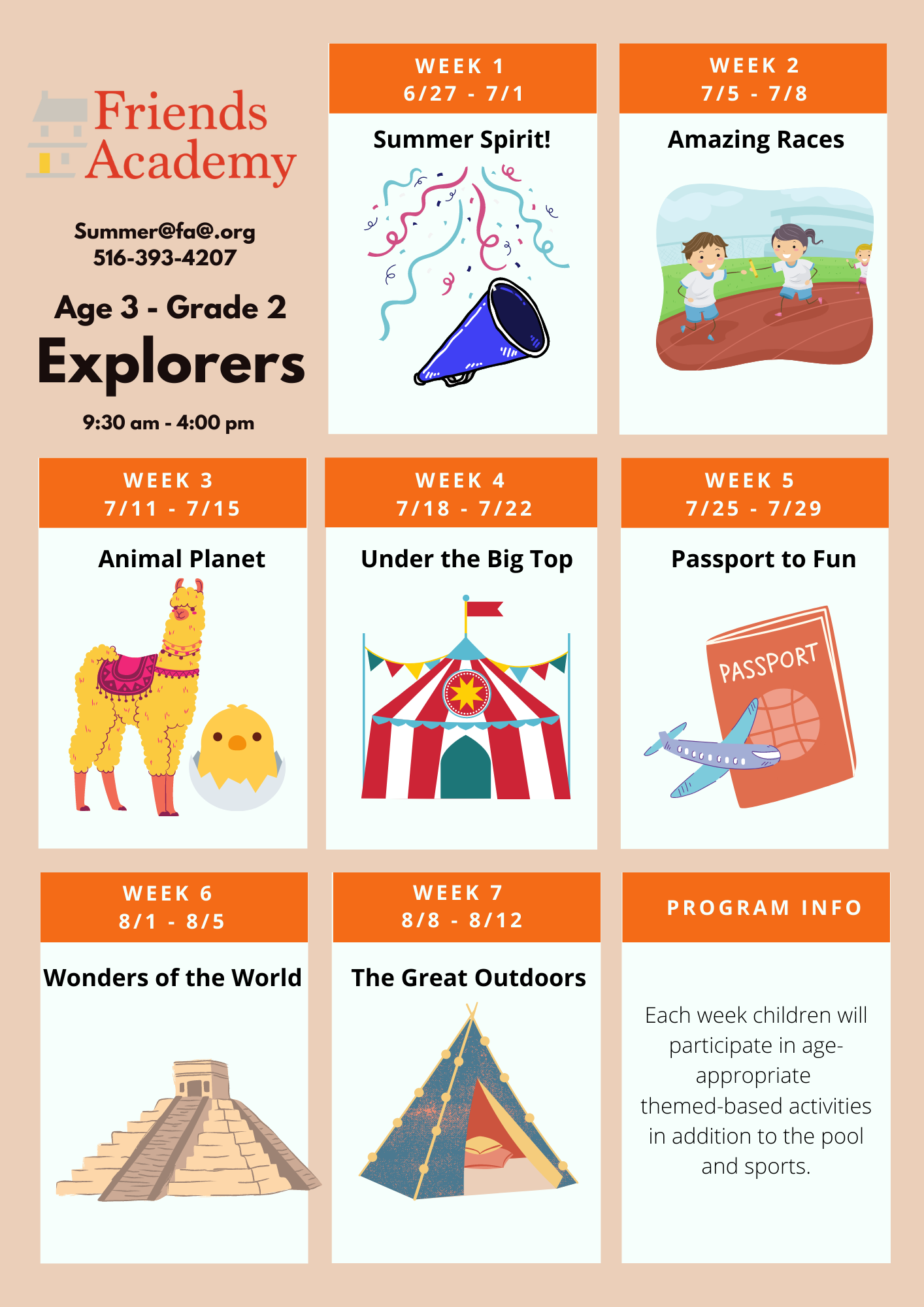 2022 Sample Schedule
Time & Activity
Children move through a a variety of programs engaging activities throughout the day. Click here for a PDF or look below for a sample schedule.
9:30am - 10:15am – Morning Gather & Play
10:15am - 11:00am – Fun & Creative
11:00am - 11:45am – Lunch
11:45am - 12:30pm – Instructional Swim
12:30pm - 1:15pm – Outdoor Play
1:15pm - 2:00pm – Learn & Explore
2:00pm - 2:45pm – Free Swim
2:45pm - 3:30pm – On the Move!
3:30pm - 4:00pm – See You Later Alligator!
Request More Info About Our Explorers Summer Program
Our Trailblazers are children entering Grade 3 - Grade 6, Fall 2022.
Each week Trailblazers select a program of choice! Trailblazers receive a morning and afternoon session in their program of choice of each day.
Courses will have a capacity of 16 participants with the exception of some sports programs. Click here for a PDF of our courses from Summer 2021. Click here for an overview of programs by week.

2022 Sample Schedule
Time & Activity:
9:30am - 9:40am – Morning Meeting
9:45am - 11:25am – Specialty Class
11:30am - 12:00pm – Lunch
12:05pm - 1:30pm – Swimming/Outdoor Games
1:45pm - 3:30pm – Specialty Class
3:40pm - 4:00pm – Wrap-Up & Dismissal
Request More Info About Our Trailblazers Summer Program
What are the dates for the 2022 Season?
Monday, June 27th through Friday, August 12th.
We are closed on Monday, July 4th.
What are the ages of children who attend Friends Academy Summer Programs?
Our Explorers Program is for children Age 3 – Grade 2 (Fall 2022).
Our Trailblazers Program is for children in Grades 3 – Grade 6 (Fall 2022).
Will my child have to wear a mask?
At this time, we will require all children to wear a mask next summer. Children will be allowed to have a "mask break" if needed and will not wear a mask during lunch and snack time.
What is your COVID-19 Plan?
We will be following a plan similar to the one that we are currently utilizing during the school year. This plan includes: wearing masks, temperature checks prior to the start of the day, families completing daily COVID survey on App, frequent hand-washing, cohorts of no more than 12 students, sanitizing surfaces throughout the day and social distancing when possible.
Will my child be outside all day?
While we love for our children to enjoy the great outdoors, we understand that sometimes the heat can become unbearable. All of our classrooms have central air conditioning. All children will have daily indoor and outdoor time.
What are the hours of a typical day and is transportation included?
Our day runs from 9:30 am - 4:00 pm. Transportation can be added on to your summer tuition at the rate of $75 per child/per week. If you opt for transportation, your child will be picked up between 8:00 and 9:15 am. Parents can drop off children after 9:15am and pick up by 4:00pm.
We provide air-conditioned transportation by professional drivers. All of our drivers are CDL certified and have background checks completed. In addition, each vehicle has a bus counselor. Bus counselors ensure safety, know all of the children by name and make sure our bus rides are an extension of our fun-filled day.
Do you offer swim instruction?
Our swim program is an important part of our children's day. We provide two (2) swim sessions daily for our Explorers. One session is with swimming instruction in accordance with the American Red Cross Swim Levels. Each child has small group instruction every day with the same swim instructor to ensure that the child feels safe and secure. Children also are scheduled for recreational swim. For our Trailblazers, swimming instruction is optional and by request only.
Do you offer lunch?
Our all-inclusive program includes a lunch for every child.
We offer hot meal choices, plain pasta, sandwiches, fresh fruit, and snacks on a daily basis. All children are offered Gatorade, water, ice tea, lemonade, and milk daily. All children receive a snack in the afternoon. We are well equipped to handle picky eaters and any food allergies! We are a nut-free facility.
Is there a nurse on campus?
We have a Registered Nurse on campus. Coaches and head staff are trained in first aid and CPR. We also have AED machines located throughout our campus.
How many children/staff members will be in my child's group?
Our Explorers Program as a ratio of 4 to 1 ratio of children to counselors. There is a maximum capacity of 16 students per group.
Our Trailblazers will have a ration a 8 to 1 ratio of children to counselors. There is a maximum capacity of 16 students (indoor program) and 24 students (dance and sports) per group.
Who instructs each activity?
Our Explorer Program will be led by Group Leaders. Our Group Leaders are professionals in the field of education who have extensive experience in Early Childhood Education and/or Youth Development Programming and will be responsible for teaching each activity. Group Counselors are active participants and remain with their children the entire day.

Our Trailblazer Program will be led by Specialty Instructors. These are individuals are often teachers, coaches or professionals in their particular field.
What happens if it rains?
Rainy days at Friends Academy rarely effects our daily schedule because of our facilities. All of our indoor activities can still run and we have plenty of additional indoor space to program great activities! Please make sure to dress your child with a waterproof jacket in case of inclement weather!
We are very fortunate to have indoor facilities for many of our sports, while our camp field house provides additional space for sports activities to continue due to inclement weather. We have a set schedule for field house time during bad weather and set aside large classrooms for video and classroom instruction. We ask that each camper be prepared for the weather as we will play during light rain as we examine daily the safety of the field for playing.
What do I need to send my child with every day?
We recommend that every child brings a bathing suit (towel service is provided). We supply water and Gatorade stations throughout the campus with cups but children are welcome to bring a refillable thermos.
Can my child change programs if he/she doesn't like the activity or originally chosen?
Although we intend to explore the reasons for wanting to change a program, our main goal is to make sure each child is happy with their summer experience. We provide the opportunity to switch before the session begins if your child is not satisfied with his/her choice. Switching is always based on availability while providing minimal disruption to the existing program.
How can I find out more about Friends Academy Summer Programs?
Please contact our office to schedule a private tour or to ask questions. Our staff is available to answer your questions by calling 516-393-4207 (Monday - Friday) from 9:00am - 4:00 pm or you can email Summer@fa.org
Summer Staff Application
Friends Academy Summer Programs has provided amazing summers since 1969. What makes our programs so special is our phenomenal staff!
If you are interested in joining our staff this season, please complete and submit our Staff Application Form. If your skills and experience fit our needs, you will be notified and scheduled for an interview.