This treasured tradition is a highlight of each new school year, where we celebrate what makes our Quaker school community special!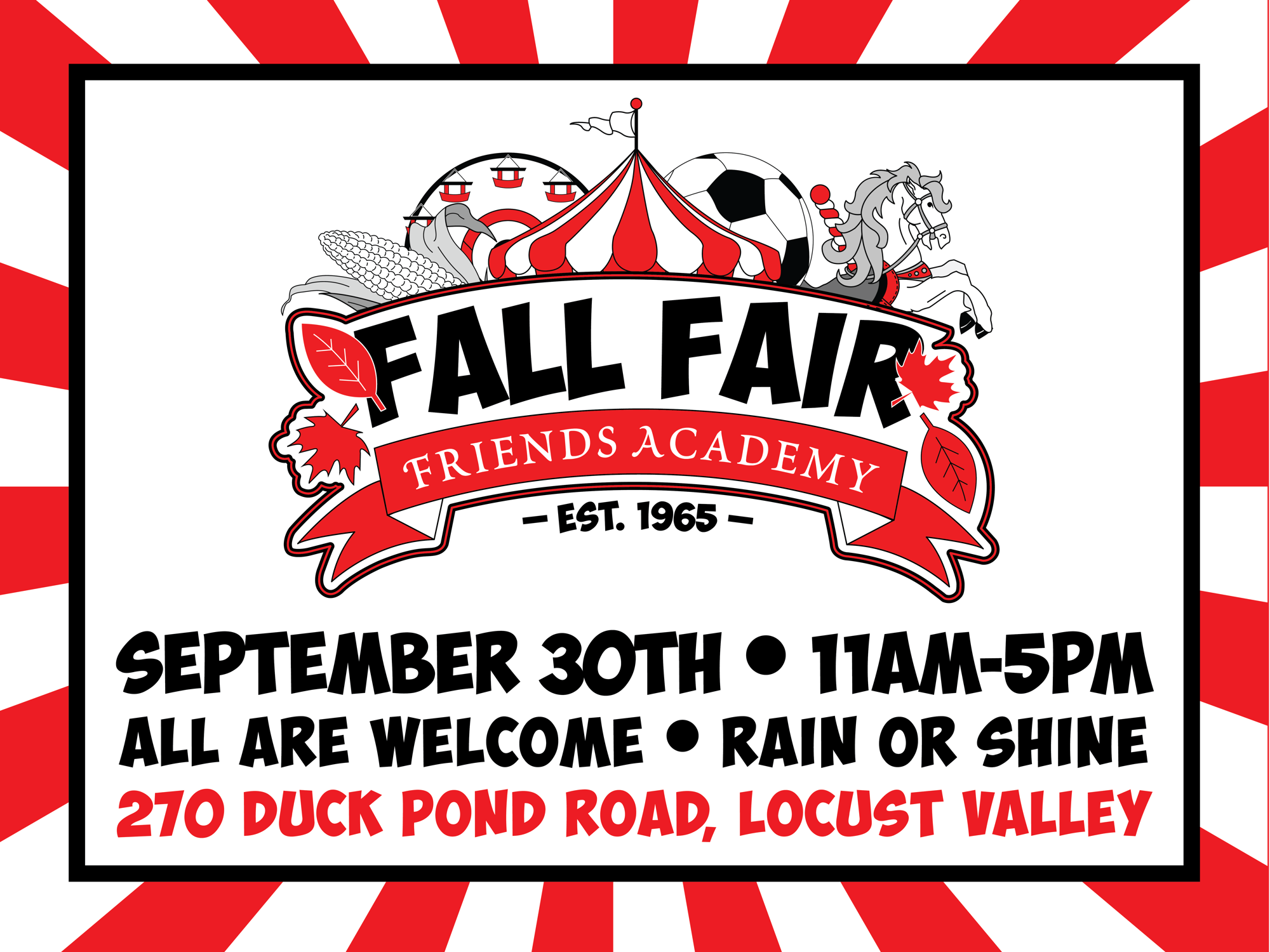 Volunteer!
Are you excited about Fall Fair?
We are!
There are still opportunities to volunteer at one of our activity or food booths. Sign up for a 2-hour shift today!
Each year, Fall Fair, one of the year's largest events, brings together faculty and families from all over the school for a day of fun, food, games and sports.
To make it all happen, we need you!
Please consider donating a small or large chunk of your time; everyone is welcome and it's a wonderful place to get to know new parents and connect with old friends.
Activities for All!
Thanks to our Friends Academy families who will be hosting Carnival Games, Arts and Crafts, and other fun activities for children of all ages.
RIDES
Newton is back and we will have all of our favorite rides including all of our favorite rides for all ages including the Pharaoh's Fury, Super Slide, Cliff-hanger, Tornado, Happy Swing, Dizzy Dragon, and the Sizzler, to mention a few.
When you arrive on Saturday, stop by the Ticket Booth located near the rides to pick up your bracelets.
CALLING ALL FOODIES
Our parent-hosted food booths will be on campus all day. Sample specialties from around the world. Leave room for dessert because Ice Cream is on the menu! We promise you won't go home hungry!
STUDENT BOOTHS
Friends Academy Student Clubs and Committees will be on hand to show their FA spirit and promote the important causes that are meaningful to them.
Stock up on FA Wear
Show your FA spirit and browse a generous collection of FA T-shirts, hats, sweats, jackets, and more.
Merchandise will be available September 20-22 and all day during Fall Fair!
Go Quakers!
Get your game face on and cheer on our JV and Varsity teams.
Friday
Girls Tennis – 4:45 pm
Field Hockey – 4:45 pm
Saturday
Boys Soccer – 12 pm
Football – 2 pm
Girls Soccer – 2 pm
Brian J. Hom Memorial Run/Walk
8:30 am Registration, 9:00 am Race
Suggested donation $10
All donations benefit the Brian James Hom Scholarship at Friends Academy:

Established in the spring of 2011, the Brian James Hom Scholarship honors students who embody Brian's qualities and live according to his motto, "I am the me I choose to be" as coined by Sidney Poitier. Brian, Class of 2011, left a lasting impact on all who knew him through his passion for social equity and justice, innate generosity and personal warmth, wonderful sense of humor and smile, and unparalleled commitment to excellence as a runner and a scholar.
Parking
Parking will be available on campus.
Satellite parking is available at St. Patrick's Church until 4 pm.
Shuttle Buses are available between the Middle School and St. Patrick's Church. Police and our parking attendants will assist with parking during the fair. For the safety of our families and visitors, please follow directions when you arrive on campus.
Directions to St. Patrick's Church (from Friends Academy)
Travel west on Duck Pond Road for 1 mile (away from Piping Rock, toward Glen Cove).
Cross the railroad tracks and make a left at the first light.
Go 1/10 of a mile and make a right into the St. Patrick's parking lot.
Follow the Fall Fair Parking signs to the parking area.
No parking permitted: Please do not park on Duck Pond Road, Piping Rock Road, or in the Meeting House parking lot on Friday or Saturday
.
Parking for Athletic Games
If you are dropping a student to attend the Fair or to participate in one of the games scheduled for Saturday, please do so in front of the Middle School and then proceed to park your car if you plan on staying for the day.
Welcome Home Alumni!
Saturday, September 30, 2023
Reconnect with friends and make new memories, all while getting back to the familiar sights and sounds of fall at Friends Academy. Make your plans to join us for this annual tradition!
ALUMNI CO-ED SOCCER GAME, 10:00 AM
Turf Field
MEETING FOR WORSHIP, 10:30 AM
Matinecock Meeting House
FALL FAIR 11 AM - 5 PM
Come together to cheer on FA Athletics, enjoy crafts, rides, games and fabulous food. Bring the whole family to catch up with friends–old and new!
GIDEON'S GUARD LUNCHEON, 12:30 PM
All alumni who have celebrated their 50th Reunion (Class of 1973 and older) are invited to this annual luncheon. Guests are required to RSVP to Director of Alumni Relations, Jodie Sperico at jodie_sperico@fa.org.
CAMPUS TOURS 2 PM
Learn more about FA's rich history with a walking tour of our beautiful campus
HOMECOMING RECEPTION 3:30 to 6:30 PM
All alumni are invited to gather under the Alumni Tent for food, drinks, and music to mark the end of another amazing Fall Fair!
Special reunion celebrations are planned for classes ending in "3" and "8." Visit fa.org/alumni for more information and to connect with your class representatives.