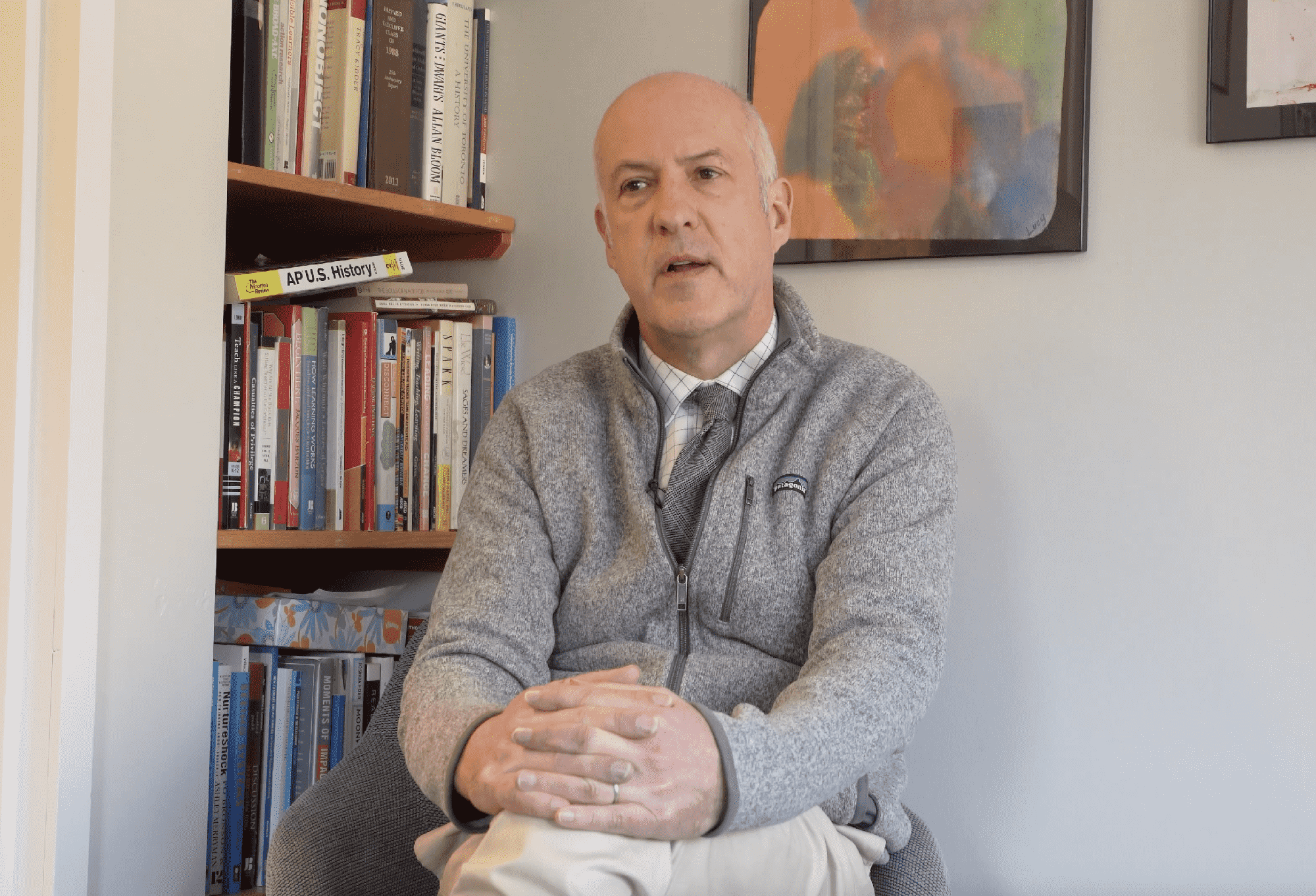 "At Friends Academy, our exceptional college preparatory program, rooted in inclusive humanities and innovative sciences, springs to life through rigorous discourse and dynamic inquiry. As our students learn to ask more meaningful questions, we dare them to look beyond themselves."
–Mark Schoeffel, Upper School Principal
Twenty-three students from the Upper School spent...
Welcome to
Upper School (Grades 9-12)
Friends Academy students step fully into their potential as they enter the Upper School. Students consider and prepare for their futures as they inquire, reflect, and engage.
We believe each student has inherent goodness and that greater truth can be found when we seek deeper awareness in ourselves. Throughout the journey of a Friends Academy education, students become active listeners who are increasingly responsible for their learning and their world. Each Upper School student is empowered by the adage "Let your Life Speak," spurring graduates to lead purposeful lives of excellence, integrity, equality, and service.
Upper School Lens: Video Stories
Student Advising
Academic and social support every step of the way
All Upper School faculty have a direct role in formal advising. In Advisory, students share ideas and express their interests and concerns in an environment with a supportive adult and other students.
The student's advisor facilitates communication between the student and others in the school community and provides academic and social guidance. Students learn to communicate effectively with others, form networks, and self-advocate, as they develop independence and ownership of their learning.
Our Quaker Approach in Upper School
Our Quaker school is a community of ongoing inquiry and reflection. Students are encouraged to be seekers, deepening individual and collective awareness. As we cultivate curiosity and they explore diverse thoughts and perspectives, our students become active questioners responsible for their learning. Students begin to see possibilities and approach challenges as opportunities, resisting singular answers as they recognize complexity; they start taking risks and trying new approaches to explore their evolving questions and interests. As learning happens when students actively construct ideas and test approaches, Friends students collaborate and interact directly with relevant materials to uncover new ways of thinking about issues of importance for their lives.
English
In the Friends Academy
English
Department, students develop the ability to think clearly, read thoughtfully, communicate effectively, and listen intelligently.
Our students learn to think and re-think, write and re-write. Through individual conferences and group workshops, students develop and refine their individual voices. By formulating and defending well-honed arguments, our students deeply explore what they learn and evaluate why it matters. Our students cultivate a variety of writing and analytical skills – literary, rhetorical, and personal – while also developing the visual literacy necessary to be savvy consumers of modern media
The English Department has deliberately chosen to balance our reading of foundational works with contemporary ones, as we strive to better live our Quaker values of equality and diversity. We encourage students to appreciate literature as a record of human thought and spirit through the ages, as well as understand it as a source of pleasure. We want students to emerge from our program with clearer perspectives about conflicting ideas in both the past and today's world.
History
The Friends Academy History department champions historical inquiry and the way historians themselves study history, forging a curriculum that is global in scope, inclusive in content and culturally responsive in practice.
At Friends Academy, students engage in the work of historians, marshalling evidence-based arguments in their written and oral work, delving into thoughtful research papers and discussions, and reflecting critically on learning experiences. Students wrestle with competing interpretations of the past, exploring primary sources from a spectrum of historical voices and developing skills in articulating their own critical conclusions.
We employ the Harkness Method, enabling students to engage with others in meaningful discussions, guided by principles of civil discourse. Students bring their diversity in thought, perspective, and experience to reflective conversations on topics that matter.
This student-centered, inquiry-based approach is anchored by dynamic and global curriculum, preparing our students for enlightened, active citizenship in the world beyond the classroom.
Mathematics
In the Upper School program, students become fluent in the language of Mathematics, communicating their thinking clearly and using a variety of strategies and techniques to approach problems authentically. They learn to see problems in multiple ways, and to evaluate and use many different techniques to approach problems flexibly.
Students increase their awareness of problem solving, promoting their appreciation of different applications, and providing a solid foundation for further study in mathematics. Our curriculum provides relevant, multidimensional learning experiences with special emphasis on the processes of mathematics. Because we focus on fluency and understanding process, math students at FA have more agency over their own journey towards understanding. We also foster a growth mindset in our students, and encourage them to seek out challenge at every level, from Algebra 1 to Multivariable Calculus, and everything in between.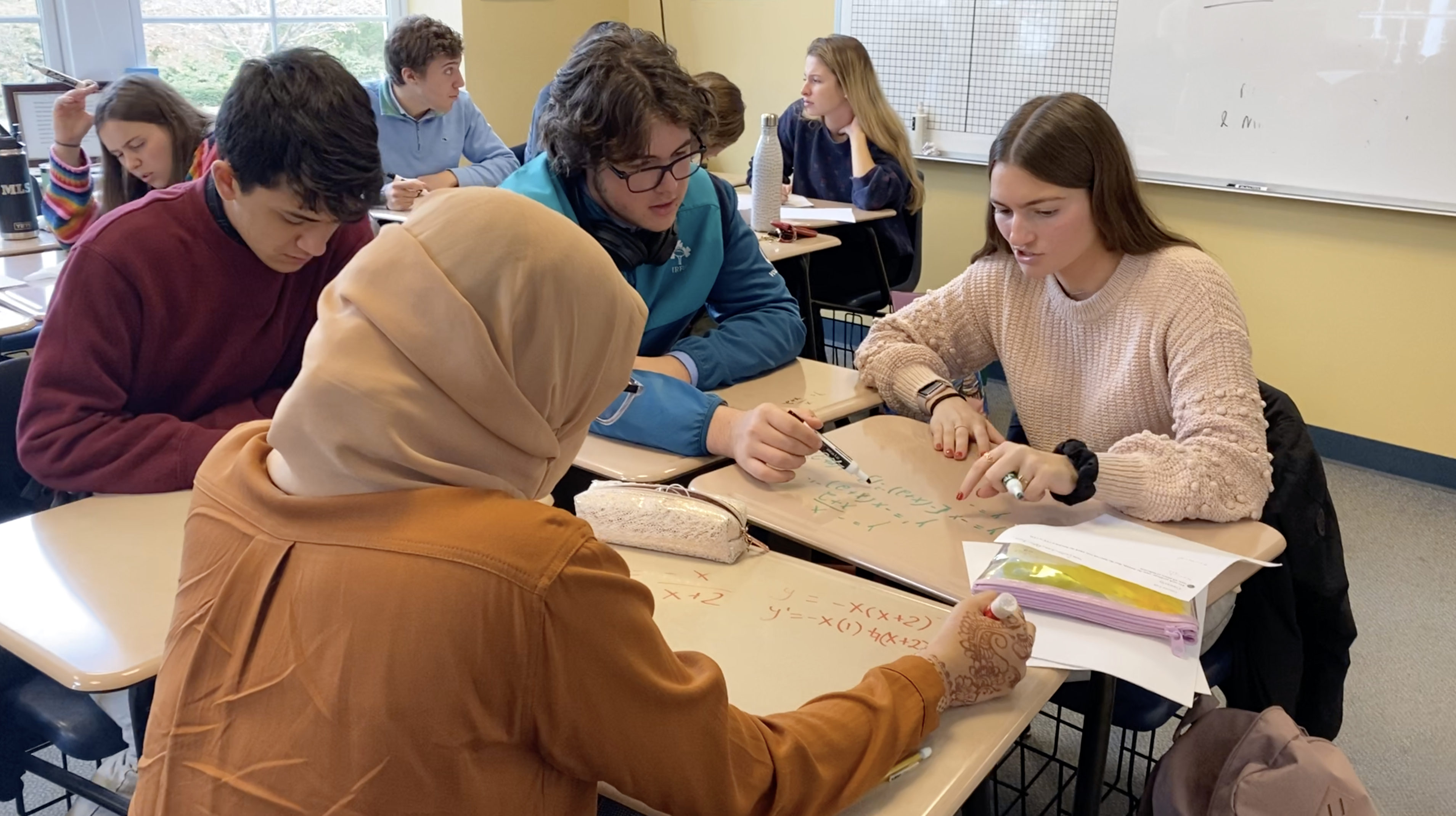 Science
Our Upper School Science program seeks to stimulate curiosity, promote collaboration, and inspire careful investigation. Students learn to embrace science as a deeply creative and essential discipline for their lives, knowing that as citizens and as human beings, their decisions and awareness will shape the future of our planet.
Through a deep understanding of scientific principles, students practice critical thinking as they become informed, knowledgeable citizens. Our graduates engage the world with curiosity, embracing complexity and applying the fundamentals of science, as they think clearly and analytically.
Students explore and analyze ethical issues in science and technology through experimental observation. By testing ideas and asking open-ended questions, students develop scientific explanations based on evidence. The program integrates the higher-level mathematics of applied concepts and laws. Students also hone their scientific literacy and writing through journal reflections, research notebooks, and lab reports.
Computer Science/Technology
Mastery of technology in the Upper School is developed through Computer Science and Digital Arts classes, and a wide array of interdisciplinary project work which incorporates research, information literacy, and digital citizenship.
In Computer Science classes students develop and deepen their understanding of computer systems and coding to hone problem-solving skills, learn about logical operations, appreciate attention to detail, and the value of iteration and learning from failure. Students apply their skills in Robotics and Engineering classes and through participation in coding and other competitions.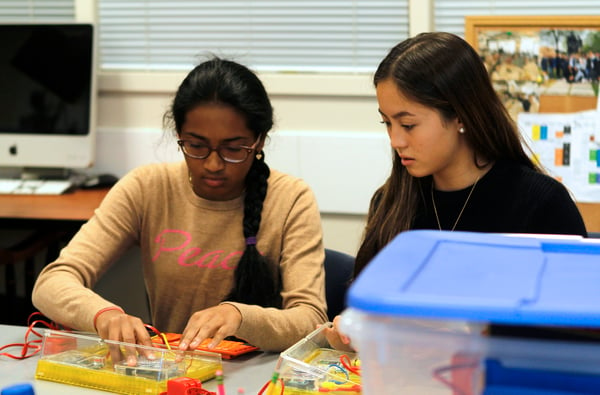 World Languages & Cultures
Our world is a global village where both communication and cultural understanding are increasingly important. The World Languages and Cultures Department helps students build proficiency in a second language – Mandarin, French, Spanish, and Latin – and to help build cultural understanding and further world language proficiency, we arrange cultural trips and exchange programs for Upper School students in Spain, France, and China.
Learning about a variety of foreign communities deepens self-awareness while promoting greater empathy and international understanding. As a Quaker school, we educate students beyond their intellects; students' moral, emotional, and social growth takes place when they move beyond the self to try to understand others.
The breadth and depth of cultural studies within Mandarin, French, and Spanish courses at Friends Academy elevates a student's linguistic proficiency. Chinese students learn about the diversity of Chinese ethnic groups; French students learn about many of the countries and territories where French is spoken; Spanish students develop a broader appreciation of global interconnectedness and cultural differentiation.
Every year, our language students receive gold medals in the National Spanish, French, and Latin Exams. Our Chinese students also perform in the top percentiles of the Youth Chinese Test, an international standardized test of Chinese language proficiency.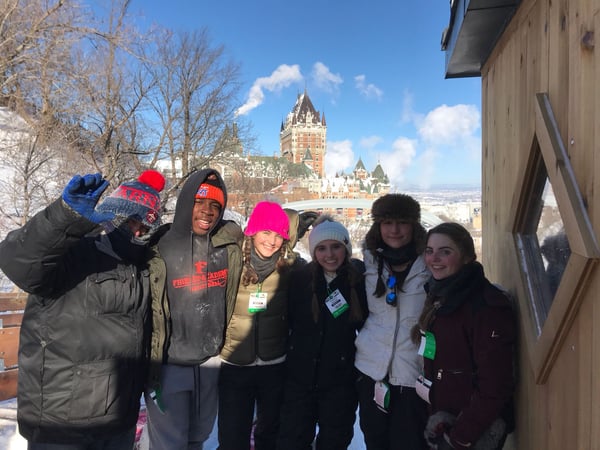 Interdisciplinary Studies
Global competence at Friends Academy is rooted in the understanding that 'the peoples of the world are one people, enriched by individual differences and united by a common bond of humanity. Diversity in this world community is its greatest strength; understanding and respect are its greatest gifts.'
Interdisciplinary Studies courses develop in students the sensitivity and skills needed to become strong leaders, generous humanitarians, and true citizens of the world. These courses offer unique, project-based, interdisciplinary, and real-world opportunities that allow students to delve thoroughly into research and experiential learning, developing their knowledge around an essential question.
Through engagement with professionals in their fields, students offer unique, innovative, and research-based solutions to real-world challenges.
Courses include Entrepreneurial Global Studies, Solutions in Medicine, Bloomberg Terminals, Financial Literacy, and International Relations.
The Arts
The Arts is where our students develop creative thinking, discover their passions, sharpen their skills, and learn to express their own unique voices. We offer comprehensive courses of study in ceramics, drawing, painting, digital design and illustration, motion arts, photography, vocal and instrumental music, theater, and dance.
In the Dolan Center, student-artists work in purpose-built spaces, developing photos in our darkroom, exhibiting in our gallery, or performing in our state-of-the-art theater. Every student's artistic journey is unique, and at Friends Academy, we are uniquely fortunate to have the faculty and facilities to support, guide, and honor each student's artistic development.
Physical Education
Upper School students enjoy an engaging and energizing Physical Education program.
The Friends Academy Physical Education program aims to educate students to become lifelong learners of health and wellness by participating in activities that develop behaviors that encourage lifelong physical activity in and outside of the educational setting, healthy decision making, and appropriate social skills.
The unique nature of Physical Education affords an individual the chance to not only develop skills that will allow them to become physically fit and remain active but to take ownership of their own health and wellness. Individuals learn to value activity and movement, develop appropriate personal and social behavior, and develop an understanding that physical activity provides opportunities for enjoyment and social interaction, and helps to create a hedge against chronic disease.
JV and Varsity sports count as physical education credit during regular sports seasons (fall, winter, spring).
Students that do not partake in sports have the choice of a diverse change of physical education electives:
Cardio-fitness
Weight Training
Dance
Yoga
Sport Education
Library
The Kumar Wang Library is the central hub of Friends Academy. The building hosts five classrooms along with event spaces, private study areas, and social areas. On any given day, most students use the library for some purpose whether that includes studying, relaxing, or group work.
The Upper School library program provides students with access to a diverse range of digital and print resources. Upper School students have access to the Kumar Wang Library holdings. Academic databases like JSTOR, ProQuest, and Academic Search Complete provide an immense opportunity for students to access high-quality, relevant information. A complete list of Upper School digital resources can be found at the Upper School Library LibGuide.
By graduation, our students develop advanced research skills to prepare them for postsecondary education. Students can break down research questions into keywords and limiters, use advanced search techniques in academic databases, and conduct literature reviews all while staying organized. Students also practice media literacy by learning how to read and evaluate news sources for accuracy and reliability.
Beyond the extensive book collection, many other items are available for checkout including Chromebooks, board games, headphones, and art supplies.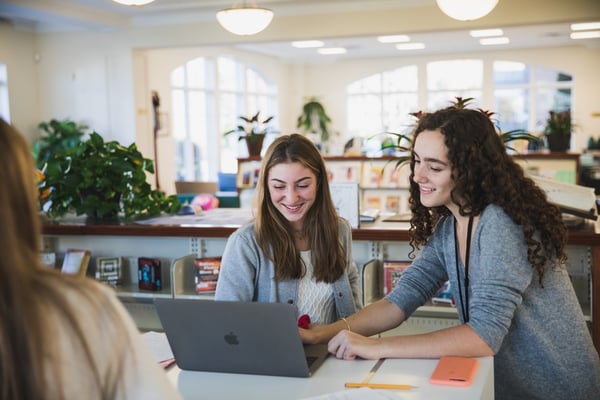 All of our classes are largely experiential. Students are constantly engaged in the process of creating art – whether that is composing music, creating works of visual art, theatrical scenes, or choreography. There is a strong emphasis on developing skills and techniques. We provide context by introducing related history, literature, and critical analysis.
Our students study the root causes of any given problem to understand its origins, and more importantly, why it persists today.
The Upper School gathers weekly as a community for Meeting for Worship in the Meeting House to center, reflect, and share thoughtful and relevant messages for the community.
Our athletes compete at an exceptional level in Section VIII of Nassau County Public High School Athletic Association, home of one of the most competitive sports programs in the county.
Upper School students have the opportunity to take an Entrepreneurial Studies course, developed by the renowned Korda Institute. In the course, students are given real problems from local businesses. Students then collaborate, research, analyze data, and present solutions to the business owner.
Health & Well-Being
Upper School Health & Well-Being centers around a semester-long course in ninth grade, and a trimester-long course in eleventh grade. Each course is interactive and student-centered, and is designed to assist students in learning about contemporary and critical health issues. This learning is then contextualized and applied as they explore their own personal health habits and goals. These courses cover topics that students can take with them long after they leave Friends Academy.
In addition to the curricular component, Upper School students' health and well-being is supported and prioritized by student advisors, grade-level Student Life Deans, school psychologists, and learning specialists.
Meeting for Worship/Quaker Practice
Our school cherishes the chance to gather each week in Quaker Meeting for Worship to share space, voice, and time together and to reflect, both in silence and in listening, upon our own inner voices and those we are privileged to hear as students share their thoughts. Through Meeting for Worship, students develop lifelong skills, such as empathy, active listening, critical thinking, public speaking, and the ability to use silence as a powerful tool for discernment.
Upper School TASQUE (Teachers and Students for Quaker Education) clerks our weekly Meetings for Worship and plans occasional alternative Meetings for Worship such as Meetings for Singing, Mindfulness, Worship Sharing, and Business. These additional Meetings provide dynamic opportunities for students and faculty to come together around their personal passions and share their thoughts in a safe and structured space that supports personal growth.
Quaker practices are infused within the culture, experiences, and programs of our school, as we honor the lights and lives of each of our students in the school community as they each search to live with more honesty, compassion, integrity, courage, and commitment to justice and truth.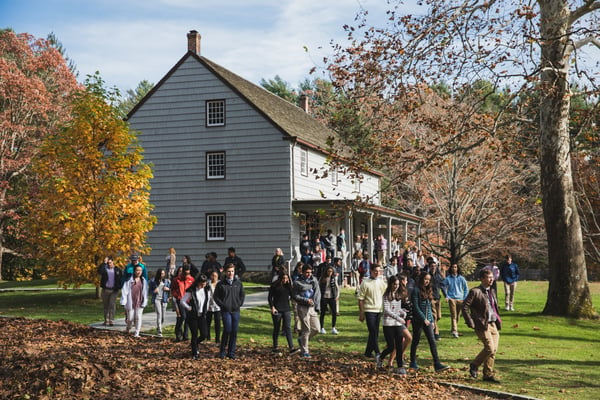 Service Learning
Students learn to discover the needs of others and refine their commitment to using their talents and skills to address these needs as they engage in concrete service projects in our community.
Throughout each student's four-year experience in Health & Well-Being and advisory, we intentionally embed co-curricular and extra-curricular opportunities for our young people to identify and understand needs like hunger, affordable housing and health care, and education, and to discover ways to support community wellbeing and emergent needs in their own communities and the world.
Ninth-grade advisories partner with local organizations to build experience-based, deeper understandings of community needs. Tenth-grade students participate in a two-day overnight Youth Service Opportunity Project in New York City, working in a shelter and in soup kitchens and food pantries that support people experiencing homelessness. Through Grades 11 and 12, students work to develop a deeper commitment to an area of human need that culminates in an individually designed senior service project in the spring before graduation.
Our after-school programs offer opportunities to work with service organizations both on and off campus. Friends Academy's Service Learning Program maintains partnerships with important organizations like Glen Cove Men's Shelter, Interreligious and Human Needs Council, and the Glen Cove Boys' and Girls' Club. Through these partnerships, Upper School students have the opportunity to understand the impacts certain systems have had on the well-being of their neighbors.
The W.A.T.C.H. (We Are The Community Helpers) committee keeps a list of volunteer opportunities and provides support for students to actively pursue these. By giving time and energy to others, the student-run committee empowers its members to recognize the reciprocal nature of service and supports others in broadening others' understanding of the importance of service.
Independent Service Project
The Independent Service Project (ISP) gives graduating seniors an opportunity to explore how their personal passions could have a real difference on the world around them. The ISP is a graduation requirement for seniors and takes place over 2-3 weeks in the summer.
Each senior designs a project that is reviewed by an ISP committee composed of faculty and students. The student also chooses a sponsor to work with on the project. Finding an outside sponsor is encouraged; a faculty advisor then acts as a liaison between the sponsor and the school.
Upon completion of the project, the student gives a presentation to the seniors and the ISP committee. The ISP committee rates the project as satisfactory or unsatisfactory, and this rating goes on the student's official transcript. The student must earn a grade of satisfactory to fulfill the graduation requirement.
Committees
DIVERSITY: We, the Diversity Committee, believe that we are to unite and embrace students of all religions, races, genders, political beliefs, socio-economic levels, and lifestyles. We feel it is a necessity to celebrate different cultures in an effort to enhance our community. We firmly believe that it is our duty to carry these principles within our community and throughout our society. As a club, we raise money through fun events like Fall Fair, Diversity Grant Fund Dinner, and bake sales for the Diversity Grant Fund, which provides funds for expenses and fees that are part of a student's educational experience (and is not covered by tuition or financial aid).
INKWELL: Inkwell is the school's informative, student-run online newspaper. We are here to spread the news about a wide range of topics and do so in a way that is easily accessible to Friends Academy students. Whether it be news directly related to what is going on at FA, or news related to current events in the world, we are ultimately here to establish a connection between Friends Academy and the outside world. Furthermore, by creating this platform for students who are aspiring journalists or writers (or students who just want to be involved in the article-making process), everyone has the ability to be as creative as they want to be with the spreading of news to the FA community.
NATURAL HELPERS: The Natural Helpers committee is built around the basic premise that every high school has an informal helping network, inaccessible to most teachers and adults. We strive to create a safe and supportive school environment by assisting our peers with a myriad of issues, from everyday problems to greater serious ones. This committee is designed to enhance the skills of those who have a natural affinity for helping others as well as enabling students to take care of themselves by knowing their limits and practicing problem-solving.
We uphold aspects of our quaker mission by developing skills that help us understand, empathize with, and accept others, all of which are based on the basic principles of listening and communication.
Special Membership Note: Unfortunately, you can not join this committee like other committees. Students get volunteered by their grade to become a natural helper.
STUDENT FACULTY BOARD: SFB is the Student Government of the upper school. Members have the opportunity to work with fellow students and faculty to represent their grades and the school. We meet once a week to discuss changes that will benefit our community. The responsibilities of a student-faculty board representative include contributing opinions to the discussion, offering new business by communicating with their class, planning events, and leading grade's morning meetings.
SUSTAINABILITY: The sustainability committee's goal is to bring awareness to environmental issues that our world and community face. We hope to teach our community various ways they can make small changes in their everyday lives that will help the environment. Sustainability is a part of the Quaker "spices" and we believe it is important for everyone to recognize and help keep our environment and school clean for the next generation of students.
TASQUE: The mission of TASQUE (Teachers And Students for Quaker Understanding and Education) is to nurture the spiritual health of the community and stay true to the testimonies of simplicity, peace, integrity, community, equality, service, and stewardship. We do this by being the keepers of the meeting house, facilitating discussion among students and faculty, helping organize Peace Week, Founders Day, Community Groups, Worship Buddies, and all Alternative Meeting for Worships. One of our goals over the past few years has been to increase student involvement in Quaker life at Friends by making sure that the Meeting House is a comfortable space for all.
WATCH: In WATCH (We Are The Community Helpers), it is our goal to serve the FA community and beyond in various positive ways. In particular, we strive to participate in direct service activities to help organizations such as AHRC, SCO, Glen Cove Boys and Girls Club, Glen Cove Men's Shelter, North Shore INN, St. Patrick's food pantry, and Rock CAN Roll. It is our job to educate the Friends Academy community about local service opportunities. By giving time and energy to others, we hope that our members also recognize the reciprocal nature of service.
Clubs/Student Groups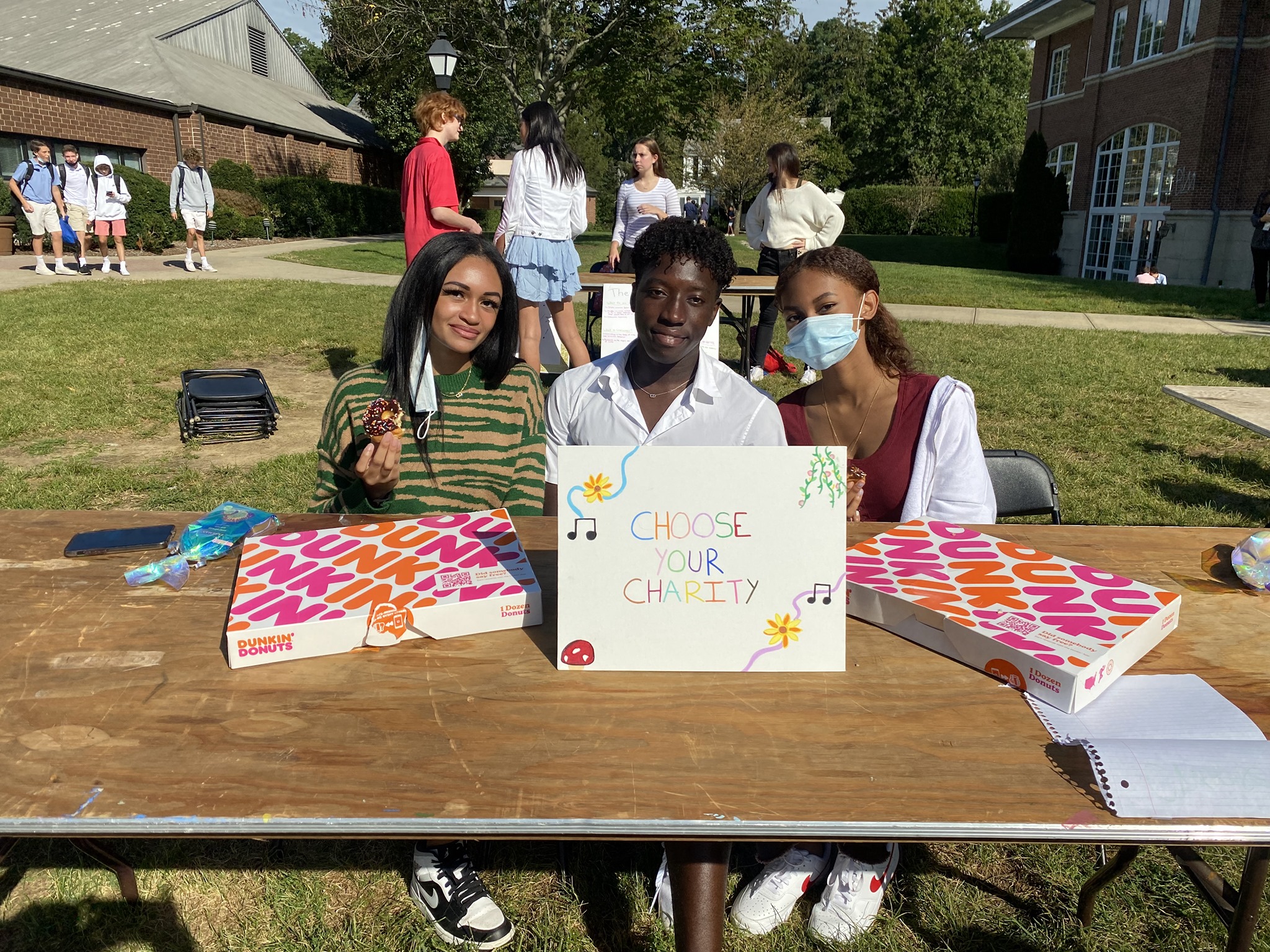 ART FOR ACTIVISM: Art for activism is a student group centered around bringing social-justice-oriented pieces of artwork in all mediums into the community's line of focus in order to promote the pursuit of justice in all forms.
BECOMING A WITNESS: Our club is an educational and service-based club. In this club, we will discuss individual Holocaust stories and raise money to support the survivors. We hope to bring awareness and educate the community about specific Holocaust stories.
BREAST CANCER AWARENESS: BCA hopes to raise awareness as well as funds to support those suffering from this illness. We raise money for the National Breast Cancer Foundation in hopes of advances in research. We want to bring this awareness to Friends Academy because this illness is very common that people around us suffer from. We want to offer our support in every way we can.
THE BONE MARROW FOUNDATION: The Bone Marrow Foundation Club at Friends Academy is a chapter of the Bone Marrow Foundation. The Bone Marrow & Cancer Foundation supports patients, their families, and caregivers every step of the way during a cancer diagnosis or bone marrow, stem cell, or cord blood transplant. Our goal is to raise money to send to the foundation so they can achieve their goals.
CHESS CLUB: The chess club is for the wider chess community. Some players may choose to join the chess team where we compete against other schools. We teach chess to newcomers and help players become more advanced. Our mission is to teach the game of chess to all age groups and bring more people to the chess community.
CHILDREN'S HOSPITAL CARE GROUP: Our goal as a group is to make a child's stay at the Cohen Children's Medical Center as pleasant as possible. We host bake sales, fundraisers, and toy/clothing drives to raise money / necessary items for the Cohen Children's Medical Center. This year, as we will not be able to go into the hospital to decorate for holidays, we would like to provide/send decorations.
CHOOSE YOUR CHARITY: The purpose of our club is to explore and bring attention to local charities and give members of our club the opportunities to focus on selected charities of their choice. We plan on doing more hands-on activities that vary and are specific to each charity. By doing so, we can give back to our community by going beyond raising money and learning a variety of ways to give back.
CRYPTOCURRENCY & BLOCKCHAIN TECH GROUP: The first blockchain club at Friends. The mission is to educate members on the foundation and the latest advances in blockchain technology. We will dive into a discussion about the latest news in the Cryptocurrency world and the latest technology that could change our lives.
DEBATE: The Debate Club focuses on argument and the ability to articulate different points of view in a competitive environment. We will be focusing on underclassmen's leadership and in-school debates.
DECA: If you are interested in Leadership, Career Development, Finance, Marketing, or Hospitality, DECA is perfect for you. To anyone who is interested in going into general business, this club is perfect for you. While it is a commitment, DECA is a guaranteed fun time that will pay off in the long run, especially with friends! DECA prepares emerging leaders and entrepreneurs in marketing, finance, hospitality, and management in high schools and colleges around the globe.
FA ADMISSIONS: The Admission Club hosts open houses, gives tours, and provides support to new students through a buddy program. The mission of our club is to showcase students of all different aspects and interests to prospective students and families in order to give them a comprehensive view of our school during their application process.
FASHION AND DESIGN CLUB: "To create a safe space to be yourself while creating inspiration" We hope to positively impact the community by creating new ideas and help people feel comfortable expressing themselves through fashion while also learning more about it. This is the first club that has anything to do with fashion which is a huge industry in the world that people are interested in so allowing them to get the chance to learn more about it at school would be amazing.
FA ROBOTICS: The robotics team works together to design, build, and code robots with the aim of participating in competitions during the school year. It is open to all students regardless of previous experience or skill in engineering. As part of the team, members are encouraged to contribute in whatever ways they choose, whether that be by sketching ideas, problem-solving, programming, building, or driving the robot.
FA SUNRISE: Sunrise Club is a student-run club here at Friends, that will help to support Sunrise Day Camp and Association. Sunrise Day Camp sends kids to camp who have cancer, along with their siblings, who otherwise couldn't afford it. The goal of our club is to raise funds for the organization, have driven to collect things for children in the hospital, like puzzles for example, and make things like cards for children in the hospital.
GIVING GAMERS: The Giving Gamers aims to inform FA students about the growing esports Industry, donate to local children's hospitals, create experiences that generate happiness for patients, and establish a competitive gaming environment for FA students.
GNOSIS: GNOSIS works to create a published literary journal of student work by the end of the year, which helps promote student independence and engagement in the humanities and arts.
HOSA: Future Health Professionals is a global student-led organization, whose mission is to promote career opportunities in the health industry and to enhance the delivery of quality health care to all people.
HULUSI CLUB: The Hulusi Club will teach students the basics of the Chinese instrument, hulusi. We will also be talking about other Chinese instruments, their culture, and their background as well. We are looking for ways to do community service such as playing for seniors' homes or children's hospitals and spreading joy.
INDUSTRY DESIGN AND ENGINEERING ASPIRATIONS CLUB (IDEA): The I.D.E.A club is a club designed for entrepreneurs and young inventors to share and receive feedback on a product, engineering, or industrial ideas. As a group, we will nurture, incubate, and hopefully add insight, opinion, and constructive criticism regarding our peers' products. As the leader of this club, I will set up various activities, one of which would be a Shark Tank-like activity. Students will pick a partner(s), design a product, make a pitch, and we will set up a vote and consult (either on Instagram or contact actual investors in our FA community) on which product investors would be interested in!
MATH CLUB: Our purpose is to spread our love of math through all divisions of the FA community. We also want to create a space for people who love math to pursue more complex topics and develop problem-solving skills.
MEDICINE AS A CAREER (MAAC): The purpose of this club is to gain a deeper understanding of the medical world as well as what it takes to think like a doctor. A club where students who are interested in pursuing a career in medicine can gather to listen to doctors who would describe their experiences in the medical field.
MODEL UN: Model UN is a club where students prepare statements about different issues from the POV of another country, modeling typical UN conferences.
MUSIC APPRECIATION: This club is a way for students to share their taste in music with other students and listen to other's favorites. We will listen to, talk about, and dive deep into all genres of music, from jazz to rap, to metal, to ambient, and much more!
MUSIC THERAPY & ANALYSIS: In this club, we will be listening to a variety of different artists' most popular songs and analyzing those artists' musical abilities. We will also reflect upon how music helps those in our community. If music is a big part of your life, this is the right club for you. We hope to have a lot of fun, expand our music taste, and discover the effects music can have on us.
ME TIME: In today's day & age students are just that; students. Children are so focused on being the best academic version of themselves that they lose any aspect of their personal goals. Students are more than students. They're also children. From being on top of our school work, maintaining a social life, to stressing over college. One-fourth of American high school students have developed some form of depression & the vast majority have self-confidence issues. Me Time will be a safe space where students will be able to relax & get to know themselves through journaling, meditation, as well as a place for mental health advocacy.
PEER TUTORING: Students provide free tutoring in every subject to any student who wants it at FA.
PENCILS OF PROMISE: Pencils of Promise is a non-profit organization that raises money to build schools and provides students and teachers with resources and support in areas around the globe that are underdeveloped and underprivileged. At FA, our main goals would be to raise awareness about areas around the world that lack proper education and how education can be an asset in helping these places develop and to raise funding so that we can assist in the building of schools and distribution of resources through the sale of bracelets, hats, pencils, etc. Our goal at FA is to educate our community on the importance of education and show people how underdeveloped areas around the globe are in such need of proper education, which many of us take for granted every day.
POETRY SOCIETY: The Poetry Society is for any and all students who have or want to explore a passion for Poetry, Slam Poetry, Writing, etc! It is a chill and fun environment for anyone to come and express themselves through these creative outlets. We would meet and write, (about whatever!) connect, and have fun!! It is generally a space to bond with people with similar interests.
POLITICAL AND CIVIL DISCOURSE: Political and Civic Discourse: The mission of the Political And Civic Discourse Club is to empower people to re-evaluate or develop their beliefs on civic and political questions through civil discussion. It is also a club that empowers student voices while paying heed to the need for decorum, civility, and equal and fair space for all points of view.
RONALD MCDONALD HOUSE: The mission of RMHC is to create, find and support programs that directly improve the health and wellbeing of children. Guiding us in our mission are our core values: Lead with compassion. Focus on the critical needs of children.
SCIENCE OLYMPIAD: We work to prepare our members for a Science Olympiad Competition, where we make teams compete against local schools in a variety of science-related subjects. Science Olympiad is a great way to have fun while learning about a subject you may not have otherwise known about! We are looking for people who are willing to learn, try new things, and have fun!
THE STOCK AND FINANCE CLUB: The purpose of our club is to educate the students of FA on the basic fundamentals of the Stock Market and the financial sector. We look at stock simulations and apply basic economic principles to track returns and learn about global economics. It is our goal to prepare the youth of Friends Academy to become the leaders of the future business world.
THE STUDY OF CRIMINOLOGY: The study of criminology is a group for students who were not able to join the forensic science class, we will be investigating crimes and breaking down the cases. For people who are not familiar with the topic, criminology is the study of crime and deviant behaviors.
TOURNAMENT CLUB: Tournament Club strives to raise school spirit while simultaneously raising money for The Safe Center LI. Our goal is to promote school-wide fellowship through friendly competition. Our members brainstorm possible ideas for school tournaments such as Student vs. Faculty games, 3v3 basketball tournaments, etc.
TRIVIA: The mission of the club is to train to participate in the New York Academic Team contests.
VOICES OF CHANGE: The VOC channel will upload "hot topics" and current events from the viewpoint of young adults. It will cover many ideas that interest high schoolers, some topics may be controversial to viewers. The channel will be a safe space for high schoolers. The videos will discuss different topics within our community. I will always encourage student participation.
YEARBOOK CLUB: The Yearbook club is dedicated to recording the highlights of the year and commemorating the past school year. We publish one book annually, which is made available to the entire school for purchase.
DEI Student Alliances
ASIAN AWARENESS CLUB (AAC): AAC aims to celebrate and promote diverse Asian and multicultural backgrounds in order to gain a deeper understanding. Our mission is to learn about our own identities, represent various cultures, but also encourage others to lean into their curiosity as well. This will be a safe space where we hope to educate, grow, and support our community. Let's all work hard and open our minds. We strive to cultivate a stronger sense of allyship/solidarity through presentations, sustained dialogues, and more. We want to hear your voices!
BLACK STUDENT ALLIANCE (BSA): The BSA will strive to unite the black members of the Friends Academy community while simultaneously allowing people of all backgrounds to appreciate and learn about black culture, history, and injustice that happens not only in FA but the outside world as well. We hope to build a safe and welcoming space for black members of the Friends Academy community. We recognize that safety depends on respect and cultural competence from all people, and so we hope to create opportunities for people to learn cultural responsiveness. We hope that the BSA will be a space where black students are affirmed in their racial identity. We hope to create a space to process the struggles that black people will experience as a result of their racial identity.
HEARING ALL VOICES (HAV): This club is a casual, safe space for high school students to gather and have conversations about things that affect the lives of the individual or the student body as a whole. Students come to hold these important and open conversations over topics like social identity, inclusion, mental health, communication skills, self-image, healthy coping mechanisms, dealing with forms of racism, sexism, homophobia, strengthening relationships with peers and faculty, how to deal with being targeted, how to get help if needed, advocating for oneself, etc…This club will work with its student and faculty advisors to make sure there are open channels of conversation between students and faculty about the things affecting our community and will communicate with their advisors the issues discussed in our meeting.
JEWISH CULTURAL ALLIANCE (JCA): The Jewish Cultural Alliance is a space for education and sharing of the Jewish culture.
SEXUALITY AND GENDER AWARENESS: We, the Sexuality and Gender Awareness Alliance believe that it is our duty to promote the respect and acceptance of all gender identities and sexual orientations within our Friends Academy Community and to create a welcoming and inclusive environment for all students, faculty, and staff members regardless of their gender identity or sexual orientation. Our mission is to cultivate greater awareness about and solidarity towards the LGBTQ+ community through education, advocacy, and social action. We strive to empower, uplift, honor, and respect our members. We are a safe space, and thus we honor confidentiality within our space.
STUDENT ORGANIZATION OF LATINOS (SOL): We aim to spread awareness of the many different heritages that people of Hispanic descent come from. We plan to encourage intercultural exchange through events like sustained dialogues and through speaking our minds as it is a safe space for people who are interested in learning or sharing about these topics.
THE NEW F-WORD: We hope to better our community through female activism and the promotion of gender equality.
Affinity Groups
Affinity groups are intentional gatherings of people who share in a similar identity; a shared identifier. These groups are places of reflection, dialogue, and support – emotionally safe spaces where students can process their emotions, develop a stronger sense of self, and build a common language to address issues of equity, inclusion, and belonging.
In our Friends Academy Community we believe that every student in our community has gifts to share that are inextricably linked to their identity. In order to ensure that each student's inner light shines brightly, we must create spaces where they feel both safe enough to be true to themselves and brave enough to engage with others as they do the same.
African-American/Black: The African-American/Black Affinity Group is for students who self-identify racially as African-American and/or Black. This emotionally-safe and brave space offers an environment for (1) meaningful discussions about what it means to identify as African-American/Black in our communities, (2) cultural exchanges that are unique from individual to individual within the same racial/ethnic background, and (3) relationship-building opportunities with others who can affirm and celebrate our lived experiences from the "I" perspective. For Grade 5 - Grade 12
East-Asian: The East-Asian Affinity Group is for students who self-identify racially as Asian, Asian-American, and/or Pacific Islander. This emotionally-safe and brave space offers an environment for (1) meaningful discussions about what it means to identify as Asian, Asian-American, or Pacific Islander in our communities, (2) cultural exchanges that are unique from individual to individual within the same racial/ethnic background, and (3) relationship-building opportunities with others who can affirm and celebrate our lived experiences from the "I" perspective. For Grade 5 - Grade 12
South-Asian: The South-Asian Affinity Group is for students who self-identify racially and/or ethnically as South-Asian in our communities. These would be individuals who have ancestries, cultures, and histories from the countries of Afghanistan, Bangladesh, Bhutan, India, Nepal, Maldives, Pakistan, and/or Sri Lanka. This emotionally-safe and brave space offers an environment for (1) meaningful discussions about what it means to identify as South-Asian in our communities, (2) cultural exchanges that are unique from individual to individual within the same racial/ethnic background, and (3) relationship-building opportunities with others who can affirm and celebrate our lived experiences from the "I" perspective. Our gatherings will allow us to get to know our similarities and differences and allow us to celebrate them as well as find support and solidarity with each others shared experiences. For Grade 5 - Grade 12
Latinx/Hispanic: The Latinx/Hispanic Affinity Group is for students who self-identify racially and/or ethnically as Latinx or Hispanic in our communities. This emotionally-safe and brave space offers an environment for (1) meaningful discussions about what it means to identify as Latinx or Hispanic in our communities, (2) cultural exchanges that are unique from individual to individual within the same racial/ethnic background, and (3) relationship-building opportunities with others who can affirm and celebrate our lived experiences from the "I" perspective. For Grade 5 - Grade 12
Bilingual/Multilingual and/or New to English Language: The Bilingual/Multilingual and/or New to English Language Affinity Group is for students who self-identify as being speakers of more than one language and/or are learning the English language in addition to speaking another primary language. This emotionally-safe and brave space offers an environment for (1) meaningful discussions about what it means to identify as someone who speaks multiple languages in our communities, (2) cultural exchanges that are unique from individual to individual within the same native language background, and (3) relationship-building opportunities with others who can affirm and celebrate our lived experiences from the "I" perspective. For Grade 3 - Grade 12
Student Athletes: The Student Athlete Affinity Group is for students who share in the identity of 'student athlete' in our community. All students who identify themselves as such are welcome to join this group regardless of ethnicity, gender-identity, race, etc. This emotionally-safe and brave space offers an environment for (1) meaningful discussions about what it means to identify as a student athlete in our communities, (2) cultural exchanges that are unique from individual to individual within similar identity categories (e.g. ethnicity, gender-identity, race, etc.), and (3) relationship-building opportunities with others who can affirm and celebrate our lived experiences from the "I" perspective. For Grade 9 - Grade 12