Paul J. Stellato began his tenure as the 25th Head of School at Friends Academy on July 1, 2023
Dear Friends,
As he begins his tenure as the 25th Head of School at Friends Academy, Paul Stellato brings to Locust Valley a record of leadership, scholarship, and visionary practice. During a career in boarding and day schools; and through two previous headships of independent, Pre-K to 12th Grade day schools, he has focused squarely on the quality of the student and faculty experience and the health of school communities.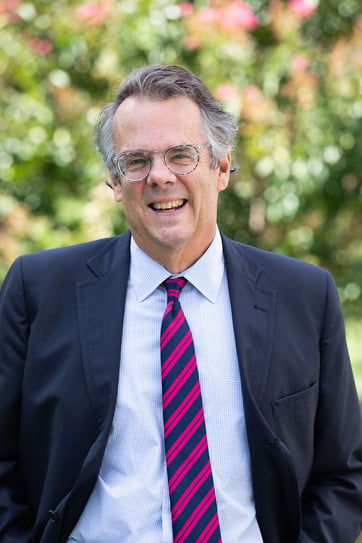 Mr. Stellato earned degrees in Classics and English at Hamilton College and an M.F.A. from the School of the Arts at Columbia University. As a member of the faculty at schools that include Blair Academy, Albany Academy, and Millbrook School, he has served as an English instructor, dorm head, coach, and advisor; Director of Summer Programs and College Counseling; and Dean of Faculty and Assistant Head of School. He took on his first headship at North Cross School, a day school in Virginia's Blue Ridge Mountains. In 2008, he began a transformational, 15-year tenure as Head of School at Princeton Day School in Princeton, New Jersey.
Although his start in Princeton coincided with the 2008 worldwide economic collapse, he moved quickly to steady the school community and prepare for the better days that would follow. Over the course of the next decade, Princeton Day School tripled its endowment, grew enrollment by 10%, increased admissions activity, selectivity, and yield, and more than doubled its commitment to need-based financial assistance and support for faculty professional development. He oversaw the school's largest capital campaign, raising $60 million for endowment, program, and facilities. The school endowed and launched nationally recognized programs in interdisciplinary studies, sustainability, diversity and inclusion, and student and faculty wellness. In 2015, Princeton Day School was in the first cohort of day schools invited to join the Independent School Leadership Program at the University of Pennsylvania.
In recognition of his service, the Princeton Day School Board of Trustees conferred on Mr. Stellato the status of Head of School Emeritus, the first ever in the school's long history. With parents and friends of the school, they endowed the Paul and Maureen Stellato Fund: $1.5 million to support student needs beyond those covered by financial assistance. At June's commencement exercises, the Class of 2023 named him an honorary member of the class. He is only the fourth member of the faculty to receive such an honor.
Mr. Stellato has embraced his responsibility for growing leaders for the next generation. While working with him, six of his administrators have gone on to take their first headships; and scores of faculty and administrators have risen to roles as department chairs, directors of college counseling and athletics, deans, and assistant and associate heads of school. His work has been recognized with fellowships at the National Endowment for the Arts and the Klingenstein Center at Teachers College of Columbia University. He has served the boards of the Virginia Association of Independent Schools and the Blue Ridge Council for the Arts; and he has advised peer schools on leadership, advancement, faculty development, and governance.
He and his wife, Maureen, a former advancement professional, are the parents of two daughters: Kate, a consultant in Washington, D.C.; and Lauren, a human resources analyst in Boston. They are smitten with their Australian Mini Doodle, Birdie. Whenever he can, Mr. Stellato retreats to the waters near their family home in Harwich Port, Massachusetts, in vain pursuit of striped bass and brown trout on the fly.
Paul is a regular attendee and frequent presenter at leading independent school conferences, including an upcoming presentation on leadership at the NAIS annual conference.
Paul received his bachelor's degree in English and Classics from Hamilton College and holds an MFA in Creative Writing from Columbia University.
Paul is joined in Locust Valley by his wife, Maureen, who was an independent school administrator for years before her recent retirement. She is eager to engage as part of the Friends Academy and local communities in a number of informal capacities… not least of which as the caretaker of the Stellatos' new puppy, Birdie. Paul and Maureen have two grown daughters who reside within a few hours' driving distance. Away from school leadership, Paul is an avid fly fisherman, occasional golfer, and (with apologies to his new friends and colleagues on Long Island) a lifelong New England Patriots fan.
Around the Quad with Paul