"By engaging each child in student-centered, hands-on learning, Friends Academy teaches real-world skills to our youngest learners, including communication, inquiry, interpretation, analysis, and problem-solving. This strong foundation provides our students the tools they need to fuel natural curiosity and develop creativity while maintaining wonder and awe for the world around them."
–Dot Woo, Lower School Principal
No video selected
Select a video type in the sidebar.
The Friends Academy community, from Play Group...
Welcome to
Lower School (Grades K-4)
The Lower School years are filled with joy, curiosity, exploration, and scholarship. At Friends Academy, these fundamental years ensure that children develop a solid sense of self, a passion for learning, and a growth mindset that prepares them to approach new opportunities and challenges.
Our Kindergarten through Grade 4 curriculum lays the foundation for exponential growth in both academic and emotional domains.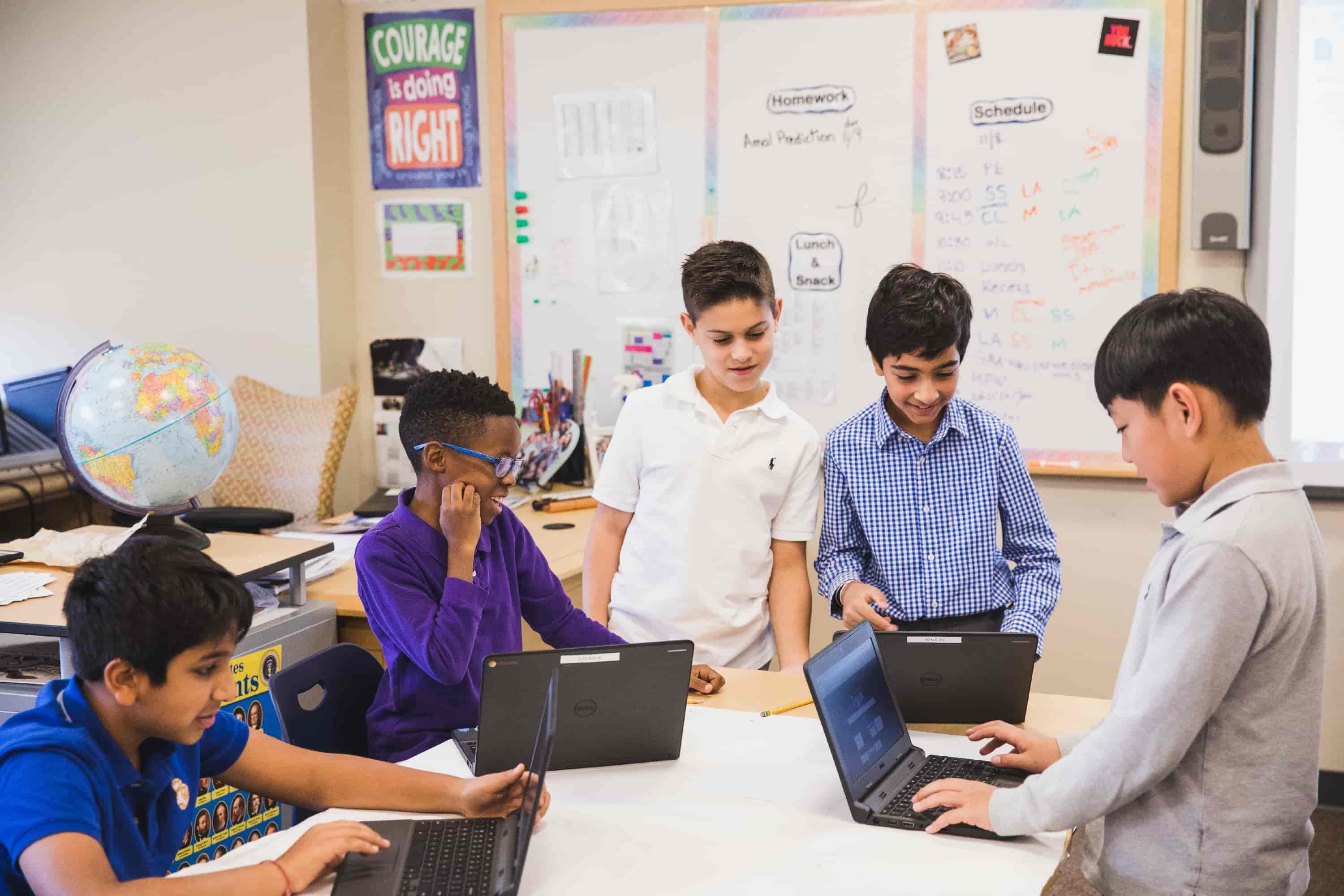 Our Friends Academy Difference
Our Quaker approach to education empowers students to live a life of inquiry, as critical and analytical thinkers. Children cultivate the important skills of self-advocacy and self-reflection – both in and out of the classroom – so that they can become creative and collaborative problem-solvers in an ever-changing world.
Our Quaker Approach in Lower School
Quaker schools are known across the country for their longstanding tradition of educational excellence. At Friends Academy, Quaker values can be found in every aspect of a child's day-to-day experience, elevating our academic program in a way that is unique to the only K-12 Friends school on Long Island. In the Quaker tradition, we honor the light inside every individual. Every child is "known" and honored as their authentic self. We are committed to celebrating diversity in its many forms, and fostering an inclusive environment while personalizing the experience of every child. In this way, we differentiate and enrich childrens' experiences to help them realize their potential.
Asking questions is foundational to best practices across all subject areas. An inquiry-based approach that also integrates various disciplines, empowers students to think deeply about real-world situations and connect their in-school experiences with their out-of-school experiences. Quaker education focuses on process rather than product, and mistakes are learning opportunities that foster intellectual, social and emotional growth.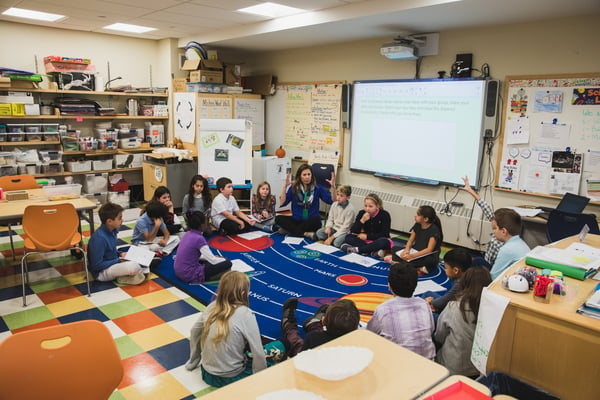 Responsive Classroom
Paired with our Quaker values, Lower School uses Responsive Classroom, which is an evidence-based approach to teaching and learning that puts students at the center of their academic, social and emotional journey.
Its guiding principles include that "how" we teach is as important as "what" we teach and cognitive growth and building relationships go hand-in-hand. This approach recognizes that the deepest learning happens when both social/emotional and academic learning are prioritized.
Mathematics
At Friends Academy, math is viewed as a language. Students work individually and collaboratively to reason and wrestle with real world problems, construct strategies and design solutions. The CPA Approach (Concrete, Pictorial, Abstract), supports children as they grow to understand that there are multiple pathways to solve a problem.
As a result, our students at Friends Academy develop the skills of mathematicians as opposed to learning rote steps and formulas on a surface level. This is one of the many ways we prepare and empower our students to take on rich challenges in mathematics and beyond.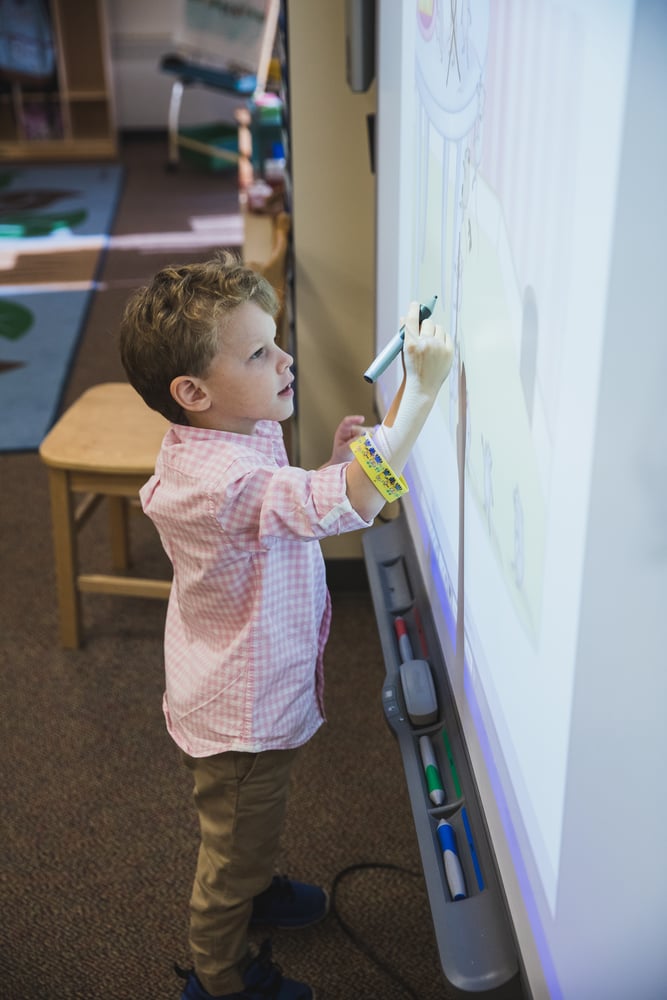 Language Arts
At Friends Academy, we believe the ability to communicate and express our ideas, both verbally and in writing, as well as actively listen and consider the ideas of others is essential.
Pre-K through Grade 3 utilizes Wilson Fundations, a renowned, multisensory approach to phonics, that helps students develop the tools to be active readers, writers, and meaning-makers.
Literacy is emphasized across the curriculum throughout every discipline in Lower School. Children read and write with intention and for a variety of purposes and audiences.
Readers and Writers Workshop (Kindergarten through Grade 4) fosters children's love of language and supports children's growth as they become critical and analytical thinkers who joyfully dive deeply into texts. The classroom is intentionally curated as a literacy-rich environment. Students develop reading and writing skills through one-on-one teacher conferences, peer-to-peer conferencing, and collaborative small group work. All of these opportunities propel students to the next level of their learning.
Our children also develop their writer's "voice" by studying the crafts and techniques of authors while also internalizing the writer's process for themselves. The workshop approach nurtures a classroom community of readers and writers as opposed to only teaching the basics of reading and writing.
Science
In Lower School science, students are encouraged to formulate and ask questions, investigate real-life problems and develop connections to the natural world through a phenomenon-based approach to learning. Science and engineering practices are used to explain phenomena and to design solutions to the problems at hand. Through a process of sense-making and evidence-based reasoning, students learn to engage in scientific debate. At each grade level, students explore a range of topics in earth, physical, and biological sciences.
Our pedagogical approach and curriculum, Amplify Science, is the only program aligned with NGSS (Next Generation Science Standards). In addition, our science educators incorporate Next Generation Storylines and draw upon their curricular expertise to foster the scientist in every child. By encouraging students' natural curiosities, we are able to use student-generated interests and questions to support scientific inquiry and instruction.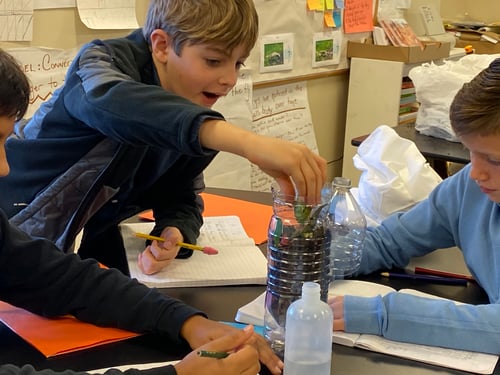 Social Studies
The Lower School Social Studies program is designed to focus on a central question. First, students ask questions. From there, they explore, investigate and research complex material, including primary and secondary resources, related to their course of study. The curriculum builds upon each previous year and involves children developing a positive sense of self in their local and global communities. They are encouraged to examine the perspectives of others in both present-day and historical contexts.
Children also engage in practices that help them understand and live a life of stewardship and civic engagement connected to our Quaker values.
World Language Program
Our World Language Program begins in Play Group with the exploration of Spanish. Through the Organic World Language Approach (OWL), students engage in a multisensory environment, including dance, music, and role-play.
OWL encourages students to better understand and appreciate different cultures and influential figures across Spanish-speaking countries. Exposure to different ways of thinking, speaking, and communicating allow students to understand and appreciate global cultures from an early age.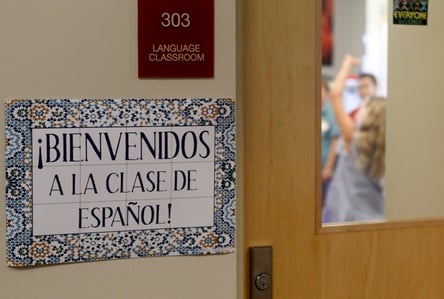 Computer/Technology
Lower School Computer classes begin with a focus on how to use our one-to-one devices as learning tools (iPads in PreK-2 and Chromebooks in grades 3-4). Computer science skills are introduced through immersive, hands-on experiences, including analog and digital early coding games and manipulatives like Ozobot robots. As students progress through the grades, they learn to curate and display their work in portfolios built on Google sites. Students are also introduced to how their use of technology can impact their world, learning about topics such as cyber-safety and digital citizenship.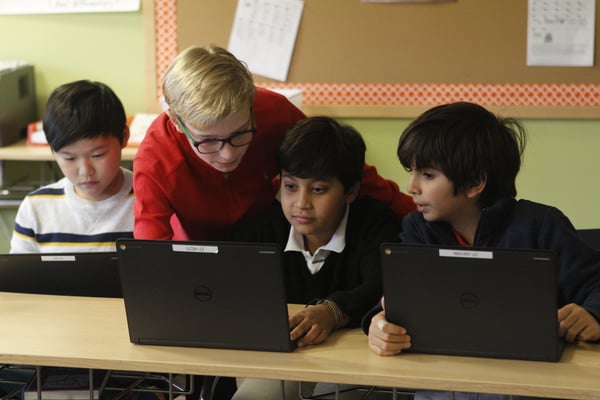 The Arts
Arts in Lower School lives in an atmosphere of encouragement, acceptance, and enthusiasm. We want each student to feel inspired, curious, and free to explore their imaginations.
In the visual arts, students engage and experiment with a wide range of materials and processes which allow them to discover their creative potential.
In music, we use national standards as our guide as students develop their musical skills. Our ensemble experiences in music provide students with opportunities to work cooperatively and gain a deeper understanding of themselves in relationship to the community.
In Dance, our students learn through structured and intuitive movements as a means of supporting their physical development while they learn to express themselves through movement.
Our arts curriculum is interdisciplinary, with arts teachers working closely with grade-level teachers to support the physical, cognitive, personal, and interpersonal development of each child.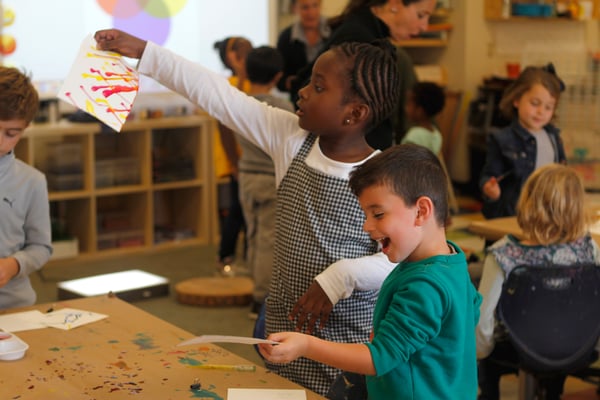 Physical Education
The Physical Education program at Friends Academy builds a lifelong appreciation of the connection between fitness and a healthy lifestyle. Students enjoy a broad and diverse physical education curriculum that includes skill development, fitness, and traditional sports.
The Friends Academy Physical Education program aims to educate students to become lifelong learners of health and wellness by participating in activities that develop behaviors, which encourage lifelong physical activity in and outside of the educational setting, healthy decision-making, and appropriate social skills.
The unique nature of Physical Education affords an individual the chance to not only develop skills that will allow them to become physically fit and remain active, but to take ownership for their own health and wellness. Individuals learn to value activity and movement, develop appropriate personal and social behavior, and develop an understanding that physical activity provides opportunities for enjoyment, social interaction and create a hedge against chronic disease.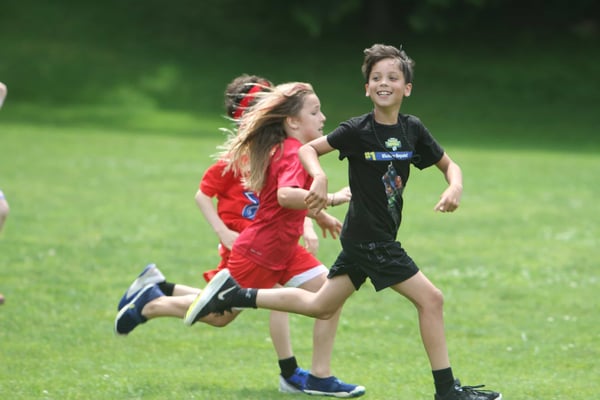 Library
Our Lower School Library program aims to provide children with the "windows and mirrors" they deserve in order to engage in a variety of stories and experiences across a range of genres. The Lower School library space holds a diverse range of age-appropriate digital and print resources. A complete list of Lower School digital resources can be found at the Lower School Library LibGuide.
By the end of Lower School, students develop basic research skills including collecting sources, evaluating information, and identifying bias and stereotypes in literature. In addition, our Lower School Librarian partners with classroom teachers to support and integrate curricular studies.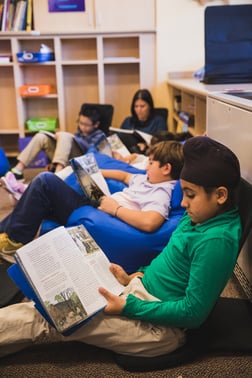 +
QUAKER MEETING FOR WORSHIP
In the Lower School, students attend weekly Meeting for Worship or engage in Worship Sharing. During Meeting for Worship, students gather in silence to reflect on a query. Students who are moved to share a message may stand and address the group. Worship Sharing provides a similar, but less formal, space for students to express their ideas.
Situated in a wooded area on our 65-acre campus, our Forest School-inspired program ignites our students' curiosity as they navigate a natural environment, fostering problem-solving skills and a deeper understanding of environmental science and conservation.
Service learning is a cornerstone of a Quaker education. Starting with our youngest learners, students are involved in ongoing initiatives and interactions that foster "caring service" to others in the classroom, at school, and in the community.
Based on the highly successful Entrepreneurial Studies program piloted in our Upper School, the Lower School will embed the foundational concepts of entrepreneurialism – such as analytical thinking, innovation, and solving real-world challenges – into the curriculum beginning in Fall 2021.
+
STUDENT SUCCESS & WELLNESS
At Friends Academy, we support the personalized learning and development of each child – academically, emotionally, socially, and spiritually. In addition to our highly trained faculty, our unique Student Success Team at Friends Academy includes learning specialists, school counselors, and a Lower School Dean of Student Affairs.