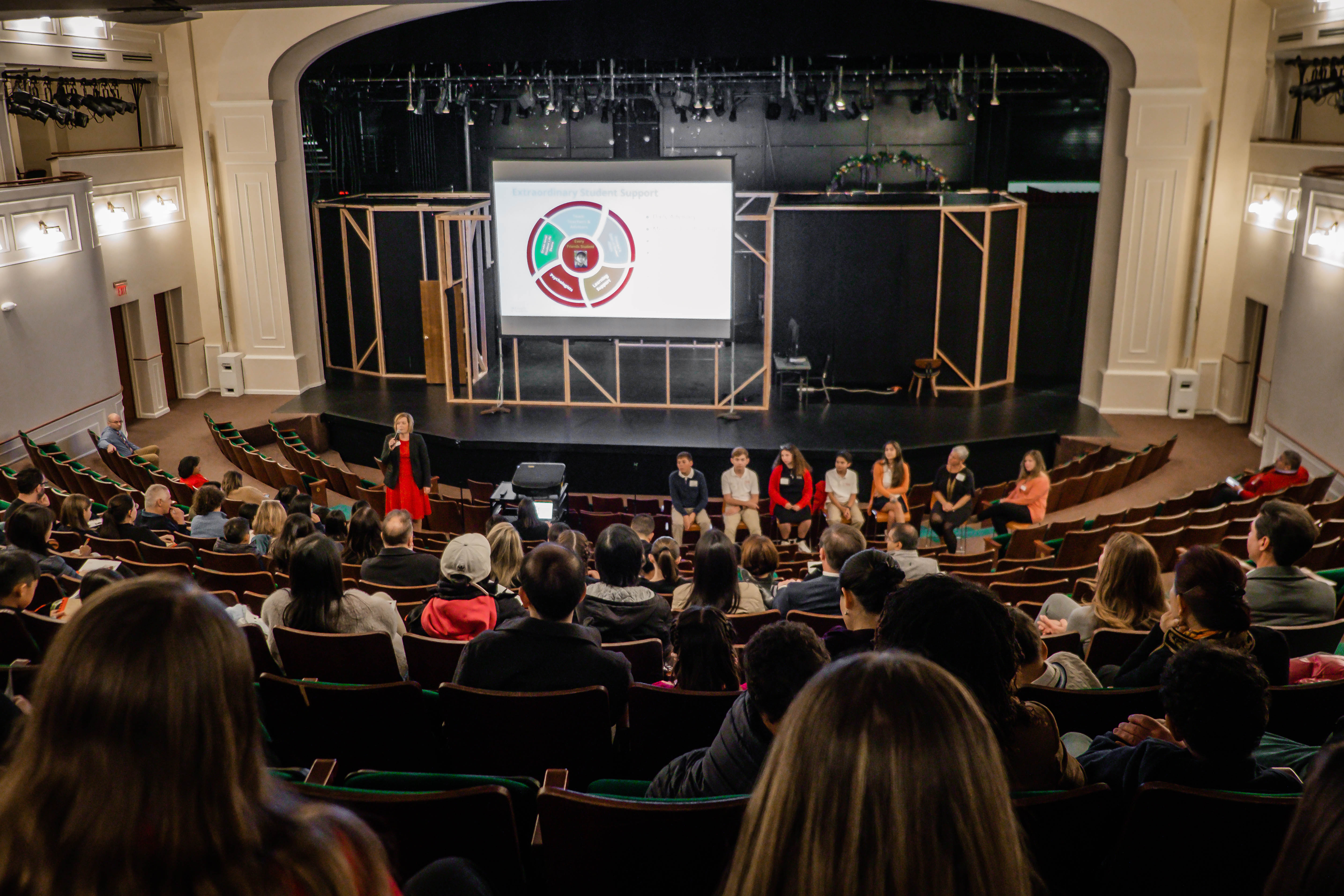 On Tuesday, Nov. 8, Friends Academy welcomed dozens of visitors interested in applying to the middle school grades of 5-8 for the 2023-24 school year.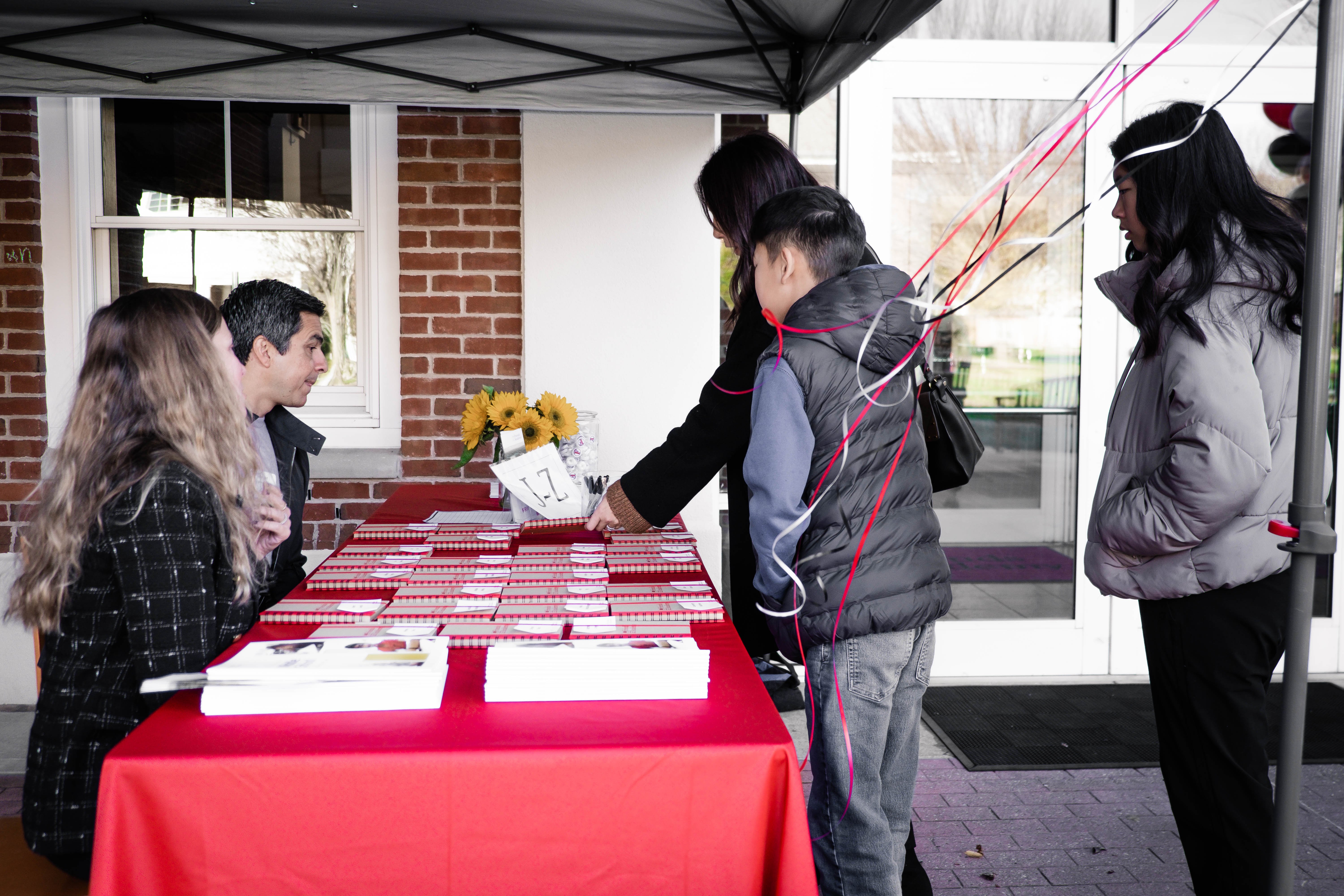 Friends Academy parent ambassadors greeted families at the entrance of the Helen A. Dolan Center, as guests from different zip codes around Long Island gathered in the Atrium for a small Flik-catered reception before heading into the Theater for the main program.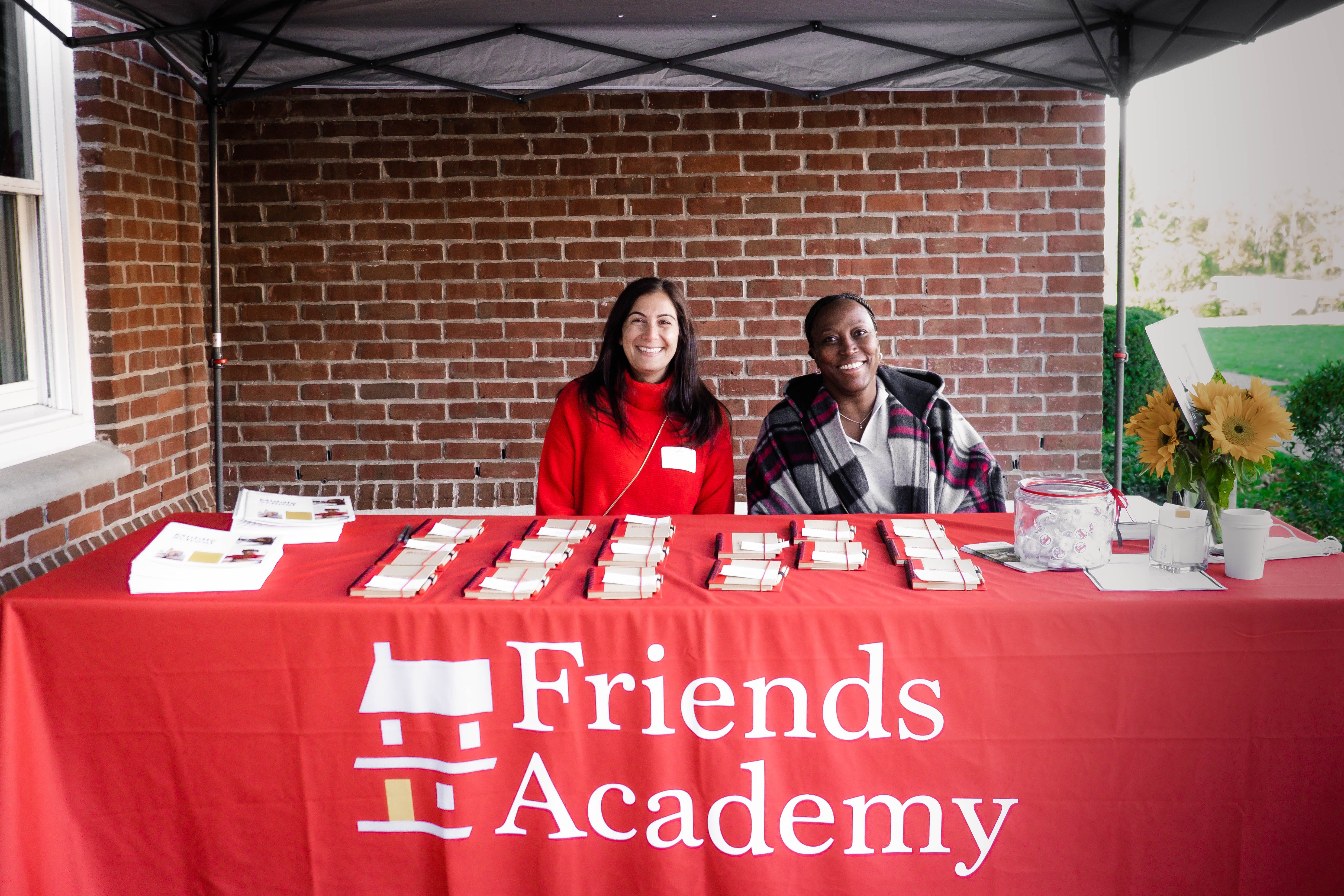 Middle School Principal Christine Saunders kicked off the event with a Quaker moment of silence and then guided prospective families through the elements that make Friends Academy unique as both a middle school and K-12 school – including critical thinking, independence, and intellectual engagement that are achieved by providing students with access to real-world complex and urgent problems.
Principal Saunders touched upon important skills of research, analytical writing, and public speaking that Friends Academy middle schoolers develop, along with the school's Problem-Solving Pathway that grows readiness toward abstract and logical thinking, engineering and programming, and Friends Academy's new Innovation strand.
The innovation-inspired Entrepreneurial Studies course in the Middle School is in its second year, and along with Vex Robotics, the educational strand now offers three courses to middle schoolers – Financial Literacy, Designs in Medicine, and Entrepreneurship. Each course pairs students with professionals and experts, who collaborate with students to solve meaningful problems.
Middle School visitors also learned from Middle School Dean of Student Life Michele Armenia about Friends Academy's structure of student support and academic success, including the new student-led Parent/Teacher conferences that launched this year.
Director of Athletics Diana Parente highlighted the collaborative and competitive all 7th-8th grade team sports program that Friends Academy offers. The program competes in the highly rigorous Section VIII Athletics League, the only private school on Long Island, which provides all middle school athletes the chance to compete against athletic excellence in neighboring public schools.
Friends Academy offers a unique Arts co-curricular experience, with a broad curriculum –from dance and aerial silks, to music ensembles in choir, symphony, and band, to all-school musical experiences, and a vibrant digital and visual arts studio. The Middle School's signature program, Middle School Arts Week, offered annually, is a dedicated week of immersive arts experiences, mentored by professional artists-in-residence for dance, stagecraft, visual arts, and music ensembles.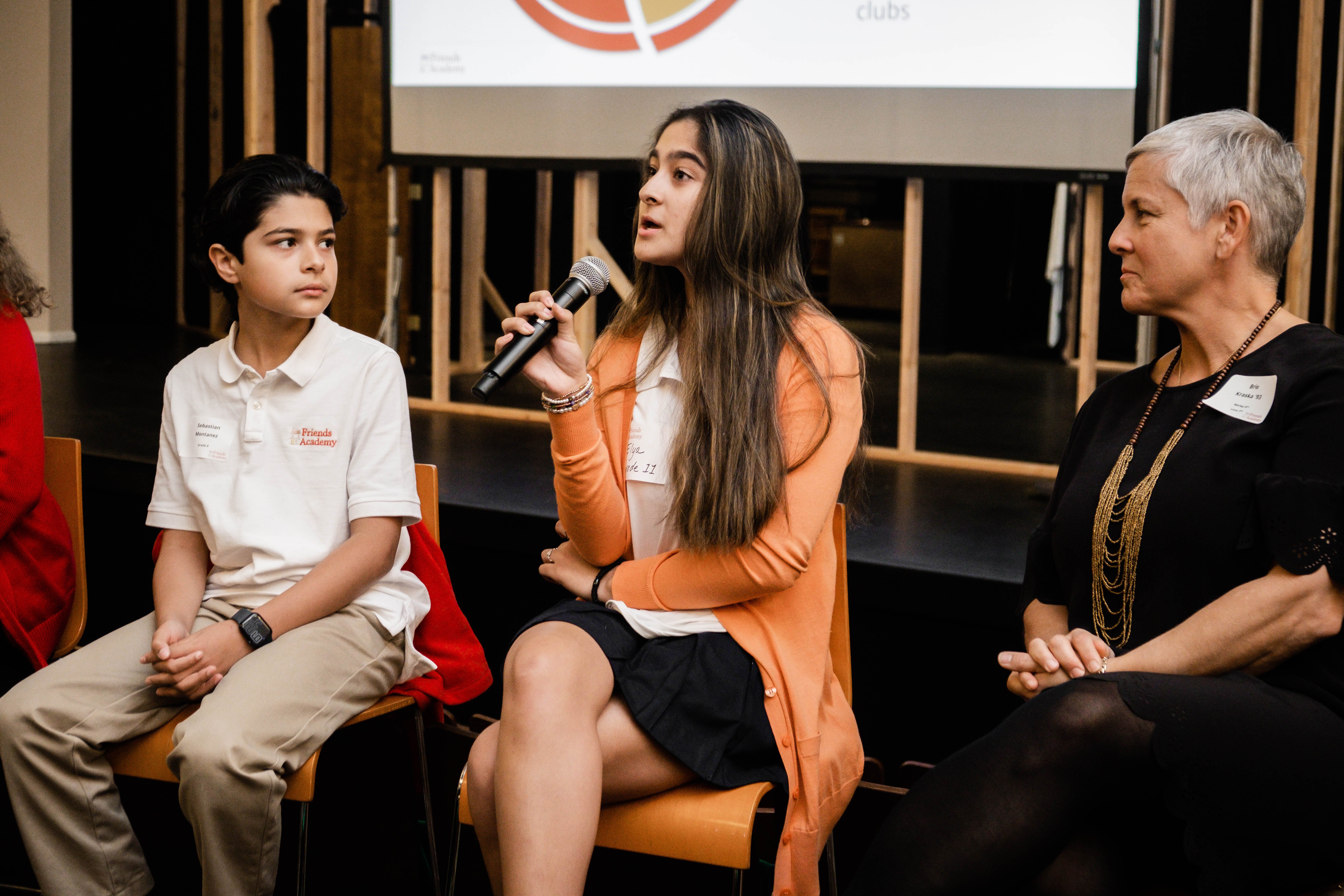 At the culmination of the Open House program, interested families heard from a panel of Friends Academy students from 6th to 11th grades, who answered questions and illuminated the importance and benefits of a Quaker school education. Finally, Middle and Upper School student ambassadors, along with parent guides toured families throughout the school.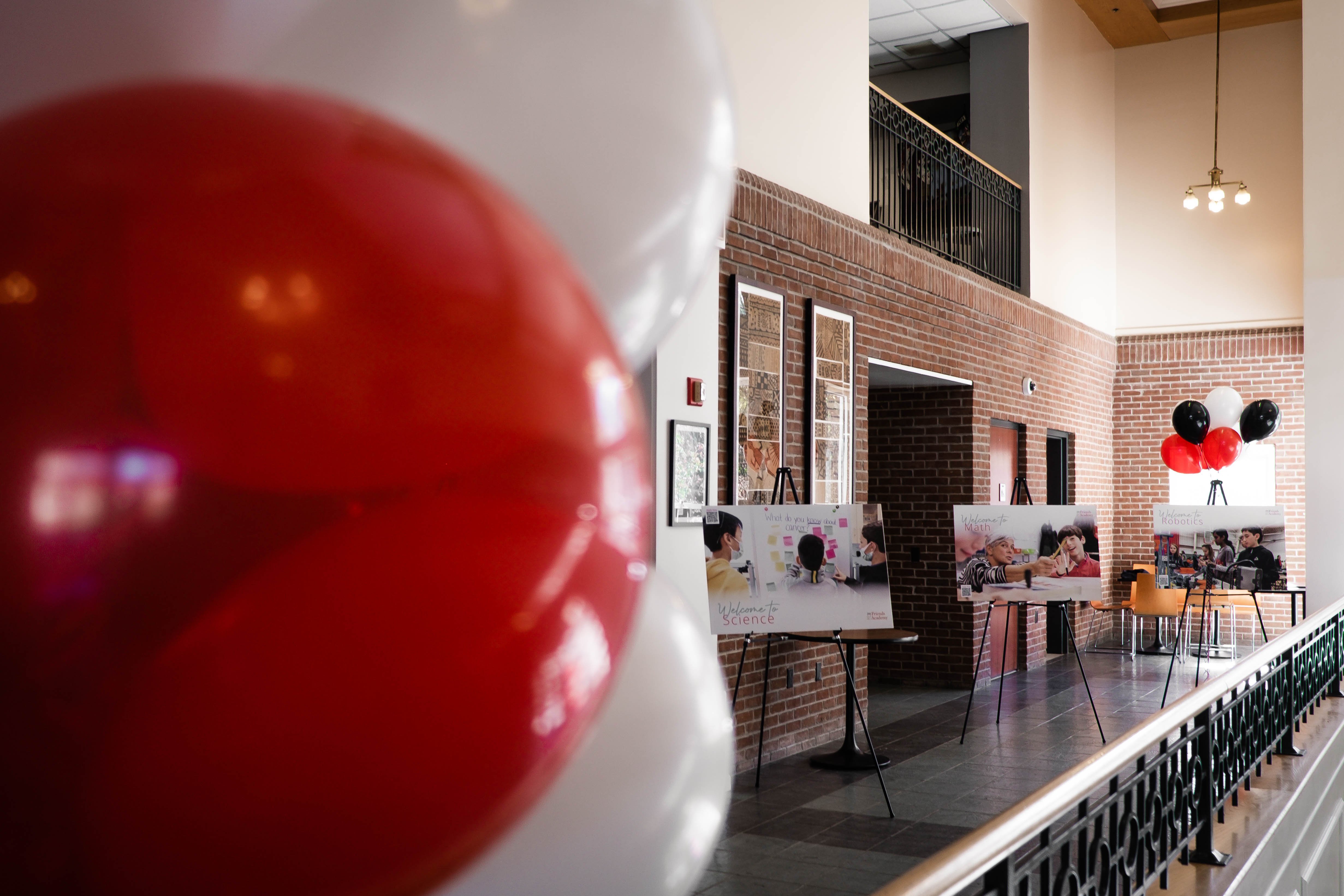 Photography by Alvin Caal/Friends Academy