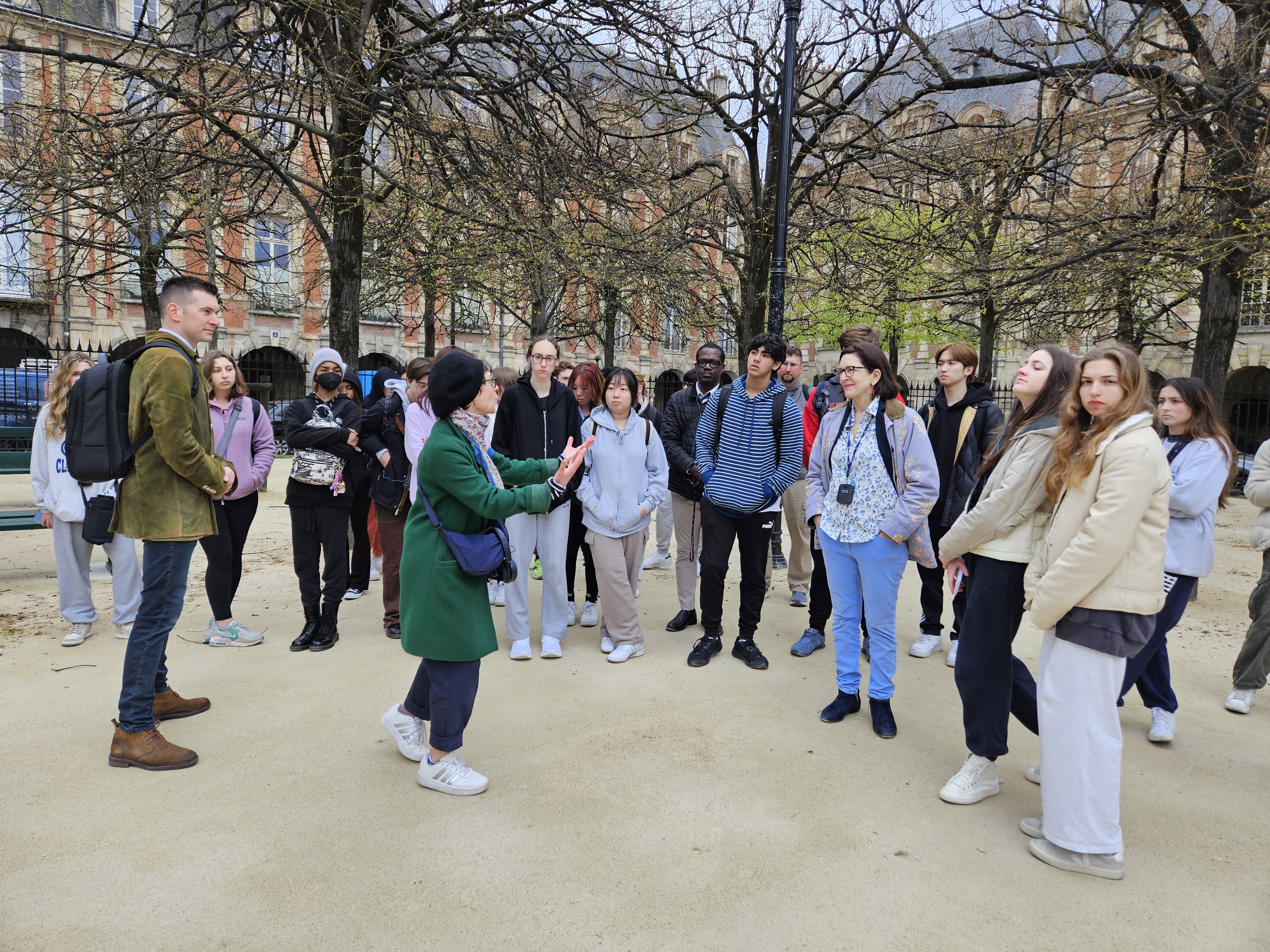 From April 5th to April 15th, 2023, thirty-two Upper School students, led by five Friends Academy faculty, Polly Duke, Dave Frazer, Max Lavallee, Martin Wilson & Harry Yang, traveled to France and Switzerland. On arrival day, students took a historical tour of the Jewish Quarter on Passover, walked to Notre Dame and visited the Memorial to Deported Jewish Martyrs of WW2. The next day, they took a bus tour of the city, visited the Musée d'Orsay, and walked to the Louvre via the Tuileries Garden before climbing the sparkling Eiffel Tower at night.
On Saturday, they played pétanque (a form of French bocce) in the Jardin du Luxembourg before visiting the Arc de Triomphe/Champs Elysées and Sacre Coeur in Montmartre, and dining in smaller groups with Parisians at their homes. On Easter Sunday, the group left Paris by bullet train for Strasbourg. They walked around the old city and enjoyed an optional Catholic mass in French in the Gothic Cathedral with inspirational organ music and singing. That evening, students took a boat tour of the city and learned about its half-timbered Germanic architecture, an astronomical clock and Parliamentary buildings. The following day, the group explored a peaceful monastery and a 12th-century castle - both located on top of small mountains - and a medieval village in the Alsatian countryside.
They left France the following day, entering French-speaking Switzerland by bus and stopping at the Cailler chocolate factory before arriving in Lausanne. That afternoon, they met with high school students from that lake-side city before exploring the Musée de l'Hermitage. The next day, they visited the 13th-century Chateau de Chillon and drove to the top of Mont Pelerin in Vevey before dining in Montreux and meeting again with high school students from Lausanne. The following day, the group visited the Olympics Museum in Lausanne before heading by bus to Geneva. They experienced a historical walking tour of the old town which included climbing to the top of the cathedral before heading to the Martin Bodmer Museum, a UNESCO heritage site.
On the final full day, students took a walking tour of the international quarter, learning about the city's 400 NGOs and stopping in front of the UN for a visit to the Red Cross Museum. Finally, they met with members of QUNO (Quakers at the UN) at Geneva Monthly Meeting. They learned about the work Quakers do to support sustainable development and refugees around the world, and they engaged in dialogue and worship sharing with the Swiss Quakers.