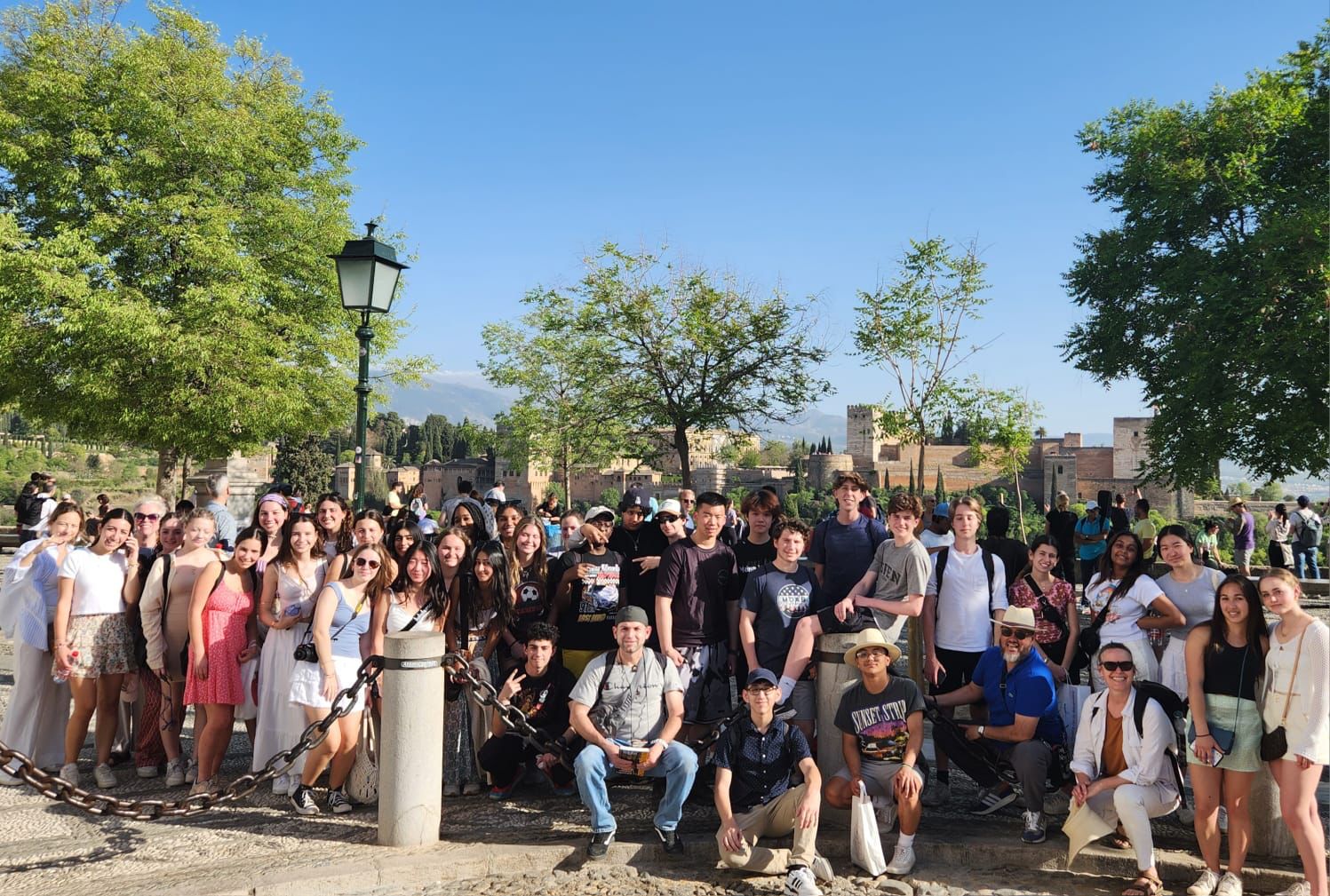 After a 4-year hiatus, The World Language & Culture returned to Spain this past Spring Break. 34 Upper School Spanish language students and 5 WLC faculty members (Sara Pozzi, Ruth Lloves, Veronica Guevara, Carlos Diaz, and Edgar Posada) took an Andalusian Dream Journey through Southern Spain. Flying out of NYC JFK our journey began at the capital city of Spain, Madrid. In Madrid, the group had the opportunity to take a walking tour through the most famous historic sites, including Puerta del Sol, Plaza Mayor, Parque del Retiro, Plaza de España, and the 18th-century Palacio Real. We also had a unique opportunity to visit one of the world's finest collections of European art dating from the 12th to the 20th century, Museo del Prado. If that wasn't enough, we walked down the road to the treasure house of modern art Museo Reina Sofia where our group got a once-in-a-lifetime opportunity to contemplate and appreciate Picasso's masterpiece "Guernica" in real life.
Our tour continued with a day visit to the ancient city of Toledo where we visited a traditional sword and jewelry-making shop and stopped by the church of Santo Tome to see the masterpiece by Renaissance painter El Greco located in the impressive historical quarter.
Next, our journey took us for a ride from Madrid to the capital city of Andalucía, Sevilla on board Spain's High-Speed train, AVE. In Sevilla, we had a rare opportunity to experience Semana Santa (Holy Week), take a Flamenco class and watch a traditional Flamenco performance at Museo del Flamenco. We explored the narrow streets and alleys of historic Barrio Santa Cruz where we took a guided tour through the lavish Real Alcazar (Royal Palace), visited the magnificent and largest Gothic cathedral in the world, and climbed to the top of the Giralda de Sevilla.
From Sevilla, we traveled to the Andalusian city of Córdoba where we stepped inside the awesome inspiring Gran Mezquita, a mosque-cathedral originally built in the 8th century with both Moorish and Western influence. From the Gran Mezquita we walked through the narrow streets of Cordoba's Jewish quarter.
We traveled from Córdoba to the Sierra Nevadas of Granada. We visited the Moorish palace of the Alhambra and enjoyed another Flamenco show performed in a converted locale inside the old Plaza de Toros of Granada. This was a more traditional gypsy flavor performance popular in Granada. We stayed in a former monastery with a patio of orange and lemon trees.
Heading towards Málaga, we stopped off at an Olive Oil factory in Alfarnate. There we learned about the importance of Olives and Almonds to the Spanish economy, sampling each of these. A highlight was the visit to the smaller neighboring town of Alfarnatejo, where we were invited into locals' homes for a typical home cooked lunch. We relished the welcome and hospitality and the opportunity to enjoy something truly unique.
Our last two days were spent in the Mediterranean port town of Málaga, where our exchange school, Colegio El Monte, welcomed us with the warmest of greetings and curiosity. FA students toured the school, and then in small groups made introductions in Spanish, answering and asking questions of their new friends. Afterward, Colegio El Monte and FA students shared recess time together, playing soccer and basketball, and trading social media addresses to keep up with their new friends.
Overall, the trip was a wonderful return to learning in the wider world (Real-life experiential learning), improving the Spanish language as students become more culturally competent.
Hopefully, in the coming years, we can return to the dual exchange and more time with the students in Spain and in the US, as was articulated by all the students after their morning with Colegio El Monte.
We wrapped up the experience with Worship Sharing on the Málaga beach next to Muelle Uno, led by Sara Pozzi. Students learned so much in this 10-day excursion and expressed their gratitude and desire to travel and learn even more about Spain, its people, its culture, and rich history in the future.