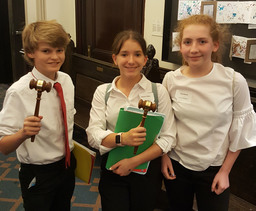 On Saturday May 18th, seven Middle schoolers attended the Packer Collegiate Model Congress, joining almost 300 other Middle schoolers from the tri-state area. FA delegates started work in October, and worked diligently to craft bills that they were passionate about with the thought of how they could be "Agents of Change."

The Friends Academy delegates tackled issues such as having more recycling bins in urban areas in every city nationwide (8th grader Mark Jennings); free community college for every American (8th graders Cara Soscie and Theoni Hiotis); stricter background checks for buying guns ( 7th graders Sarah Asnis and Sarah Sukoff); and restrictions of violent speech on all social media (6th graders Ross Yablans and Matthew Martin.)

Two of the four bills were passed, but all had great discussion and debate. Two members of the delegation won "Golden Gavels" or Best Legislator Award. Mark Jennings captured his Golden Gavel for his dedication to compromise in order to craft better legislation. Theoni Hiotis earned her Golden Gavel for her willingness and ability to debate any and all bills that were brought up.

"This program is so helpful to foster debate," commented advisor and 7th Grade History teacher Dave Frazer.