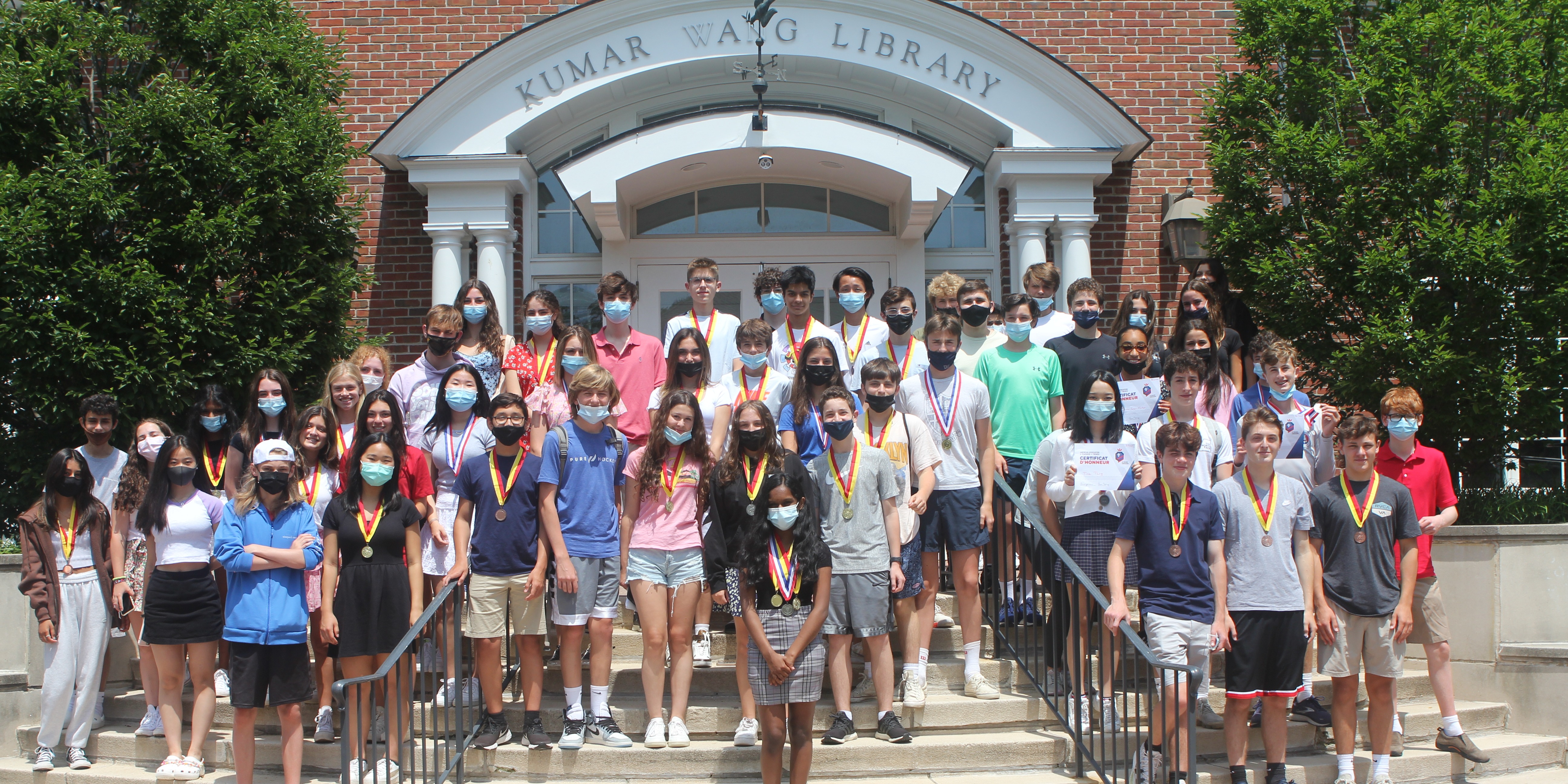 This year, Friends Academy students once again had great success in National Language Exams, showcasing the prowess of our World Languages & Cultures department. A total of 117 students earned awards, including 16 gold honors.
Eight students earned recognition in multiple exams:
Kidder Bacon (Gold, Latin III; Gold, French V; Gold, Spanish IV)
Dakota Bruderman (Gold, Latin II; Silver, Spanish III)
Henry Davison (Bronze, Latin III; Gold, French II)
William Gokey (Silver, Latin II; Silver, French II)
Kate Juhel (Silver, Latin II; Bronze, French II)
Senuli Peiris (Silver, French II; Gold, Spanish III; Gold, Spanish II)
Arianna Quan-Soon-Victor (Bronze, Introductory Latin; Bronze, French II)
Melanie Schwab (Silver, Latin II; Honorable Mention, French II)
Henry Davison was celebrated by the New York Métropolitain Chapter of the American Association of Teachers of French (AATF), earning the region's highest score on the French 2 exam. He also received a bronze honor on the Latin III exam.
Kidder Bacon accomplished the remarkable feat of earning gold in three high-level exams as just a tenth grader.
Senuli Peiris, a ninth grader, started learning Spanish online during the summer of 2020. She made it into Spanish 2 Honors just two months later and took both the Spanish 2 and 3 exams, receiving gold in both. In addition, she earned a silver award on the French 2 exam.
Awards for each National Language Exam are based on the annual national average for each exam. For the National French and Spanish exams, gold awards are given to those that score at or above the 95th percentile. Silver represents the 85th-94th percentiles; bronze is 75th-84th percentile; and honorable mention is the 50th-74th percentiles, with the 50th percentile representing the national average.


Latin Awards
Post-AP-Latin IV
Honorable Mention (Cum Laude)
Ludovico Monti
Latin III
Gold
Kidder Bacon
Silver
Isabella DiMeo
Bronze (Magna cum Laude)
Henry Davison
Latin 2/Advanced Introductory Latin 2
Gold
Dakota Bruderman
Silver
William Gokey
Kate Juhel
Melanie Schwab
Bronze (Magna cum Laude)
Charlotte Semlies
Austin Notaris
Introductory Latin
Gold
Angelica Otto
Silver
Julia Garfin
Avery Davis
Bronze (Magna cum Laude)
Arianna Quan-Soon-Victor
Honorable Mention (Cum Laude)
Summer Schore
National French Exam
French 5
Gold
Kidder Bacon
Bronze
Alexandra Cadet
French 4
Honorable Mention
David Cooper-Boyce
Erica Schwartz
French 3
Gold
Olivia Carden
Silver
Rachel Na
Tina Tang
Bronze
Meg Gilles
Alexa Moschetto
Honorable Mention
Emma Daniels
Theoni Hiotis
Samantha O'Brien
Liv Prestandrea
Kat Vice
Jordan Wolf
French 2
Gold
Henry Davison
Silver
William Gokey
Eleni Pappas
Senuli Peiris
Bronze
Kate Juhel
Evalia Koumpourlis
Sam Laserson
Arianna Quan-Soon-Victor
Honorable Mention
Clementine Constantino
Noah Goldman
Melanie Schwab
National Spanish Exam
Spanish 5
Silver
William Hunter
Bronze
AJ Hoyt
Mariana Posada
Honorable Mention
Teddy Grace
Deremy Leon
Spanish 4
Gold
Kidder Bacon
Srishti Bansal
John Jervis
Joshua Sukoff
Silver
Mohan Jauhar
Bronze
Lilah Donnelly
Emma Goldblatt
Adrianna Lloves
Savannah Mahmud
Honorable Mention
Nathaniel Chen
Harrison Bruderman
Olivia Como
Vincenzo Fodera
Sean Johnson
Riley Lima
Madison O'Sullivan
Taylor Overstrom
Lauren Pasquale
Brandon Rokhsar
Erick Almendares
Spanish 3
Gold
Senuli Peiris
Isabella Sha
Ryan Sharifov
Silver
Dakota Bruderman
Michael Busch
Justin Kelly
Bronze
William Bystrom
Olivia Carden
Jacob Herman
Anabelle Marcus
Benjamin Martin
Serena Saad
Richard Wang
Honorable Mention
Anika Bhatia
Josh Chen
Skylar Cohen
Zachary Cohen
Charles Englander
Paris Panagopoulos
Ali Stein
Ava Silverstein
Dylan Rorech
Neha Sarwal
Alistair Wright
Angelica Otto
Ashley Reyes
Konrad Schwarz
Spanish 2
Gold
Angelica Dileo
Julia Garfin
Annika Lobo
Senuli Pieris
Alex Wachsman
Silver
Mika Benabraham
Augustine Schuitemaker-March
Eva Sun
Dafna Jakubiak
Bronze
Ronin Zador
Lucas Edward
Cassian Gerasimenko
Kiki Grace
Shamik Gupta
Dylan Shore
Cara Soscie
CJ Williams
Diya Basra
Honorable Mention
Julian Corn
Jack Estrella
Campbell Florence
William Green
Teddy Kempner
Julia Lubliner
Maya Morey
Nicholas Nyitray
John O'Sullivan
Thomas Posillico
Jakob Rechtweg
Joseph Selby
Theresa Yu
Giuliana Berritto
Spanish 1
Honorable Mention
Massimo DiLeo
Rebecca Veronese