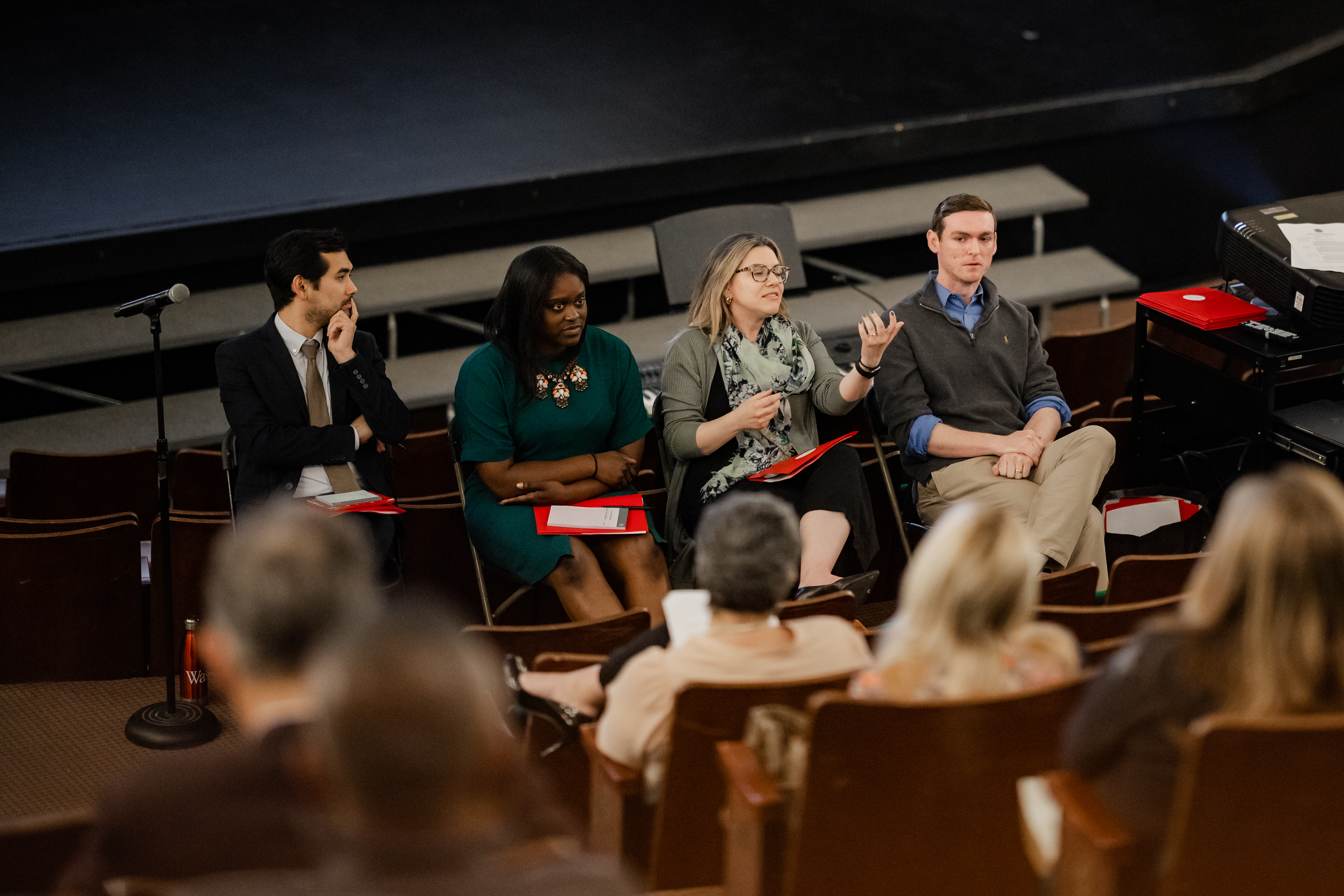 Every spring, the Friends Academy College Office hosts its annual "Inside College Admissions" which unites representatives from colleges and universities across the world with juniors and their parents and caregivers for a very unusual and always enlightening workshop.
This year, Friends Academy celebrated the 20th anniversary of this event, and along with FA College Counseling Associate Director Cullen Player and Grades 9 and 10 Academic Advisor Alana Mercante, welcomed representatives from Bucknell University, Fairfield University, Rice University, St. Andrews – Scotland, University of Southern California, Villanova University, Washington University in St. Louis, Webb Institute, and Wyoming Seminary. Together, the group pondered both this year's theme and query, "Happily Ever After?" against the academic stress, financial burdens, and competitive nature of today's college admissions process.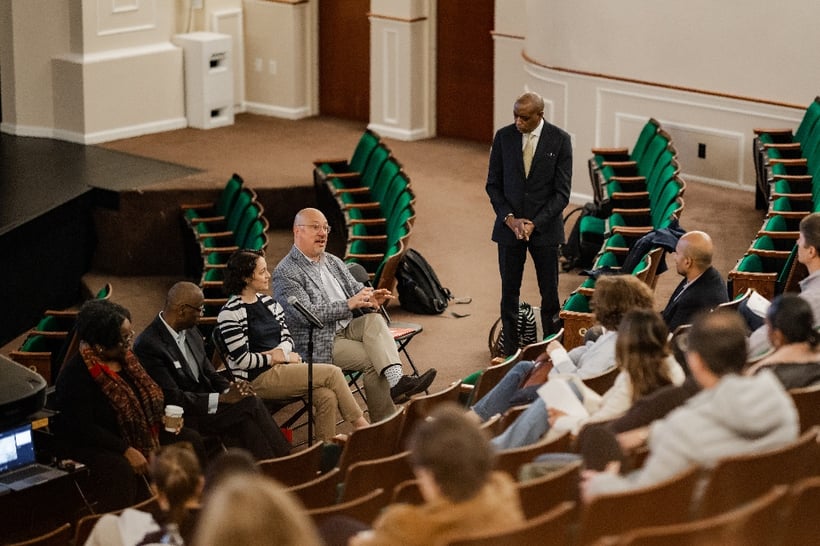 Following a short film that portrayed a gamut of self-filmed "acceptance" videos by aspiring seniors, Director of College Counseling Edward Dugger opened the event by guarding against the notion that can liken the college process to a fairy tale. "Just like in A Little Mermaid, do students have to give up their voice to get into college?" asked Mr. Dugger of his guests.
Villanova University Senior Associate Director for Undergraduate Admissions Erica Woods urged students to never give up the central part of themselves. "Match is important," she stressed. "When you are considering a college, ask yourself how well do you fit in; how well do you match their values?"
For many students, Fairfield University Associate Director of Undergraduate Admission Christopher Cahill notices an uptick in questions about what colleges like to see on a prospective Activities page. "We are shaping a class and it doesn't benefit the class if you are being artificial," he shared. "We want to see you stretch out of your comfort zone with commitment and leadership, but not necessarily put all of your eggs in one basket. However, you should not give up central pieces of leadership in the process."
"How can you build on what you really love?" asked Jenn Dice, Co-Director of College Counseling at Wyoming Seminary and a former member of the Friends Academy College Office. "Let's say you enjoy bike riding; perhaps that evolves into a bike tour through multiple states; perhaps you learn CPR so that you can volunteer at bike races; perhaps it teaches you better life balance and coping skills; or it leads to a job in a bike shop, or teaching kids how to ride their own bicycles."
The idea of community engagement and service working in tandem with personal passion carried through the morning. "College Admissions is really competitive," said Bucknell University Admissions Counselor Lee Dawson, who built upon the bicycle example. "Bike riding on the surface does not translate. We are more interested in service to the community and that you show you are engaged and that you care about others."
Referencing Op-Ed columnist and Academic Dean/Director of Guidance at St. Christopher's School in Richmond Virginia Jim Jump when he stated, "Once upon a time, colleges admitted well-rounded students; today they are looking for a well-rounded class," Mr. Dugger punctuated the morning with an anxiety that is often on many students' minds. "I'm a student and I gave up everything to achieve what I wanted... did everything I was supposed to do, and you still didn't take me."
"There is always going to be a place where your particular collection of talents resounds," answered Ms. Woods. "Sometimes it's about context – you take too much of this and not enough of that," she said. "College Admissions has goals," added Mr. Dawson. "Another student might have had something you didn't, but it was also probably not the right fit at the time for that particular class."
Mr. Dugger reminded families that one of the most important pieces of the process is the process. "The term 'College Application Process' can be fixated on almost a destructive path," mused Mr. Dugger. "The term itself misses the fact that going through this helps our seniors develop the skills they need at college to be both happy and successful."
So, what makes a successful college applicant? A number of factors emerged as the group of College Admissions representatives weighed in including:
A student who understands the institution well and how well they might fit in
Not necessarily achieving the most
A rigorous level of classes that might include 3-6 AP classes
Engagement with the community
A well-written essay that is not "perfect" but tells a good story about the student
Recommendations from adults who understand a student's intellectual vitality, are informed about the area of study and the student's community impact and can make a case for the collegiate institution
As Mr. Dugger closed out the parent/caregiver portion of the event, he expressed his gratitude for the past two decades of Inside College Admissions. "This is more like a family reunion," he smiled. "After 20 years, there are people who I'm working with for the very first time, but also with those over many years. Thank you to all."
Photography by Alvin Caal/Friends Academy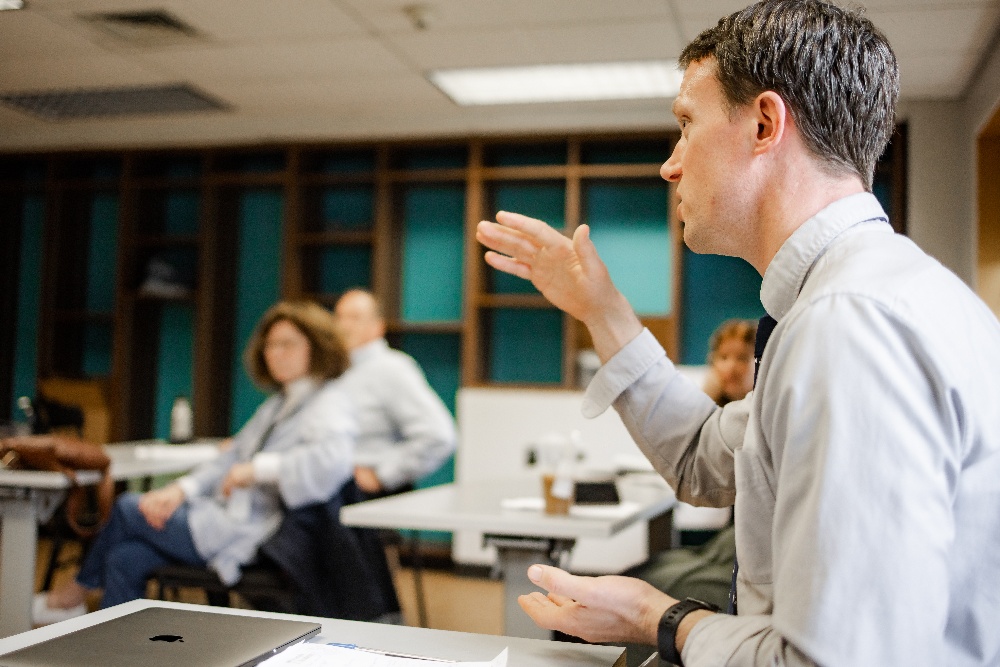 Following a parent/caregiver and then separate student session, Friends Academy colleagues were invited to join in a panel presentation about the effects of artificial intelligence and ChatGPT in the college essay process.