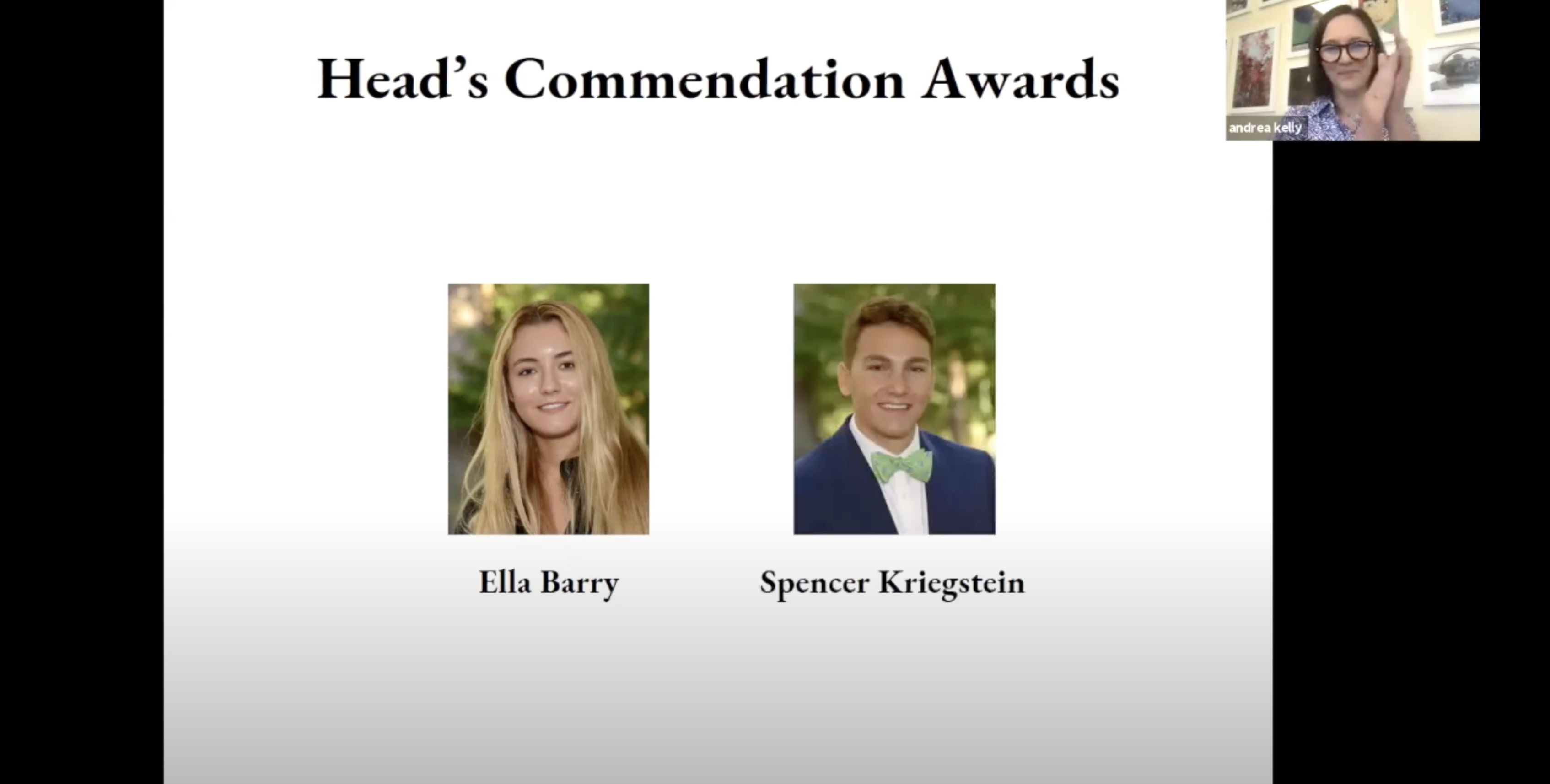 LOCUST VALLEY – At the Fourth Day Honors ceremony held at Friends Academy on Wednesday, June 9th, the Upper School departments announced this year's academic and special recognition awards. At the same time, the Friends Cum Laude Society inducted new members from the senior class. Senior Samantha Flores of Glen Cove (Fairfield University) opened the ceremony with a Scripture Reading and a moment of silence. Seniors Alexandra Cadet of East Islip (New York University), Julie Fine of Upper Brookville (Chicago College of Performing Arts at Roosevelt University), Kyleigh Mitchell of Huntington (The New School), and Ava Morey of Glen Cove (Amherst College) performed "Make Them Hear You" from the Broadway musical, Ragtime.
The James E. Gardner Headmaster's Commendation Award is presented to students in the graduating class who have demonstrated the qualities of kindness, integrity, cooperation, effort, cheerfulness, participation in school activities, and unselfishness, all irrespective of athletic or scholastic aptitude and achievement. This year's recipients are Ella Barry (Princeton University) of Oyster Bay Cove and Spencer Kriegstein (Georgetown University) of Huntington.
The Martin Jacobson Scholarship Award is presented in honor of Marty Jacobson, a devoted teacher, coach, mentor, and Athletic Director for 38 years. This scholarship goes to the student who exemplifies those leadership qualities that Marty sought to instill: integrity, commitment, inner strength, resiliency, vision, intensity, empathy, and caring service. This year's recipient is junior Malachai Russell '22 of Westbury.
The Brian James Hom Scholarship Award is presented in honor of Brian Hom '11, who passed away in 2011 and left a lasting impact on all who knew him through his passion for social equity and justice, innate generosity and personal warmth, wonderful sense of humor and smile, and unparalleled commitment to excellence as a runner and scholar. He genuinely respected all people and sought to restore dignity and hope to the world. The scholarship honors a student who embodies Brian's qualities and lives according to his motto, "I am the me I choose to be." This year's recipient is junior Nyah Thomas '22 of Roosevelt.
The Elizabeth Young Durante Community Service Award is presented in honor of Elizabeth Durante '06, who passed away in 2009. This Community Service Award is given to a senior who has demonstrated outstanding commitment to serving those in need. This year's recipients are seniors Adrienne Coleman of Locust Valley (Dartmouth College), Alexandra Kramer of Old Brookville (Wake Forest University), and Carleigh Zelman of Brookville (University of Southern California).
Roger Erickson English Award
Vimala Alagappan – Harvard University
Alexandra Cadet – New York University
Adrienne Coleman – Dartmouth College
Riya Subbaiah – Georgetown University
French Award
Sarah Wang – Tufts University
Ella Barry – Princeton University
Spanish Award
William Hunter – University of Illinois at Urbana-Champaign
Mariana Posada – Skidmore College
Latin Award
Ludovico Monti – Boston College
Chinese Award
Ian Kim – Boston College
Kelly Chee – Rice University
Elizabeth Roosevelt History Award
John Donohue – Hamilton College
Lauren Pasquale – University of Virginia
Mathematics Award
Vimala Alagappan –

Harvard University
Recognition for Outstanding Dedication and Leadership in the Performing Arts
Music
Alexandra Cadet – New York University
Jasmine Carnevale – University of Chicago
John Donohue – Hamilton College
Julie Fine – Chicago College of Performing Arts at Roosevelt University
Caroline Green – Williams College
Kyleigh Mitchell – The New School
Ava Morey – Amherst College
Ezekiel Popoola – Wesleyan University
Riley Schultz – Manhattan School of Music
Jack Towse – The Juilliard School
Carleigh Zelman – University of Southern California
Theater and Dance
Alexandra Cadet – New York University
Chelcie Crutch – Washington University in St. Louis
Julie Fine – Chicago College of Performing Arts at Roosevelt University
Emma Herold – University of California-Santa Barbara
Tina Huang – Barnard College
Luke Jennings – Carnegie Mellon University
Kyleigh Mitchell – The New School
Ava Morey – Amherst College
Lauren Pasquale – University of Virginia
Mariana Posada – Skidmore College
Sarah Wang – Tufts University
Dominick Williams – Morehouse College
AP Visual Arts
Marisa Benjamin – Washington University in St. Louis
Avery Bystrom – University of Southern California
Charlie Cooper – Lehigh University
Chelcie Crutch – Washington University in St. Louis
Isabella DiMeo – Duke University
Tina Huang – Barnard College
Billy Lawrence – The University of Texas at Austin
Zach Mazur – Washington University in St. Louis
Elizabeth Schwab – Boston College
Honors Arts Seminar
Marisa Benjamin – Washington University in St. Louis
Julie Fine – Chicago College of Performing Arts at Roosevelt University
Luke Jennings – Carnegie Mellon University
Ava Morey – Amherst College
Chemistry Award
Ethan Labelson '22
Charlotte Chen '22
Biological Science Award
Vimala Alagappan – Harvard University
Ella Barry – Princeton University
Sadie Brett-Chin – Washington University in St. Louis
Riya Subbaiah – Georgetown University
Physics Award
Cullen Steel – Cornell University
Outstanding Female Athlete
Adrienne Coleman – Dartmouth College
Caroline Green – Williams College
Outstanding Male Athlete
Billy Daal – The Taft School
Skyler Mott – Lehigh University
Members of the class of 2021 inducted into the Cum Laude Society as seniors in their fall semester are:
Vimala Alagappan (Harvard University), Ella Barry (Princeton University), Emily Brown (Dartmouth College), Jordyn Cagner (Cornell University), Jasmine Carnevale (Xxx), Adrienne Coleman (Dartmouth College), Andrew J. Hoyt (Washington University in St. Louis), Spencer Kriegstein (Georgetown University), Lauren Pasquale (University of Virginia), Cullen Steel (Cornell University), Riya Subbaiah (Georgetown University)
Members of the class of 2021 inducted into the Cum Laude Society as seniors in their spring semester are:
Sadie Brett-Chin (Washington University in St. Louis), Avery Bystrom (University of Southern California), Kelly Chee (Rice University), Teddy Grace (Boston College), Ian Kim (Boston College), Mariana Posada (Skidmore College), Elizabeth Schwab (Boston College), Sarah Wang (Tufts University), Carleigh Zelman (University of Southern California)
2021 National Merit Scholarship Competition Finalist:
Vimala Alagappan (Harvard University)
2021 National Merit Scholarship Commended Students:
Sajid Aziz (Wesleyan University), Ella Barry (Princeton University), Avery Bystrom (University of Southern California), Spencer Kriegstein (Georgetown University), Gavin Park (Boston University), Cullen Steel (Cornell University)
2021 College Board National Hispanic Recognition Program Scholar:
Jasmine Carnevale (University of Chicago), Zach Mazur (Washington University in St. Louis)
Class of 2021 College Matriculations
American University
Amherst College
Barnard College
Bentley University
Boston College
Boston University
Bucknell University
Carnegie Mellon University
Clemson University
Colgate University
College of Charleston
College of the Holy Cross
Cornell University
Dartmouth College
Duke University
Fairfield University
Fordham University
George Washington University
Georgetown University
Hamilton College
Harvard University
Hobart and William Smith Colleges
The Julliard School
Lafayette College
Lehigh University
Long Island University
Manhattan School of Music
Morehouse College
The New School
New York University
Northeastern University
Penn State University
Princeton University
Providence College
Rice University
Roosevelt University
Savannah College of Art and Design
Skidmore College
Southern Methodist University
Syracuse University
The Taft School
Trinity College
Tufts University
Tulane University
Union College
University of California – Santa Barbara
University of Chicago
University of Colorado Boulder
University of Delaware
University of Denver
University of Illinois at Urbana-Champaign
University of Miami
University of Richmond
University of Southern California
University of St. Andrews
University of Texas at Austin
University of Virginia
Villanova University
Wake Forest University
Washington University in St. Louis
Wesleyan University
Williams College