Three Friends Academy Spring Student-Athletes Named to Newsday Top Lists
Written by Liz Schwab
05-20-2021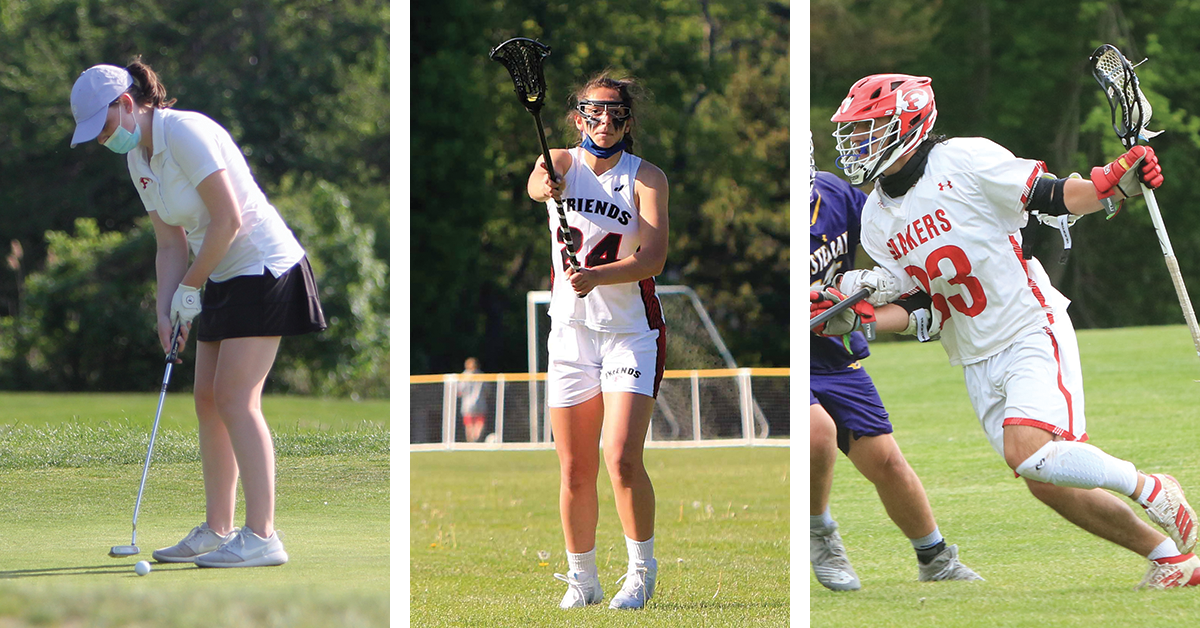 As Nassau County athletes returned to the fields for spring sports, three Friends Academy athletes were recently named to the 2021 Newsday top lists for Girls Golf, Boys Lacrosse, and Girls Lacrosse.
Senior Mary Droesch ranked high at recent Nassau County tournaments and was named to be one of the Top 25 girls golfers for 2021 by Newsday. Mary came in first at the Metro PGA Junior Tour tournament at Glen Cove Golf Club in 2019 where she scored an 85. She also "placed 16th in the Nassau tournament," stated Newsday. As a four-year varsity golf player and current co-captain, Mary consistently brings leadership and skillset to the Friends Academy golf program, as the girls team heads into county finals after capturing the conference title. Mary will continue her academic career at The College of Holy Cross next year.
For Boys Lacrosse, senior Albert Paniccia ranked as one of Long Island's top 100 high school boys lacrosse players for 2021. As a sophomore, Albert made a notable mark with "17 goals and 21 assists,'' proving to be both an offensive threat and a team-oriented player. This year, the boys lacrosse team has already set a strong foundation for the season with a 3-1 record. As an all-around midfielder, Albert will continue to play lacrosse at Division I Providence College next year.
Paris Panagopulous's offensive drive and athleticism as a three-sport athlete placed her within Newsday's Top 100 Long Island girls lacrosse players for 2021. Paris, who also plays "soccer and basketball at a high level" scored 51 goals and had six assists as a part of the Nassau lll champions during the 2019 season. With 18 goals and 15 assists within the first six games of the 2021 spring lacrosse season, Paris continues to be a fierce offensive competitor on the field. With a 5-1 record, the girls varsity lacrosse team heads off to playoffs in June.
Mary, Albert, and Paris are "...outstanding representatives of our athletic program, our school and in the leadership and commitment that they show and the character they embody," stated Al Quackenbush, Director of Athletics.
Congratulations to all of the Friends Academy players who continue to embody the Quaker value of community, showing high levels of competitiveness and commitment to their teammates. As Mr. Quackenbush concluded, "The 2021 sports seasons have been a challenge to say the least ... our athletes continued to stay focused, train, and prepare themselves. This is a credit to their level of discipline and dedication to their teams and teammates".