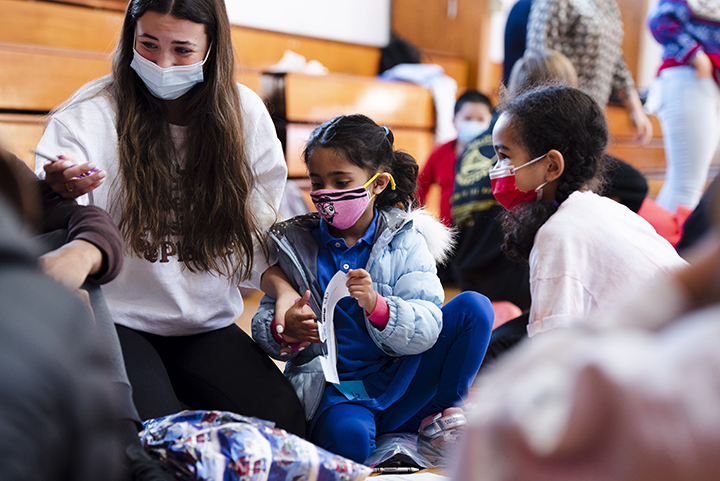 At Friends Academy, the school's value of "Be the Change" means that students and staff approach education with a purpose to serve. Nowhere is that more evident during the school's annual all-school service project. Every year in December, the entire school community gathers in Community Groups to wrap gifts of warm socks and mints that are sent and shared with the school's service partner P.O.T.S. (Part Of The Solution).
Within circles of community groups, Quaker buddies of older and younger students shared with each other about their favorite holiday traditions and then created holiday cards to accompany their gifts that will later support folks impacted by poverty. "It just means a lot to the 40,000 people and households we serve in the Bronx," said Daniel Rostan, director of development at P.O.T.S., the nonprofit agency distributing the cards and gifts, which is based in the Bronx. "It was just very moving for me to be here — this is my first time — to see how sharing is so meaningful to kids of all ages."
In addition to this annual project with P.O.T.S., Friends Academy families participate in monthly sandwich-making that are delivered along with fresh fruit to the center's pantry.
Watch our time lapse of the project below: