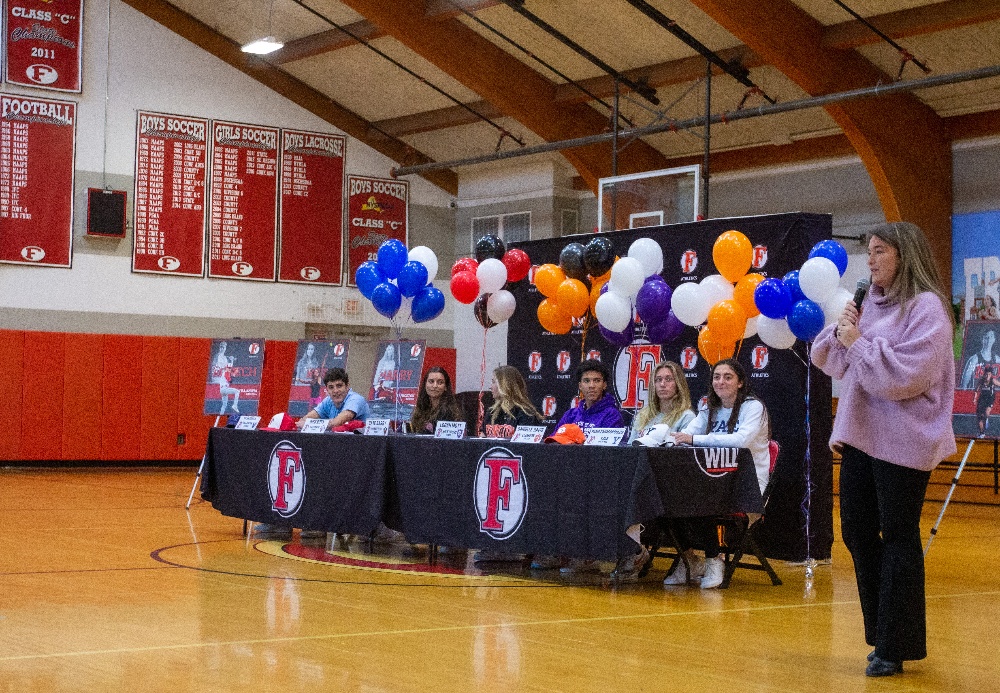 Amidst brightly colored balloons bearing the signature palette of their upcoming colleges, personalized action-shot posters, and in front of family, friends, and Friends Academy colleagues, six senior student-athletes signed their National Letters of Intent at National Signing Day on Wednesday, Nov. 9th.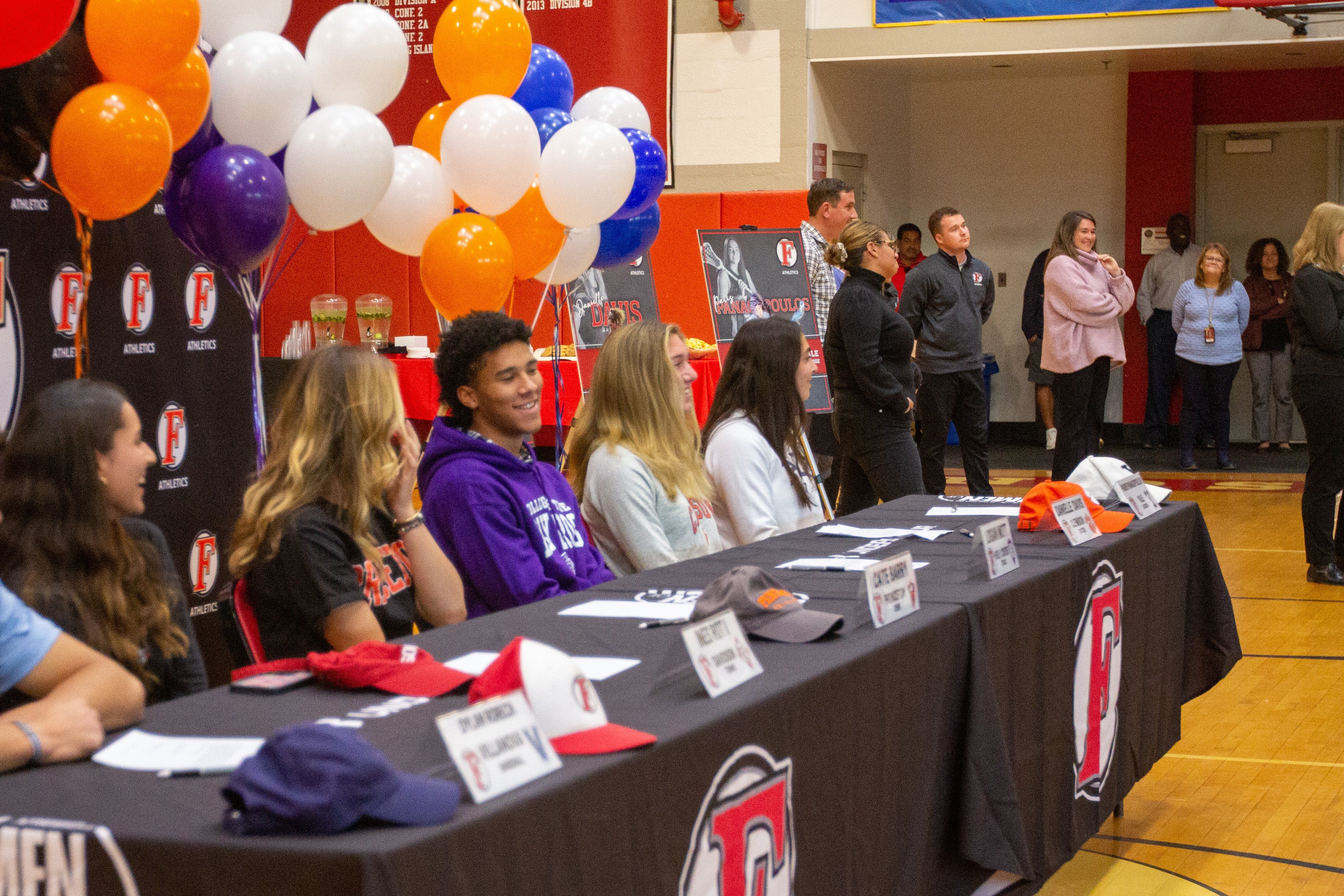 "It's very rare to have this many seniors sign," shared Director of Athletics Diana Parente with the audience. "We are going to have six more and that will total 10% of the class," she added. Most schools see a two- to five-percent rate of the senior class sign. "It's a huge accomplishment!"
Congratulations to the following six student-athletes:


Cate Barry – Princeton Rowing
Danielle Davis – Clemson Soccer
Logan Mott – Holy Cross Track and Field
Paris Panagopoulos – Yale Lacrosse
Dylan Rorech – Villanova Baseball
Ines Roti – Davidson Tennis
After thanking coaches, teachers, staff, administrators, and non-teaching members, Ms. Parente shared a heartfelt note of appreciation for families. "It really takes a village. Thank you to all who made this possible and thank you to parents for all that you do."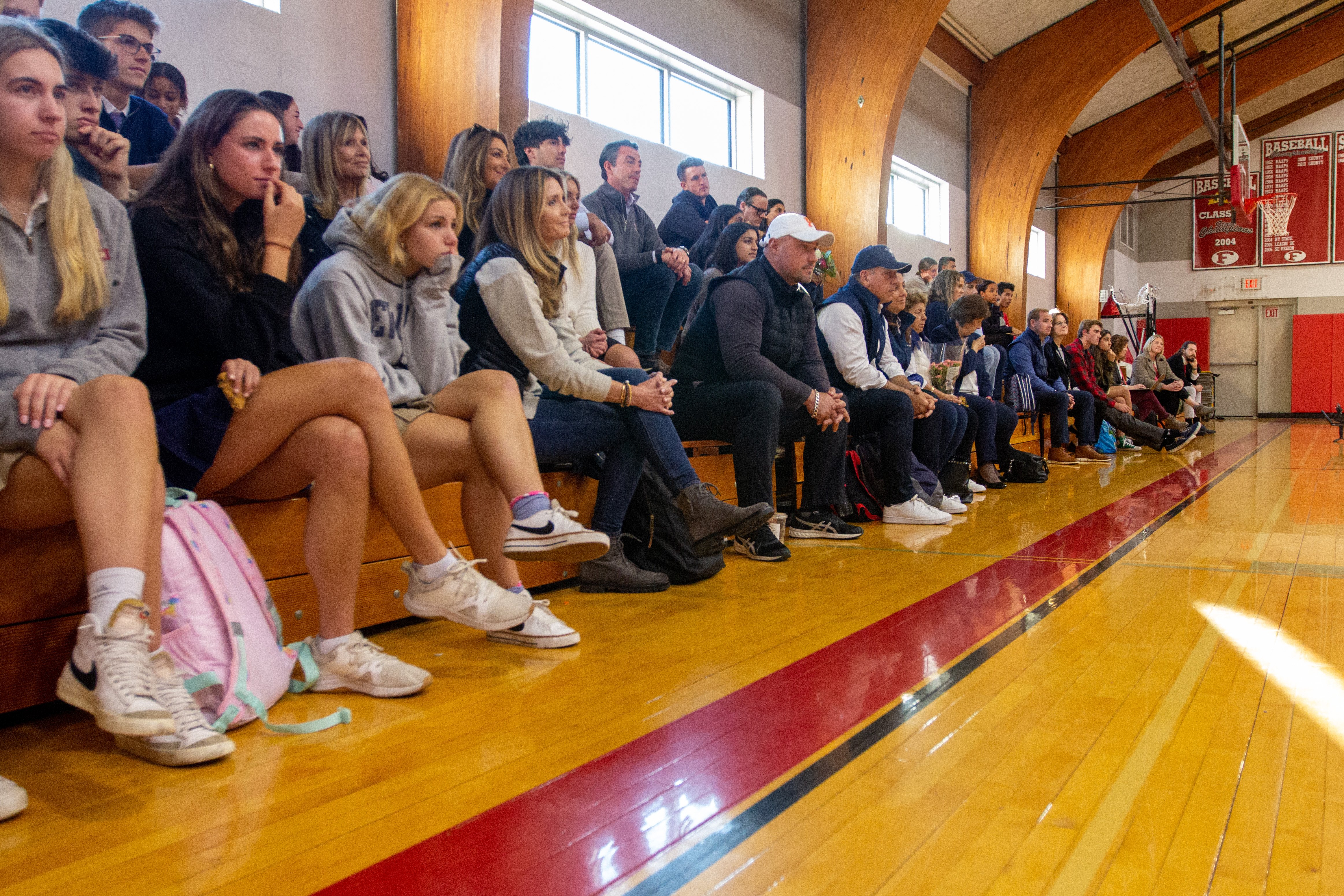 Individual coaches and teachers took a turn describing what inspired each of them about their student-athlete. "There is never an off-season for Paris and it shows," praised Girls Varsity Lacrosse Coach Rachel Dooley about Paris Panagopolous, off to Yale University in the fall, and who in her four years scored 134 goals, had 43 assists, and made Newsday's Top 100 twice. "What people don't know is how much of an impact Paris has made for our program and our school. Younger lacrosse players striving to be like her and wanting to sign up just to play with her."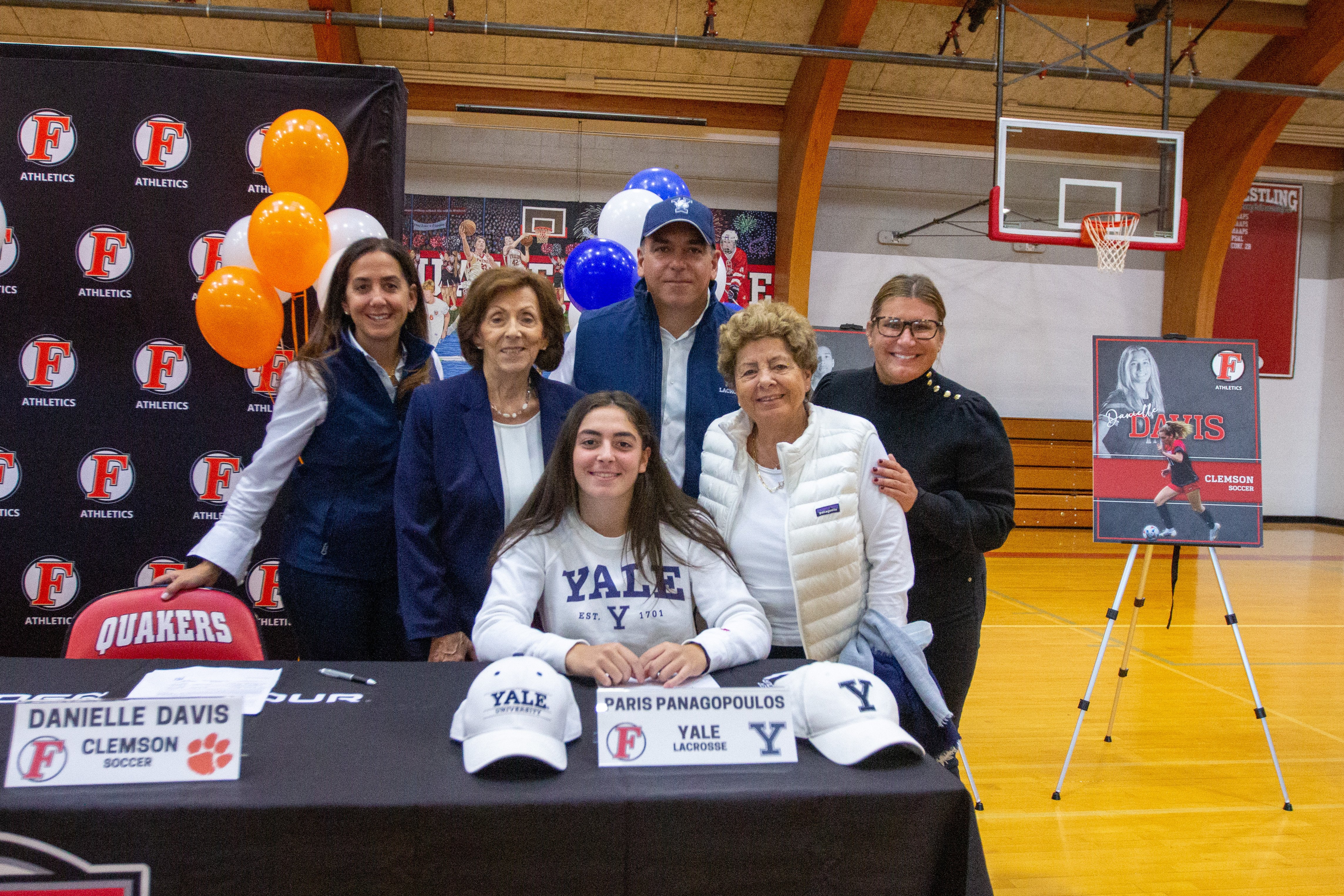 When Coach Vincenza DeCrenscenzo first met Danielle Davis, she didn't believe she was a high school player. "Watching Dani play soccer is like watching a World Cup highlight reel," remarked Coach DeCrenscenzo of Danielle who will be starting at Clemson in January 2023. "But you know that she doesn't play for the stats or the awards; she plays for her love of the game and doing what she can for the team," added DeCrenscenzo of Danielle who in her two short years scored 13 goals, 11 assists and led her team to back-to-back undefeated seasons. After being named twice to Newsday's Top 100, Danielle was just selected to play at the All-American Game.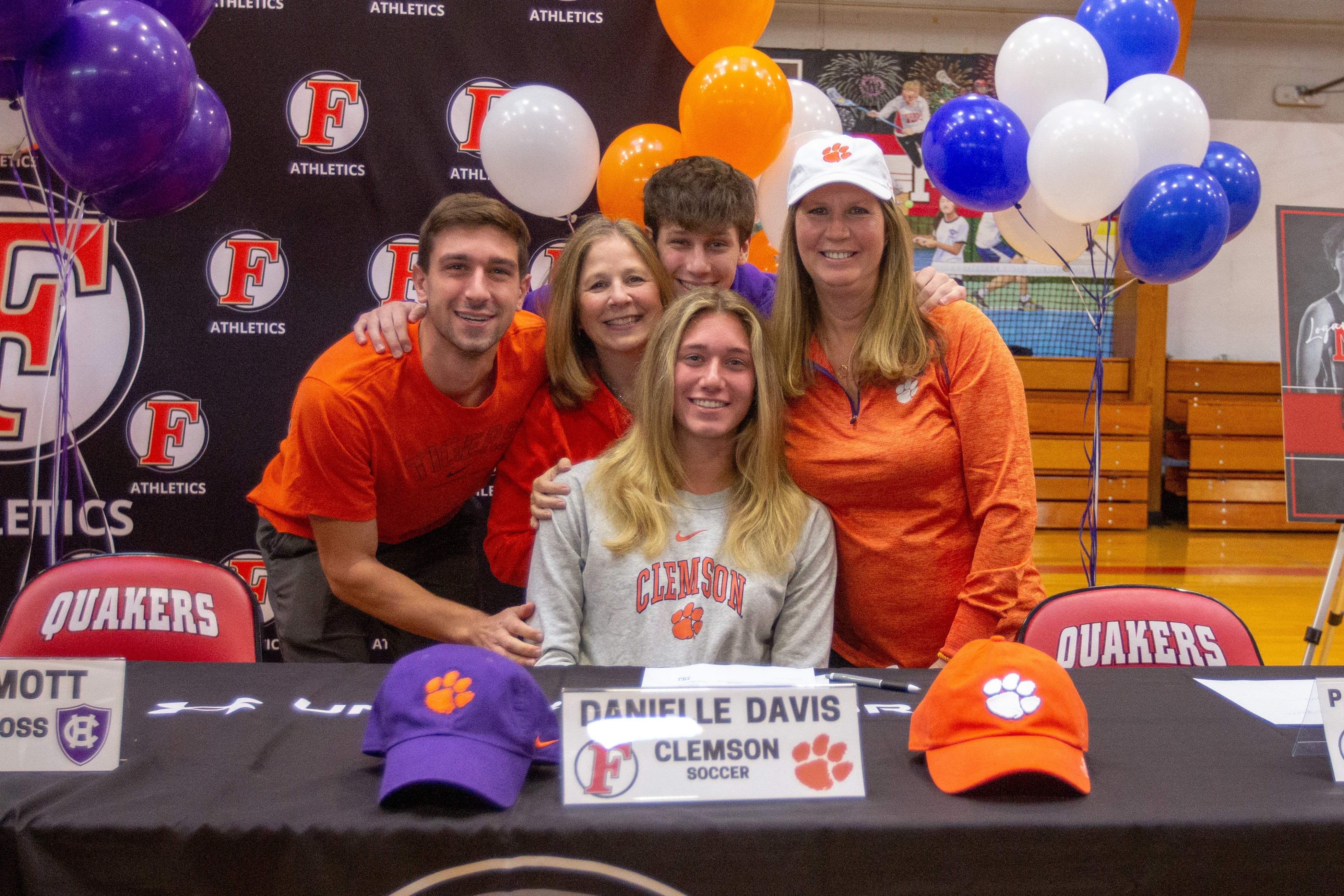 "Despite increasing pressure for students to specialize at an early age, Logan is clearly not a one-sport athlete," said Varsity Track Coach Louisa Garry of Logan Mott, who is headed to Holy Cross next fall and has been recognized in soccer as All-County and a Newsday Top 100, as well as All-Conference in Basketball and part of the team who placed second in the state championship game last year. "Despite the fact that Logan has only been competing on the track team for two years, his speed, strength, and versatility have come to full light as he literally runs and jumps circles around other athletes," shared Coach Garry, who added that Logan improved his triple jump personal best by almost 2 feet and dropped 3 seconds off his 400-meter time to help lead the Boys 4X4m. relay team to their first NY State Championship and new school record.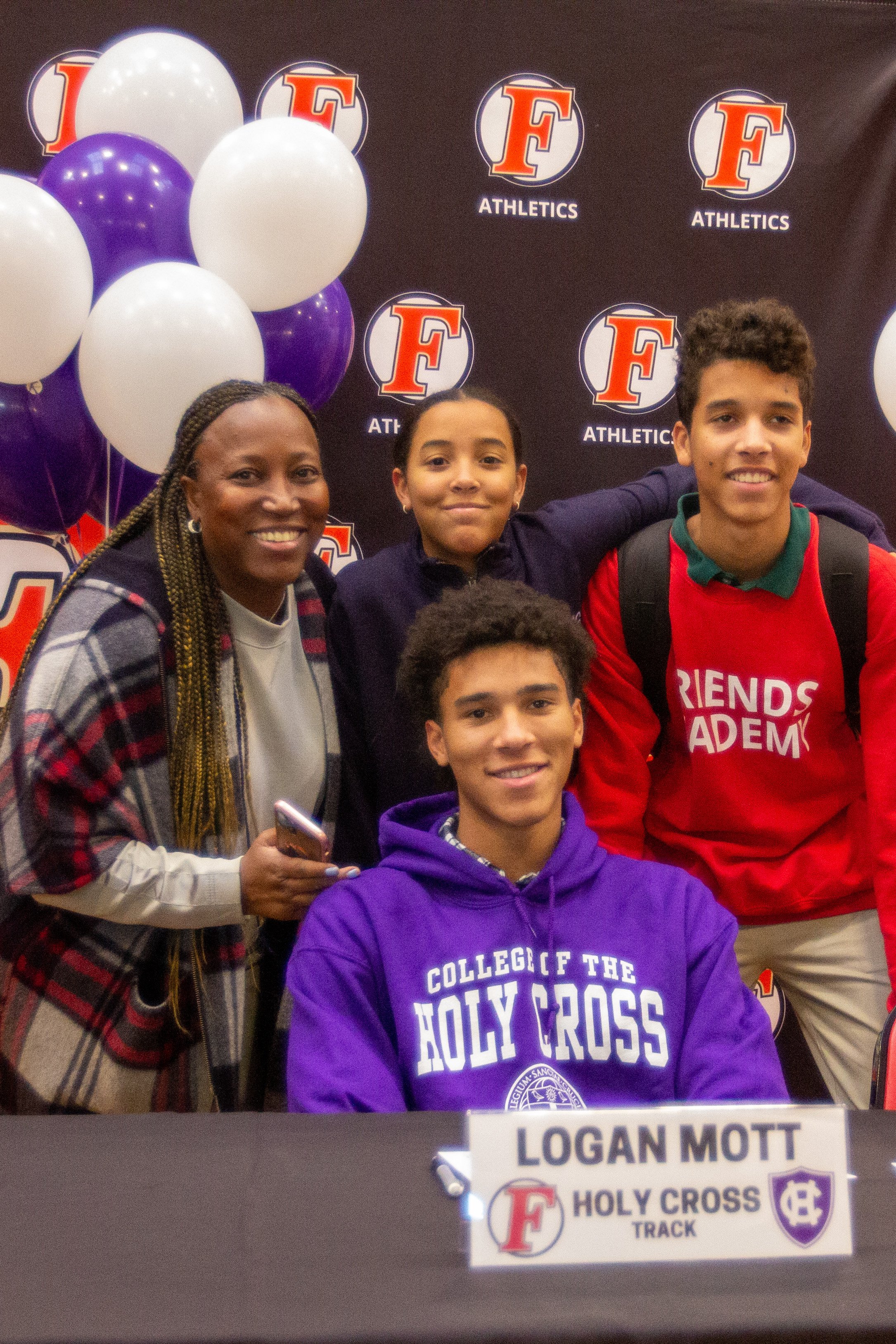 Upper School History teacher Jared Gervais shared what inspired him about senior Cate Barry. "She is a highly successful rower and competitor, but also a wonderful selfless human being who shows a dedication to excellence and an unyielding sacrifice to her craft," said Mr. Gervais of Cate, who rows for the Oak Neck Rowing Club and won the Youth Singles at the prestigious Head of the Charles Regatta this year in Boston. Cate will join her sister and Friends Academy alumna Ella at Princeton in the fall.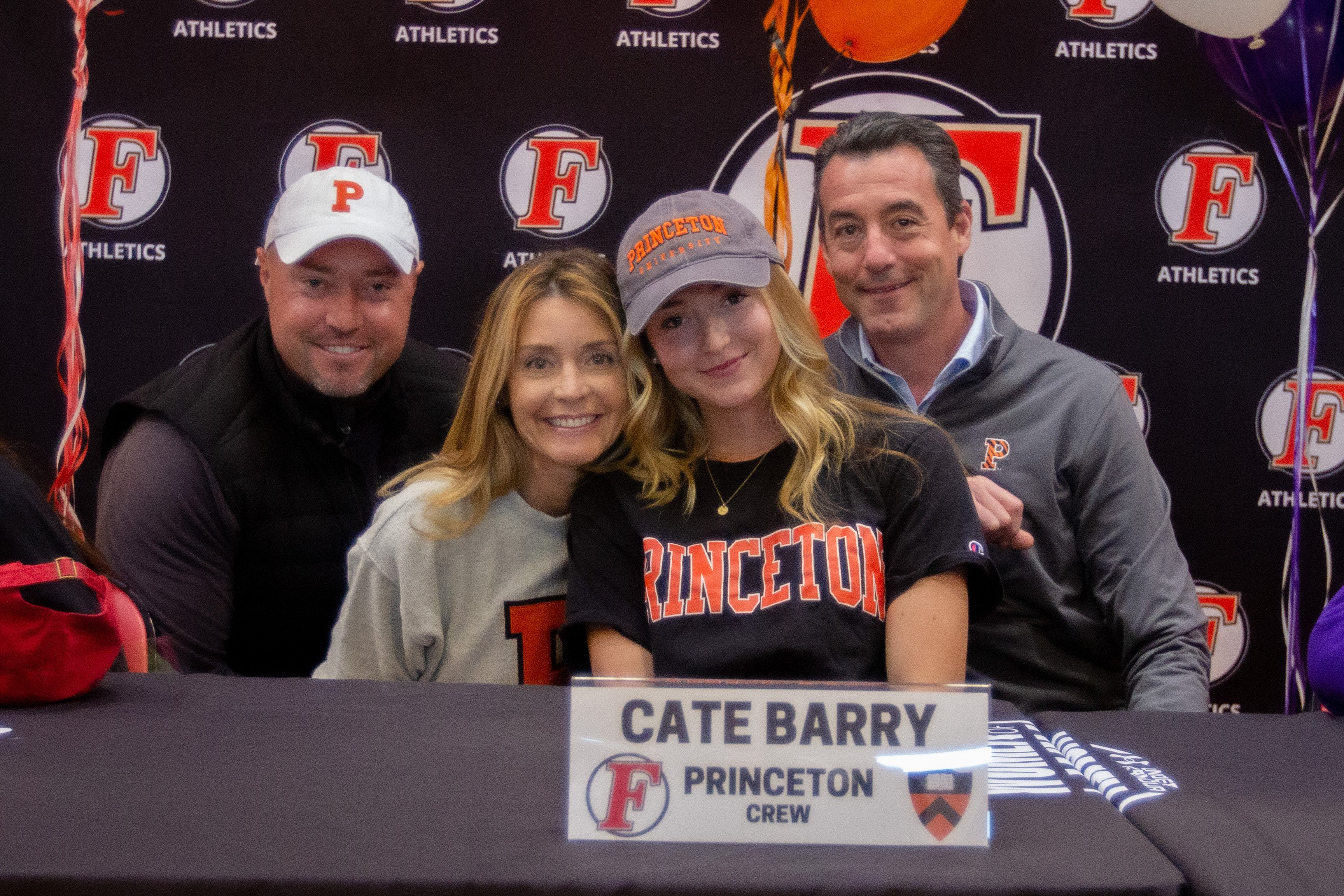 Upper School Science Department head Jen Newitt has come to know Ines Roti, who is heading to Davidson in the fall, as a mature, dedicated, and centered scholar; she interviewed Ines' tennis coach and family to learn more about her commitment to the court. "Ines' coach Adam describes her as having 'dedicated her entire upbringing to playing tennis,' and she has trusted herself and her coach throughout the process, sticking to her goal, which since 8th grade was to play Division 1 college tennis," shared Mrs. Newitt. Ranked as high as #1 on Long Island and consistently Top 40 in the Eastern Division of the USTA, Mrs. Newitt praised Ines for her independence and self-advocacy. "She had one of the best wins of her career this summer, beating the number nine player in the nation at a major tournament. Her coach described that as one of those pinnacle moments you train your whole life for – Ines made the most of that moment, and the college coaches, including the Davidson Coach watching that match, took notice."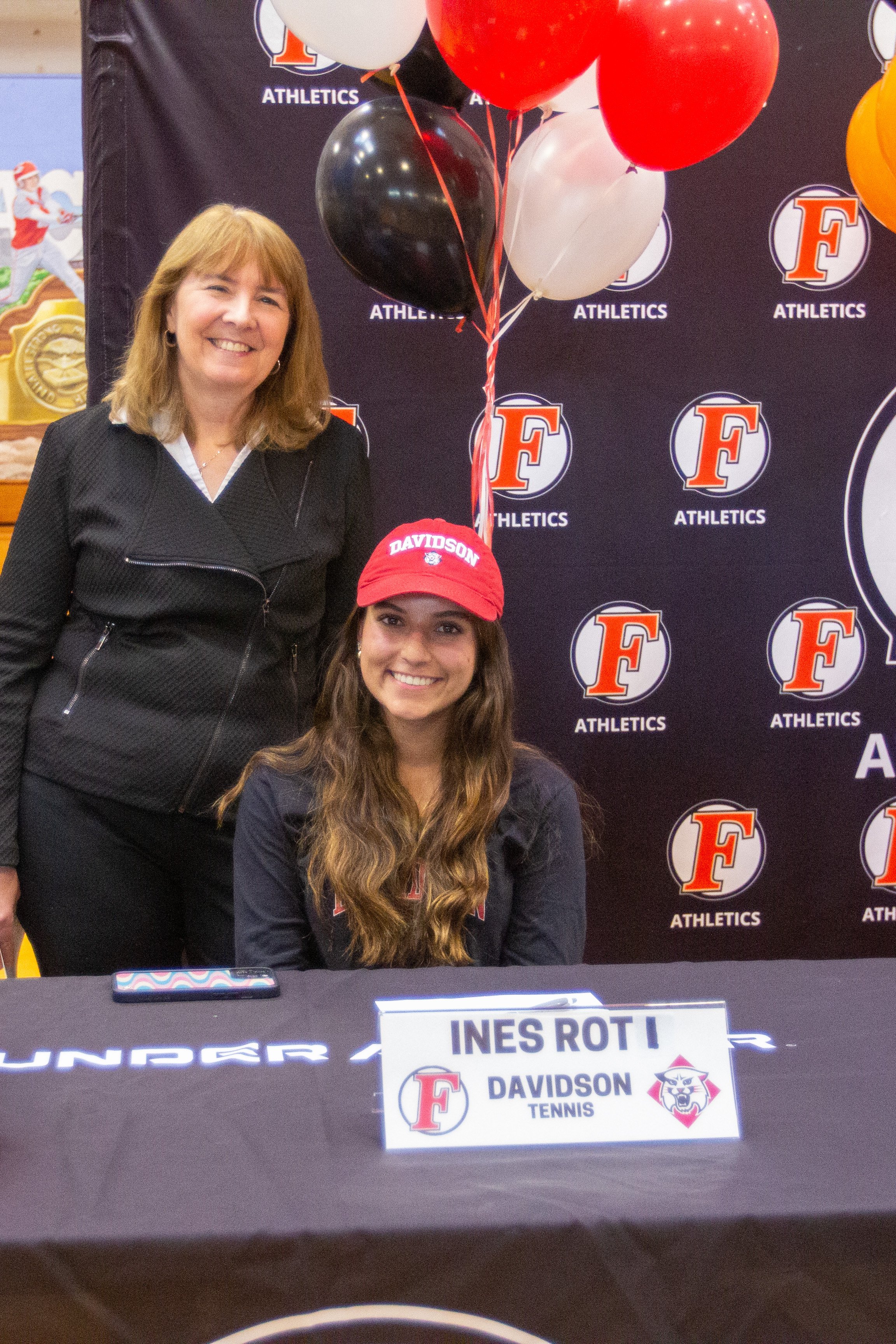 For Coach Callum Ewen, Dyan Rorech embodies not only a high-caliber athlete but an athlete who will do anything for his team to win. "Dylan is the type of student-athlete who understands that hard work and doing things the right way will pay off in the end," stated Coach Ewen of the Varsity Baseball player. "He is a great student of the game and is always looking for ways to learn and grow to be a better play," added Coach Ewen. "The University of Villanova is not only getting a great student-athlete, but they are getting an even better person."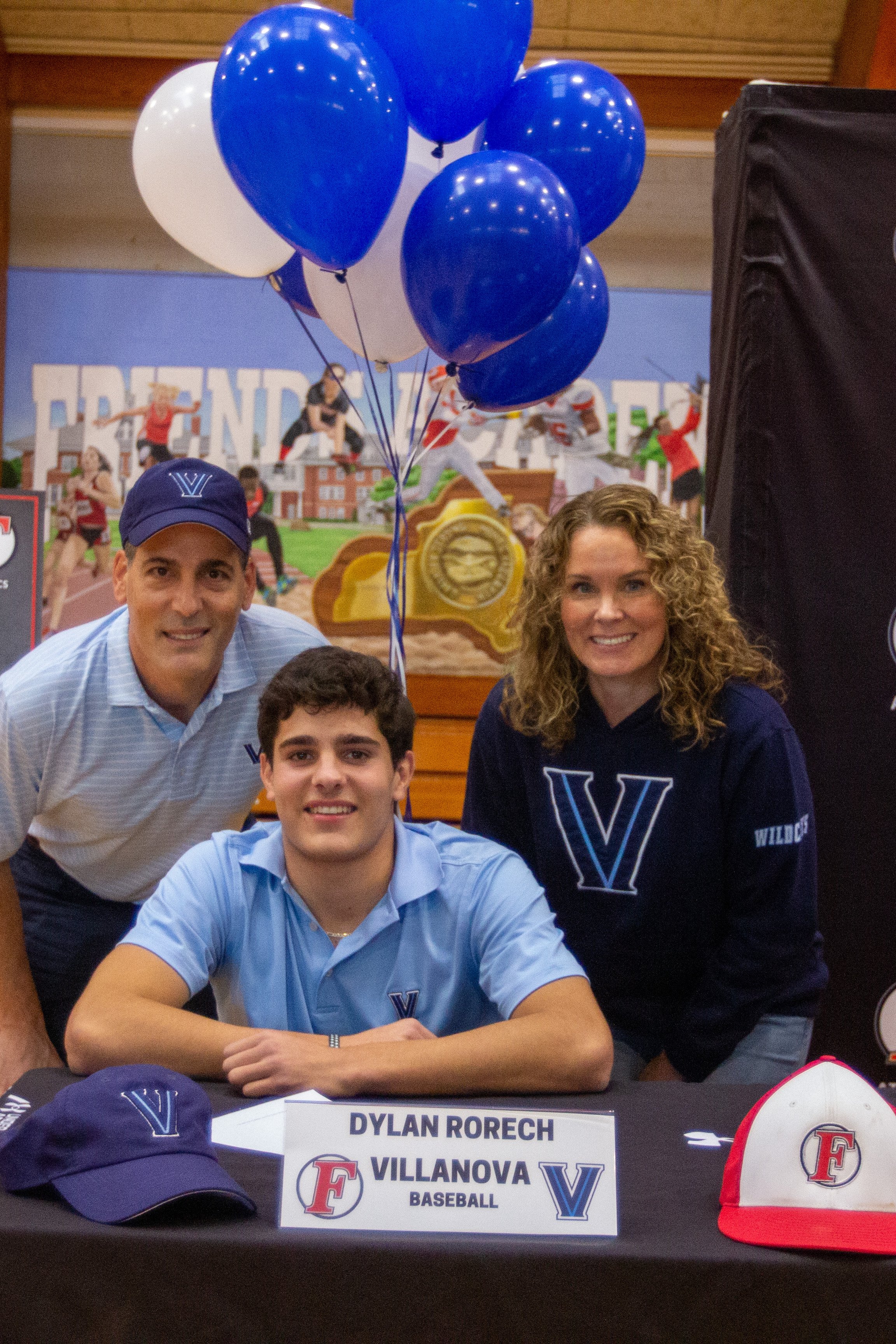 Following the remarks, FA Today student reporter Nikki Mazur, with support from School Videographer/Photographer Alvin Caal, pulled the student-athletes into some post-interviews, as seniors shared what sports have meant to them over the years and why they chose the college they did. Look for the interviews in an upcoming FA Today sports broadcast.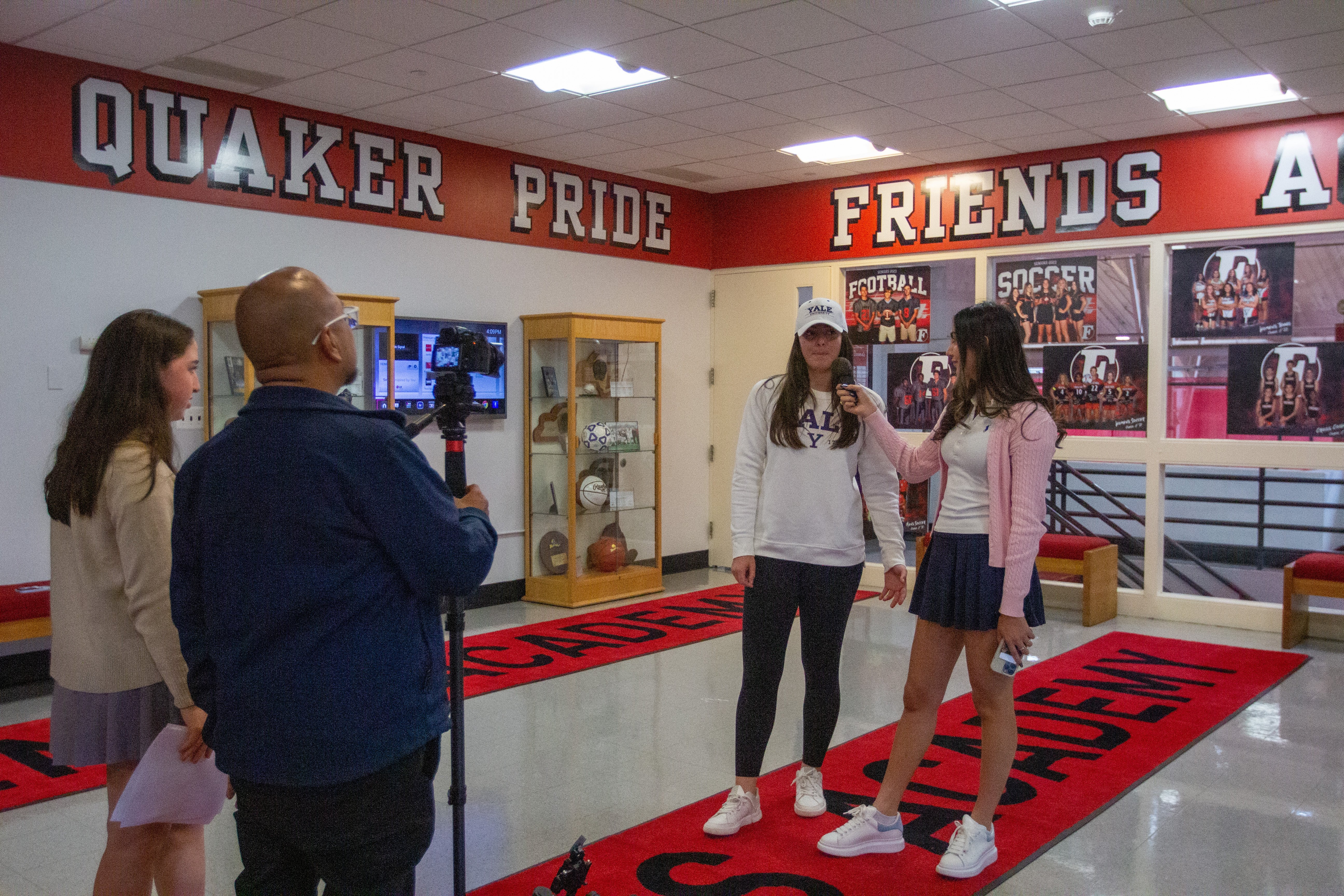 Photography by Margaret Pegno/Friends Academy