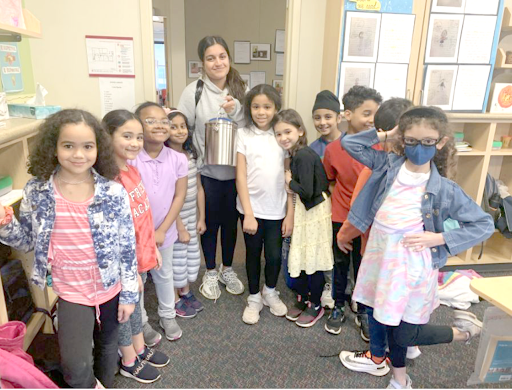 Friends Academy senior Neha Sarwal made the news recently with an environmental capstone project she created after her work with the Climate Leaders Fellowship program. Headlined in the local area press, Neha is looking to expand a composting program, interrupted by the pandemic, that she re-launched at Friends last spring.
Sponsored by RusticPathways, the Climate Leaders Fellowship is a leadership development program for students age 14-18 from around the world who are interested in climate change and environmental sustainability. The program is made possible via a partnership between the Center for Deliberative Democracy at Stanford University and the Rustic Pathways Foundation.
The group of 94 student participants were asked to create and implement a volunteer project in their community aimed at reducing the impact and harm of climate change. Framed by Friends Academy's Quaker value, "Take care," which practices the Testimony of Stewardship, Neha's project involves designing a composting program for K-5 students at Friends Academy that encompasses education, hands-on collection, and actual composting of the Friends Academy edible garden, located outside of the Lower School.
"I've never done anything like this before, and it helped me a lot with my leadership skills and initiative," Neha was quoted in the Glen Cove/Oyster Bay Record Pilot, who hopes to increase collections of vegetable clippings to twice a week.
Cover Photo Courtesy of Rustic Pathways