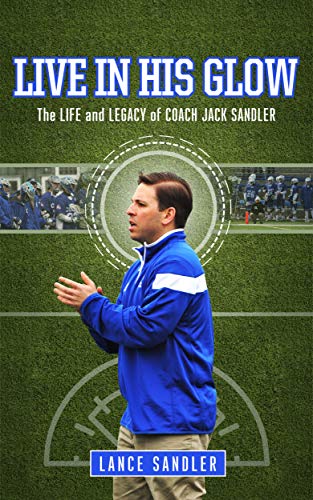 Today marks the fourth anniversary of the passing of Friends Academy alum and storied college lacrosse coach Jack Sandler '98. To honor his son, Jack's father, Lance, has penned his first book, "Live in His Glow: The Life and Legacy of Coach Jack Sandler," in which family and friends share their memories of and insights about this remarkable person. The book was released Oct. 7.
Characterized by Friends Academy's Head of School Andrea Kelly as a "love letter from a father to a son," Lance shares the remarkable life his son led, as a three-sport athlete (football, lacrosse, and wrestling) at Friends Academy, lacrosse coach at first Skidmore and then Colby College, and what he discovered during the research for this book.
"I've met nearly 1,000 people who I never met before," remarked Lance. "And every person said, 'I was Jack's best friend,'" said Lance. "My wife and I had no clue. We knew he was good at what he did, but we had no idea the reach he had."
From the pair of Jehovah's Witnesses Jack invited in to his house because he was fascinated with learning more about all faiths; to the students who would line up, one after another, outside Jack's office at Colby College, just to ask his advice about life; to the over 300 people who delivered Quaker messages out of the silence at his funeral; to the people who continue to be touched by Jack through the Jack Sandler Leadership Foundation, Lance knows one thing to be very true.
"No matter who you were, Jack made you think you were the most important person in the world," shared Lance. "I wanted people to learn about Jack, his values, and what he stood for. I've heard from so many people that the world is deteriorating, but when they hear about Jack, they tell me, 'You've given me hope.'"
Lance shares that this book was necessary for him to write, not only for himself and his wife, but for those who knew Jack, and those who have yet to know him.
All proceeds from the sale of "Live in His Glow" will go directly to the Jack Sandler Leadership Foundation, which invests in the future of less advantaged student-athletes by providing scholarships to attend high-level lacrosse camps. In 2019, the foundation sent 28 kids to camp.
With a thirst for knowledge, Jack possessed this innate ability to lift people up, especially when everyone else had abandoned them. "I don't know if he learned this at Friends Academy, or Friends Academy saw this in my son and brought it out," Lance said. "I just know that he lived the values of Friends Academy and four years after his death, Jack's legacy is not shrinking... it's growing."