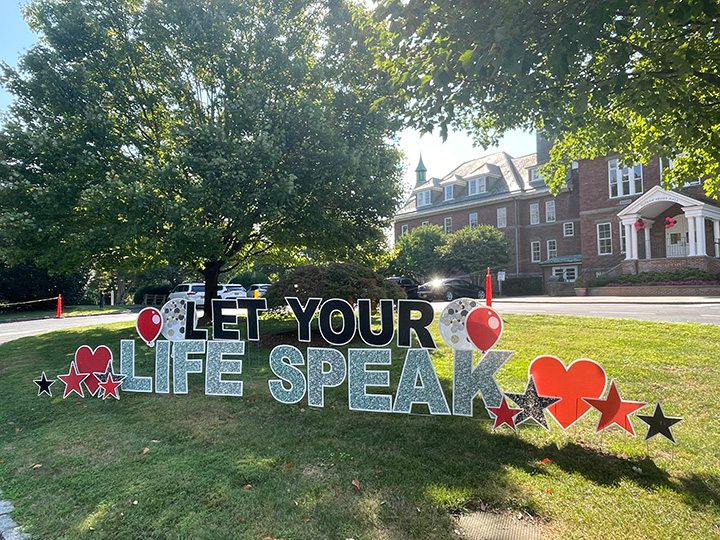 On Tuesday, Aug. 30th, Friends Academy welcomed 689 students and their families to a new school year, full of excellence in education, learning, and growth. Under the banner of the 2022-23 all-school theme of "Courage," students from age 3 in Playgroup to 12th grade, greeted each other with smiles and hugs, as they shared hopes for the year to come.
In Upper School, seniors celebrated their last "first day" with community traditions that ushered in a sense of camaraderie, fun, and joy. Multi-colored suits, white dresses, and little kid backpacks marked the entrance of the Class of 2023. Students stepped into their classrooms with educational energy, attending the first four periods of their schedule.
Guest speaker Darryl Bellamy immersed the Upper School student body in a riveting assembly about fearlessness; how to overcome your fears and have the courage to be your best self. As students individually shared their own fears and hopes, they learned how courage ultimately springs from the strength of community.
In Middle School, students combined a robust all-campus scavenger tour of campus with the quiet meditation of Quaker Meeting for Worship. Students spent important time in their advisories, a group of peers whom they will form tight bonds with this school year, they participated in activities in honor of the all-school theme of Courage.
In Lower School, the excitement was high as music greeted the youngest learners on campus to classrooms and special spaces (including a visit from Roxy's Ice Cream Truck!) In addition to individual community-building activities in their classrooms, students in Kindergarten through 4th Grade came together during the Lower School assembly known as Gathering.
"Gathering is a time when the entire Lower School gets together and it's an opportunity for grades to share about different projects, learn about the holidays and observances our diverse community celebrates, and we use it to learn about how to live our Quaker values," explained Lower School Principal Dot Woo. "The community building that we are doing right now ties directly into creating an exceptional academic foundation for the year to come," she added.