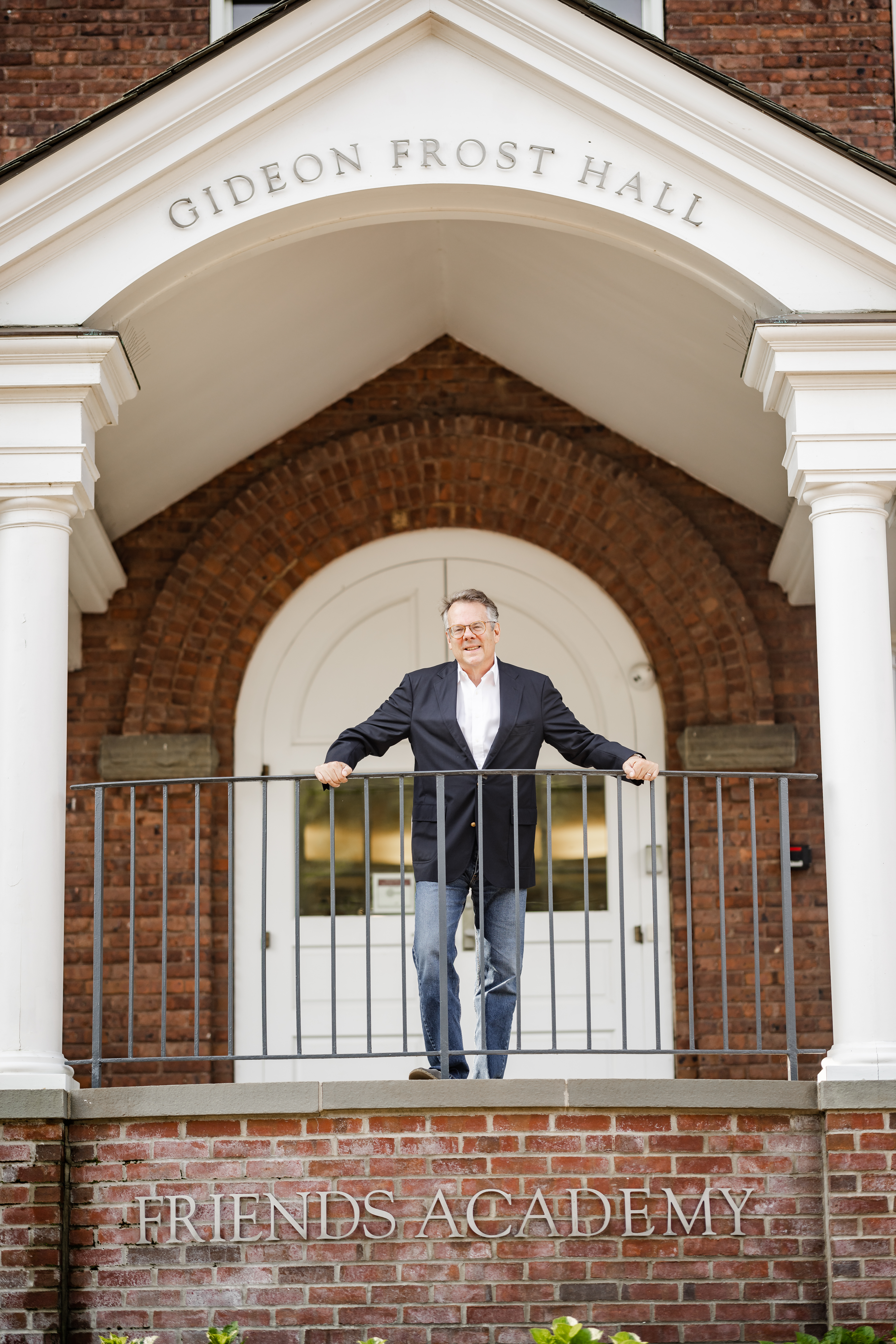 "What a morning we have chosen to celebrate our school and rise together as we reflect on its powerful past and consider the brilliant promise of the days and years to come," reflected Paul J. Stellato, Friends Academy's newest and 25th Head of School. (Read the full speech.)
At its annual Convocation on Friday, Sept. 8, nearly 1,000 Friends Academy colleagues, students, families, trustees, and friends gathered outside under the shade of a large canopied tent to welcome new families and colleagues and honor the Quaker Testimony of Community.
Watch a highlights video of Friends Academy's Convocation.
The lingering notes of bagpipes, played by junior Maddie Halliday, greeted students and adults and gave way to a host of student and adult speakers and performers, including seniors and co-clerks of TASQUE (Teachers and Students for Quaker Understanding and Education) Elya Rak and Charlotte Knight, who opened Convocation with a Quaker moment of silence. Following a performance of Vivaldi's "Spring" from the Upper School strings ensemble, Director of Diversity, Equity, and Inclusion Camille S. Edwards introduced the community to this year's all-school theme of "Connection."
"We are stepping into the fullness of what a theme around 'connection' – 'making connections' – can and should like in our Quaker school," remarked Ms. Edwards. "The moments when we are all together as a Quaker school are some of the greatest moments where I experience our mission in motion... and I'd invite you to consider how you make connections with others," she urged.
Mr. Stellato echoed with similar thoughts. "To be a friend – and to be a member of this Friends Academy community – is to see and live in the light of those around us, and to be nourished by the light that others see in us," he shared.
That we live in a state of constant change, which can pull "on the threads connecting us as individuals to the community and the community to the individual," gave Quaker-in-Residence Jen Cort pause. However, "the Quaker faith was born not to run from tension, but to walk through and sit next to it," explained Ms. Cort. "Students of Quaker schools and Friends Academy are students of the world, able to reach across divides and remain rooted in relationships. They are the still point in a turning world," she added.
"With so much at stake – for ourselves and those around us," added Mr. Stellato, "we would do well to remember the duty and responsibility we have to and for one another. In turn, what our school offers is nothing less than the opportunity of a lifetime. What more could we ask for?" he said.
Three student speakers, one from each division – Max Wallach '32, Maya Singh '29, and Taylor Fernandez '25 added their voices of welcome and ruminated upon Friends Academy's theme of Connection. "Connecting with others is very important in a Quaker community," noted Maya. "They allow us to find ourselves within our community," added Taylor. "And, they help us create a safe place where we can support and respect each other," reminded Max.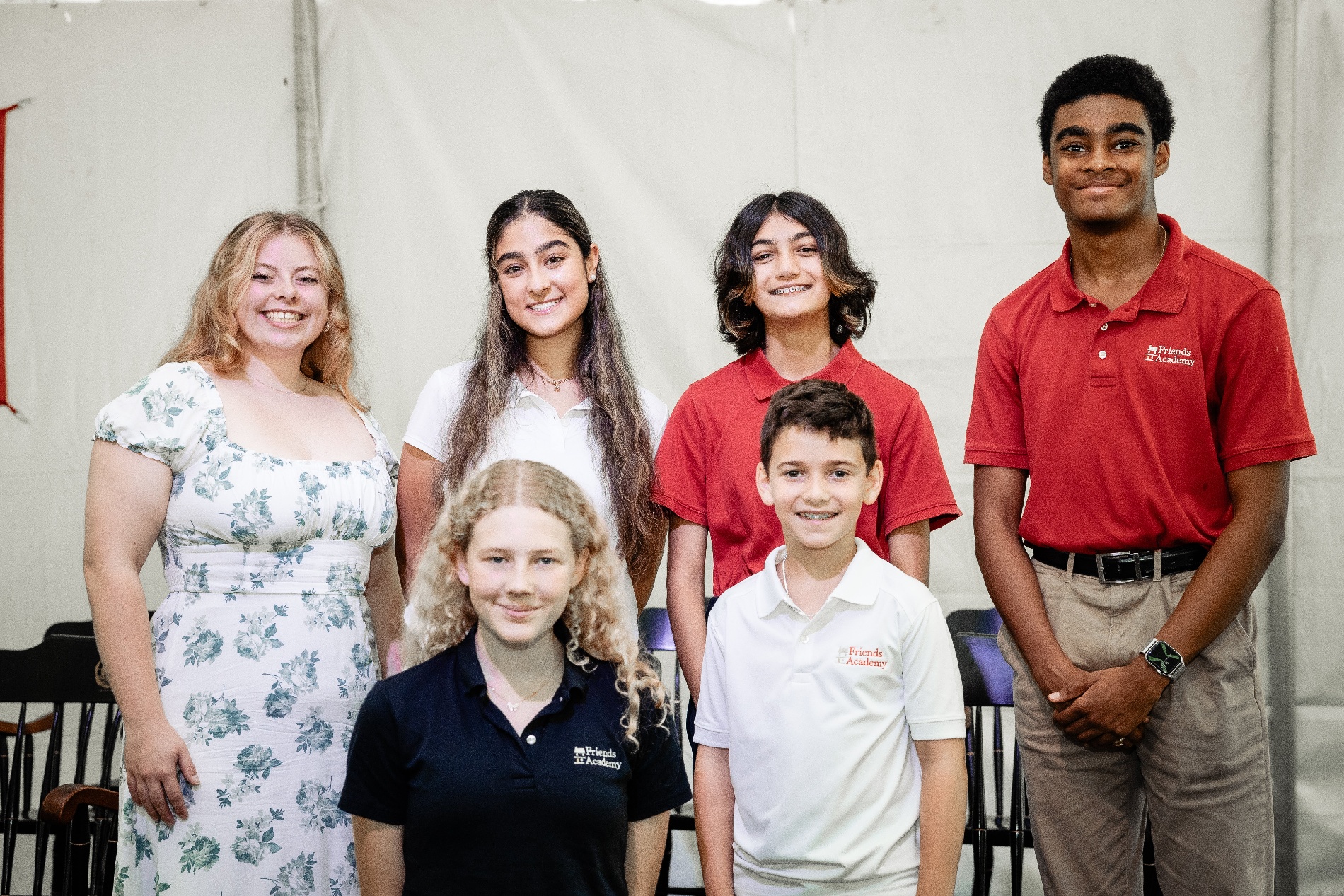 From left, Angelina Miller '22, Elya Rak '24, Maya Singh '29, Taylor Fernandez '25, Charlotte Knight '24 and Max Wallach '32.
Two final musical selections closed out the morning's ceremony, including alumna Angelina Miller '22, who performed a moving rendition of Carol King's "Beautiful" and currently attends The Royal Central School of Speech and Drama in London. Students in Pre-K through Fourth grade, ended Convocation on an endearing note with their chorus of "Fanga Alafia," conducted by Music teacher Linxuan Zhang.
The concept of stillness, so ingrained within Quaker practice, prompted Mr. Stellato to offer closing words from poet W.B. Yeats to those who had gathered:
"We can make our own minds so like still water, that those around us may come to see themselves/more clearly than they ever have, because of our stillness."
Photographs and video by Alvin Caal/Friends Academy
Slider photographs by Margaret Pegno/Friends Academy