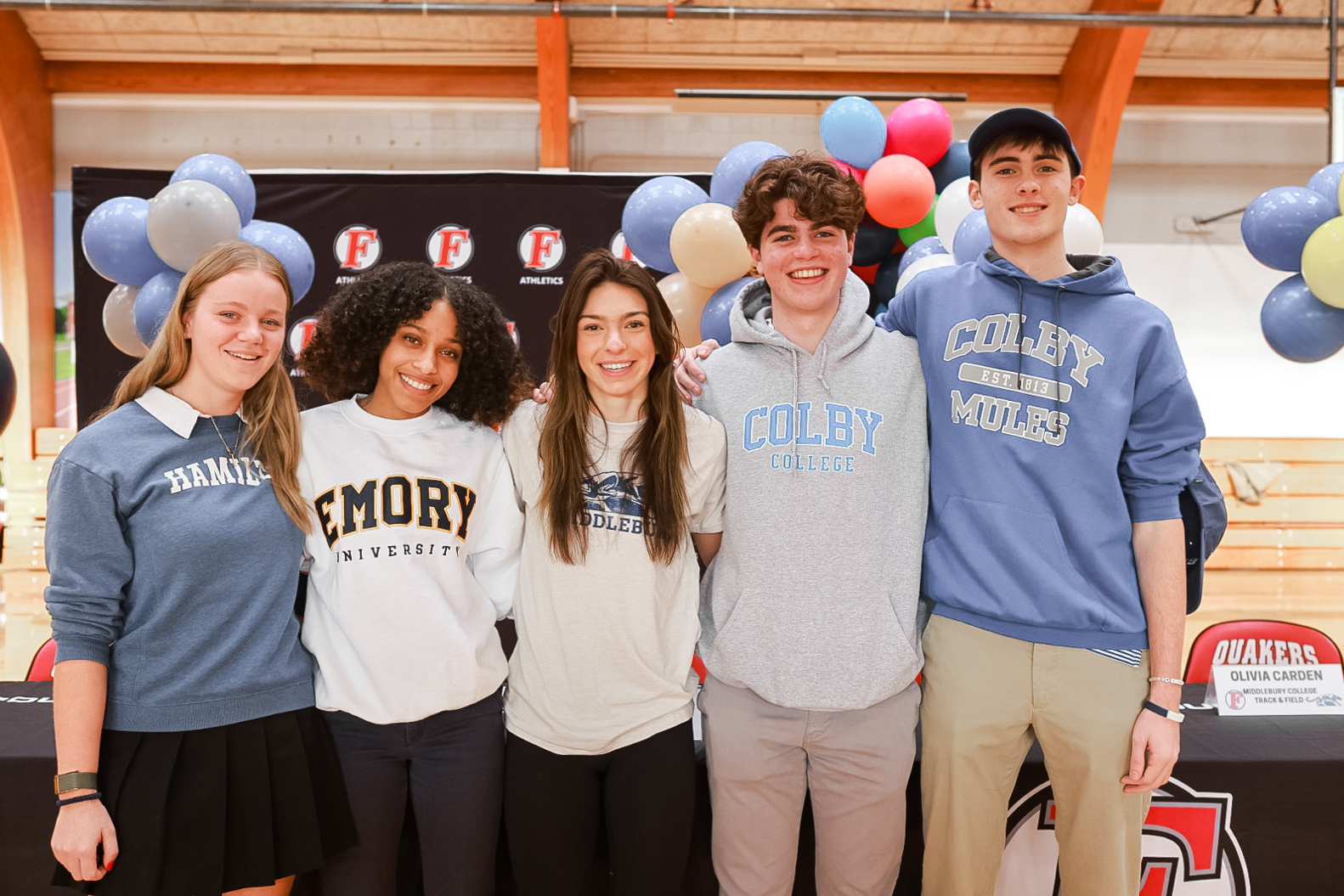 Excitement filled the air as family members, students, and staff all waited to cheer on five student-athletes as they gathered together to sign their National Letter of Intent on Tuesday, Feb. 7th in the Main Gym. Each of the seniors have attended Friends Academy for the entire duration of their high school career, and this year, represent a sizable recruited percentage of the Class of 2021. "On average, 3 to 4% of a graduating class are recruited to compete at the collegiate level," said Director of Athletics, Diana Parente. "This year, we have 12%."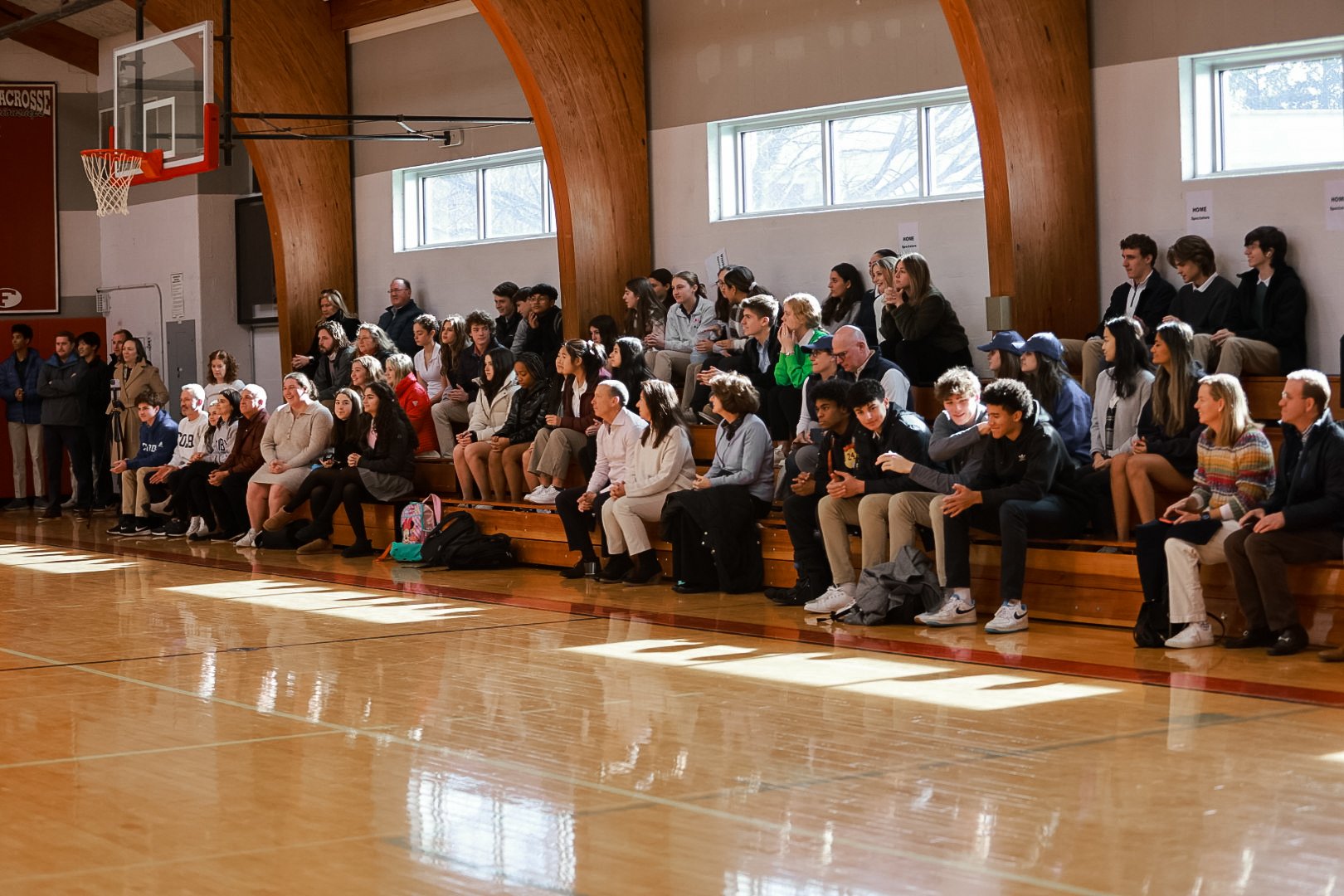 Mrs. Parente invited coaches Louisa Garry and Sara Baldvins to share reflections about each of their athletes, as coaches, advisors, and teachers. Cross Country and Track and Field coach Louisa Garry emoted about her honor to address four of the five athletes.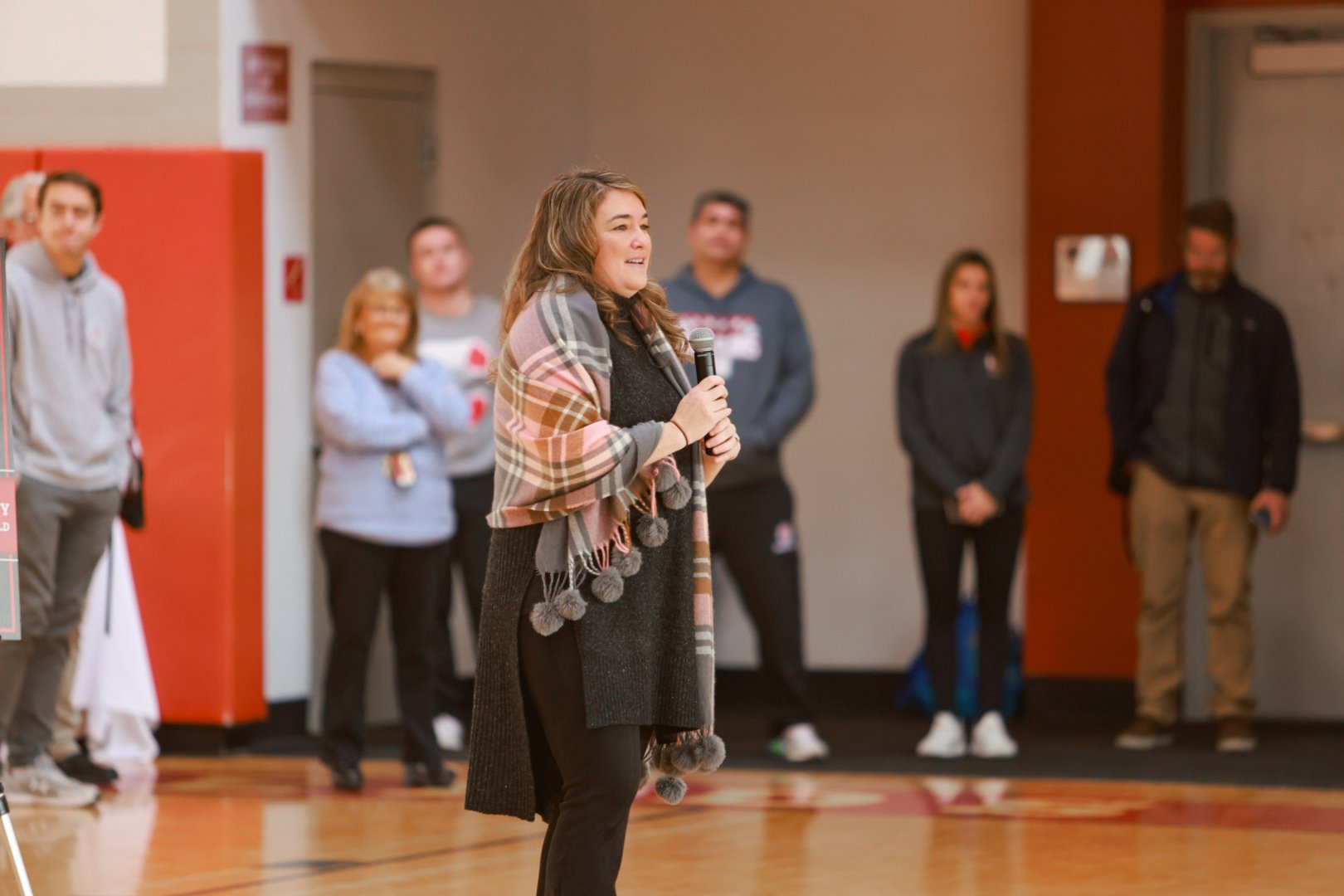 Ben Martin, Colby College – Track and Field
Starting with Ben Martin, Mrs. Garry shared how he has become a natural leader. "Ben is an energetic young man who set goals for himself…always making the underclassmen feel welcome," she said. Apart from Track and Field, Ben has also excelled on the soccer team, earning the Grit award this past fall season. And last spring, Ben was a part of the relay team who helped bring Friends Academy a state championship in the 4 x 4 relay.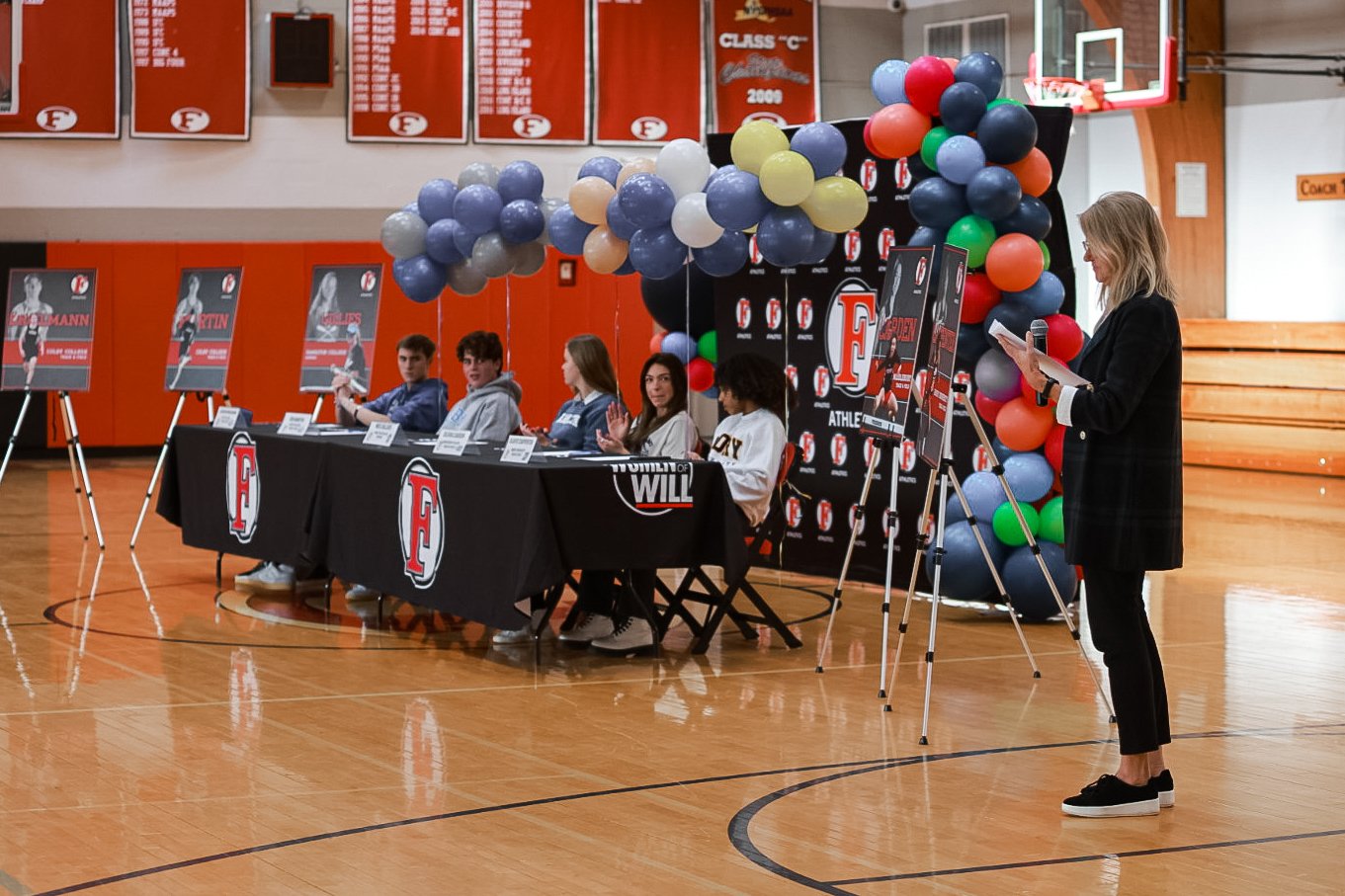 Jackson Brielmann, Colby College – Track and Field
Next up was Jackson Brielmann, who joined the Friends Track and Field team last spring. "Jackson has a strong competitive spirit…[and] is one of the hardest working students, on the field, court, and track," Coach Garry remarked. Jackson was also part of the relay team who helped earn Friends Academy a state championship, running the anchor leg. "He may not always be pretty – he still needs to work on form," she smiled, "But somehow he will always get his body across the line first." Mrs. Garry praised Jackson's work ethic and his ability to always pull through.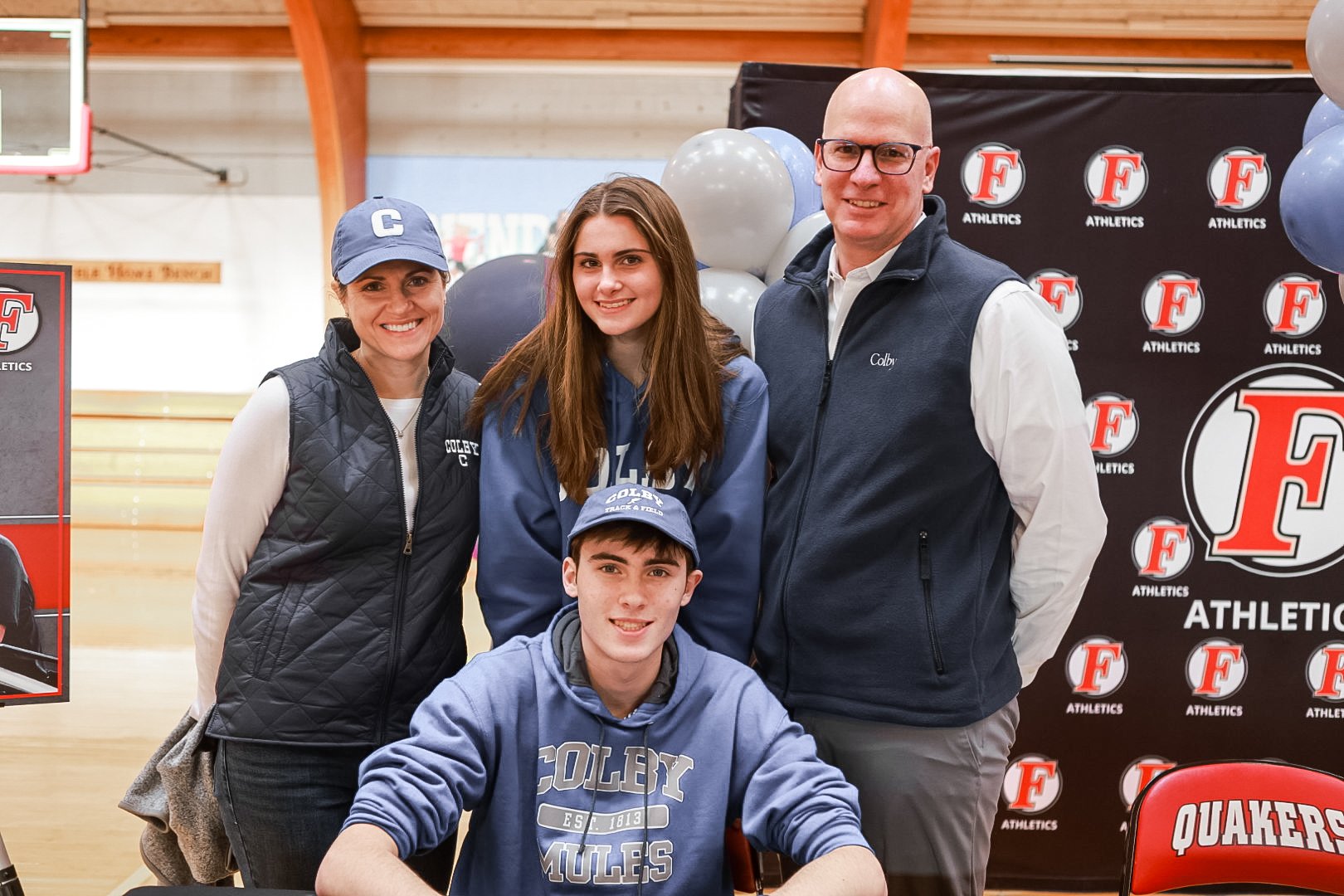 Olivia Carden, Middlebury College – Track and Field
Following Jackson, was Olivia Carden. "Oliva has an interesting running story," Coach Garry began. "Most runners start small and work their way up to a bigger distance, [Olivia did the opposite, starting] with distance and then worked her way down to shorter distances." Currently, Olivia runs nearly any distance from the 50m to a 5k. With a competitive spirit and high work ethic, this season Olivia earned All Conference champ in the 55m, Conference Champ in the 55m High Hurdles, receiving a national qualifying time. She was also a part of the team that broke the 35-year-old school record.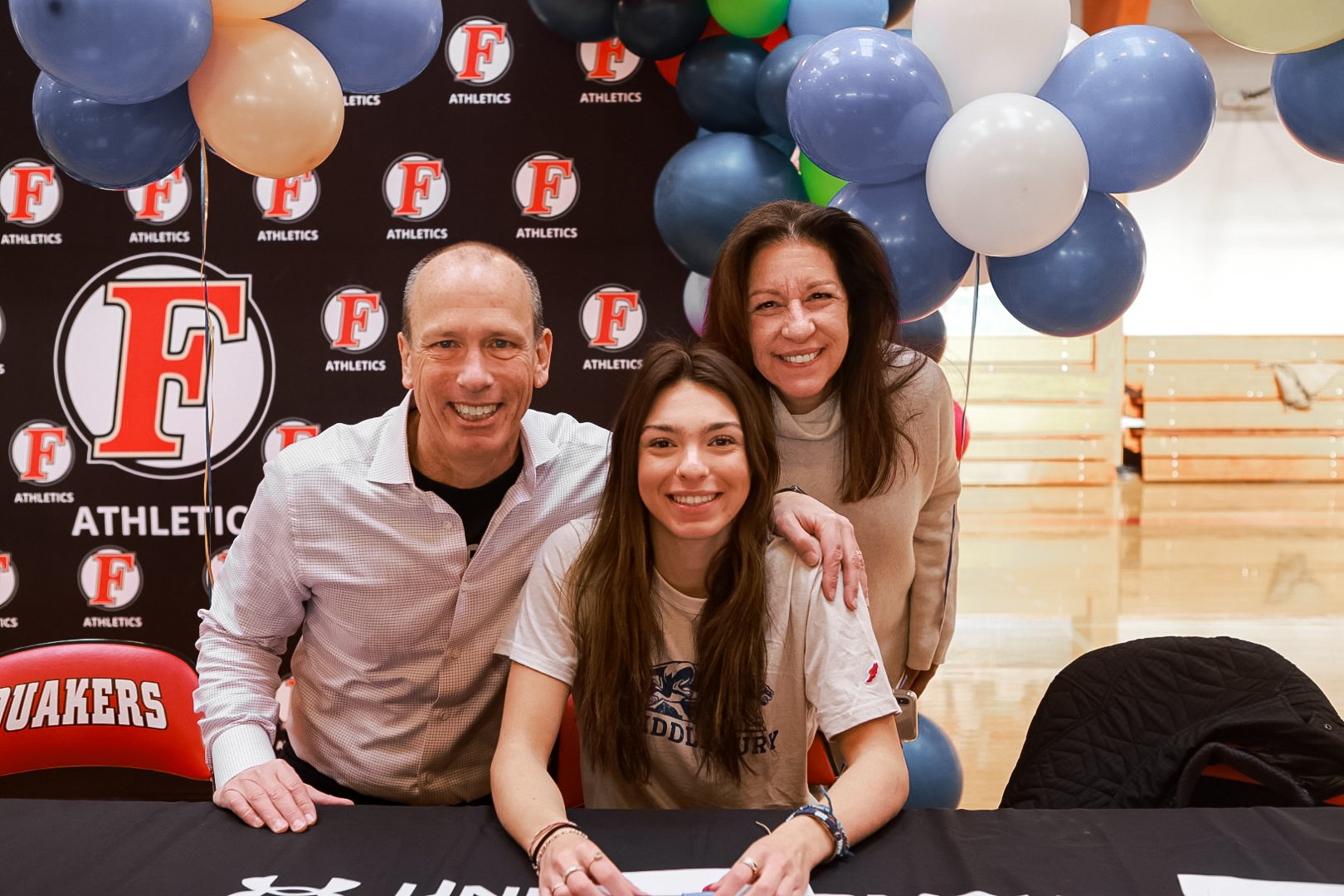 Dijaye Carpenter, Emory College – Track and Field
The last of the four Track students signing was Dijaye Carpenter. As a natural leader, Dijaye is always "pushing classmates, teammates, and teachers in a respectful way," shared Mrs. Garry. Being on the cross country and track and field team all four years, Mrs. Garry praised her "talent as a runner, great work ethic, and desire to improve and contribute to the team." Alongside Olivia, Dijaye was also a part of the team that helped break the 35-year-old record. So far this season, Dijaye has received 2nd All c=County conference champ in the Long Jump and Conference Champ in the Triple Jump.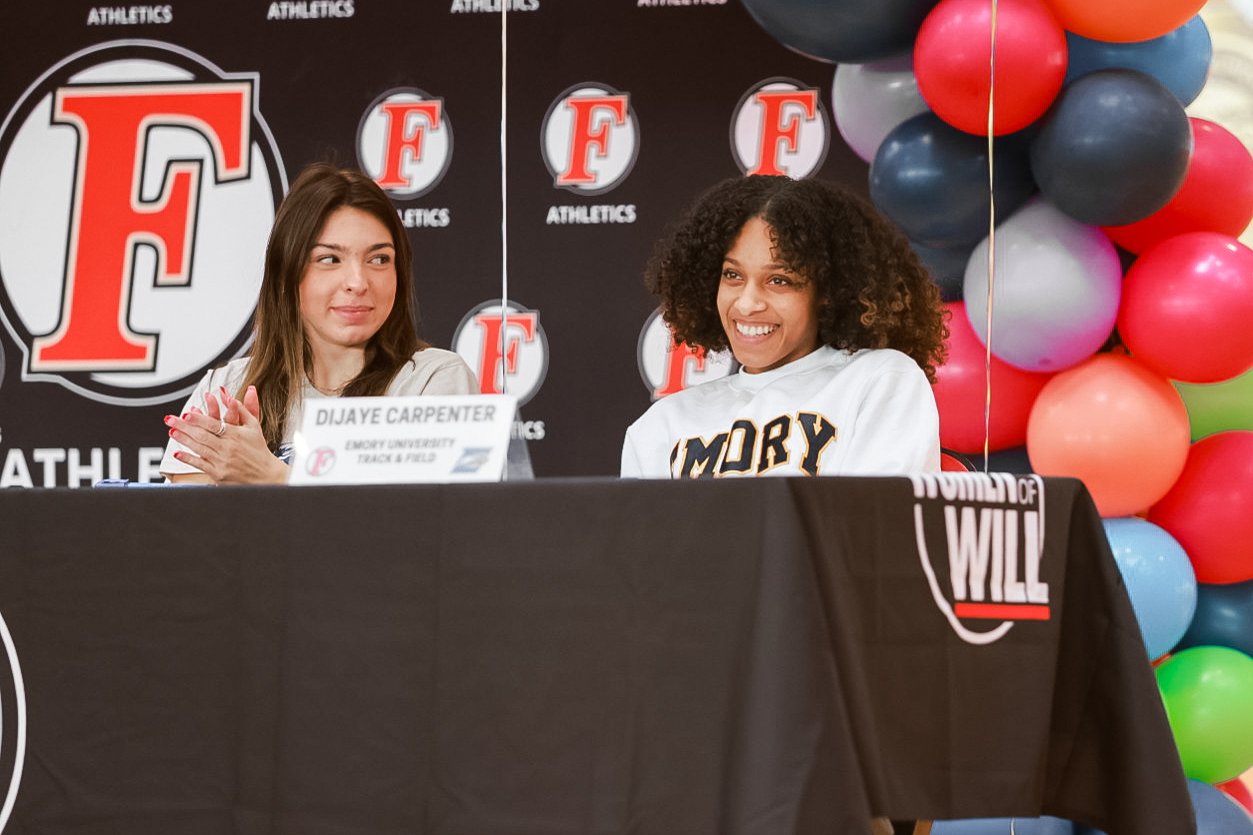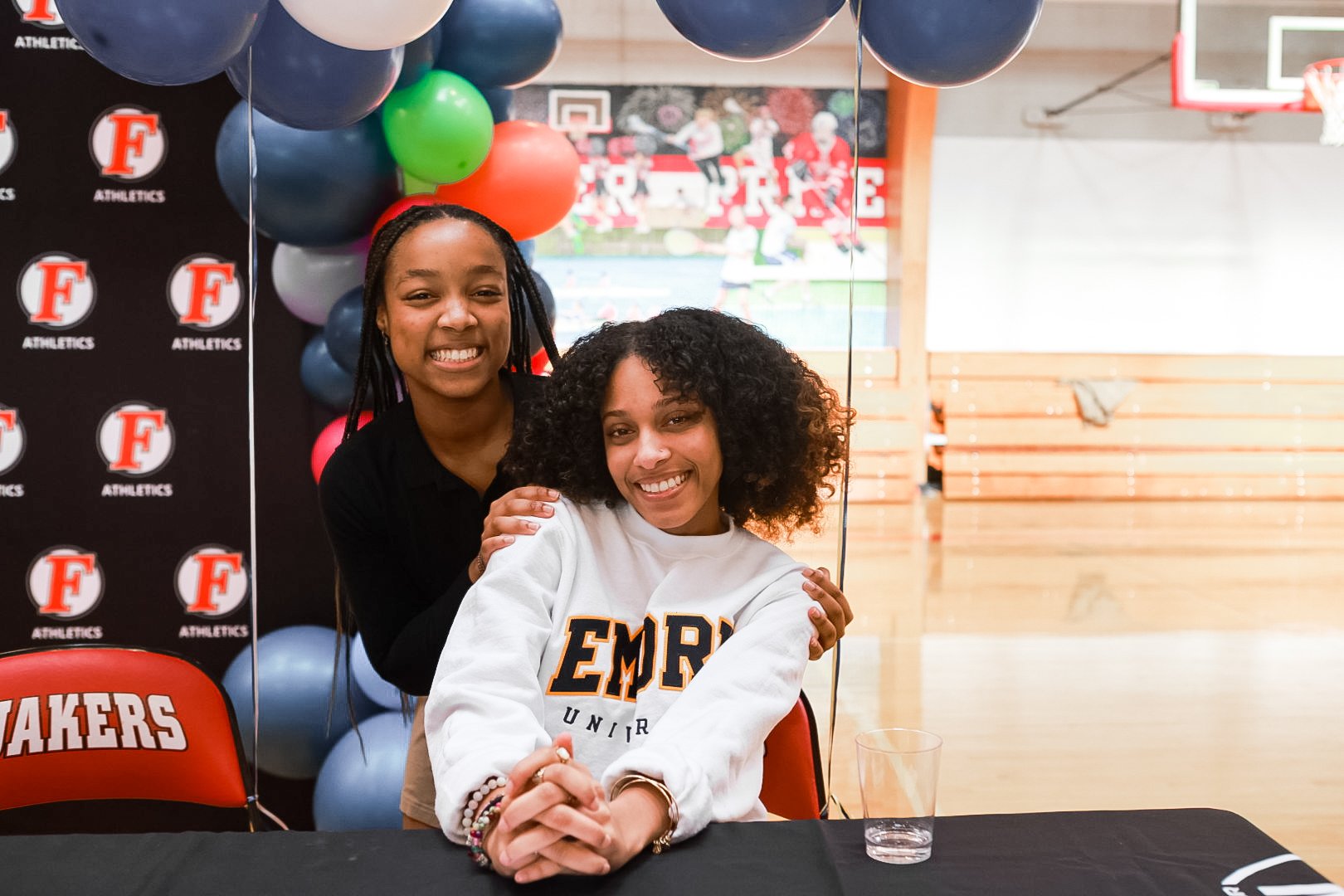 Meg Gillies, Hamilton College – Rowing
Crew coach Sara Baldvins extolled senior Meg Gillies' characteristics of dependability and steadfast. Since rowing is a year-round sport, there is really no off-season, Coach Baldvins shared. "You are in the water, regardless of the temperature outside and even the water temperature! Sticking with the team throughout all the changes over the past four years, Mrs. Baldvins remarked, "Meg is the engine room – the fastest girl on the Women's team and her impact is felt throughout the boat." Impressed by Meg's continuing maturity as an athlete, Coach Baldvins shared that Meg has learned to not let outside distractions affect her performance on the water. "This, among many reasons, is one of the reasons I know that Meg is prepared to move on to the collegiate level."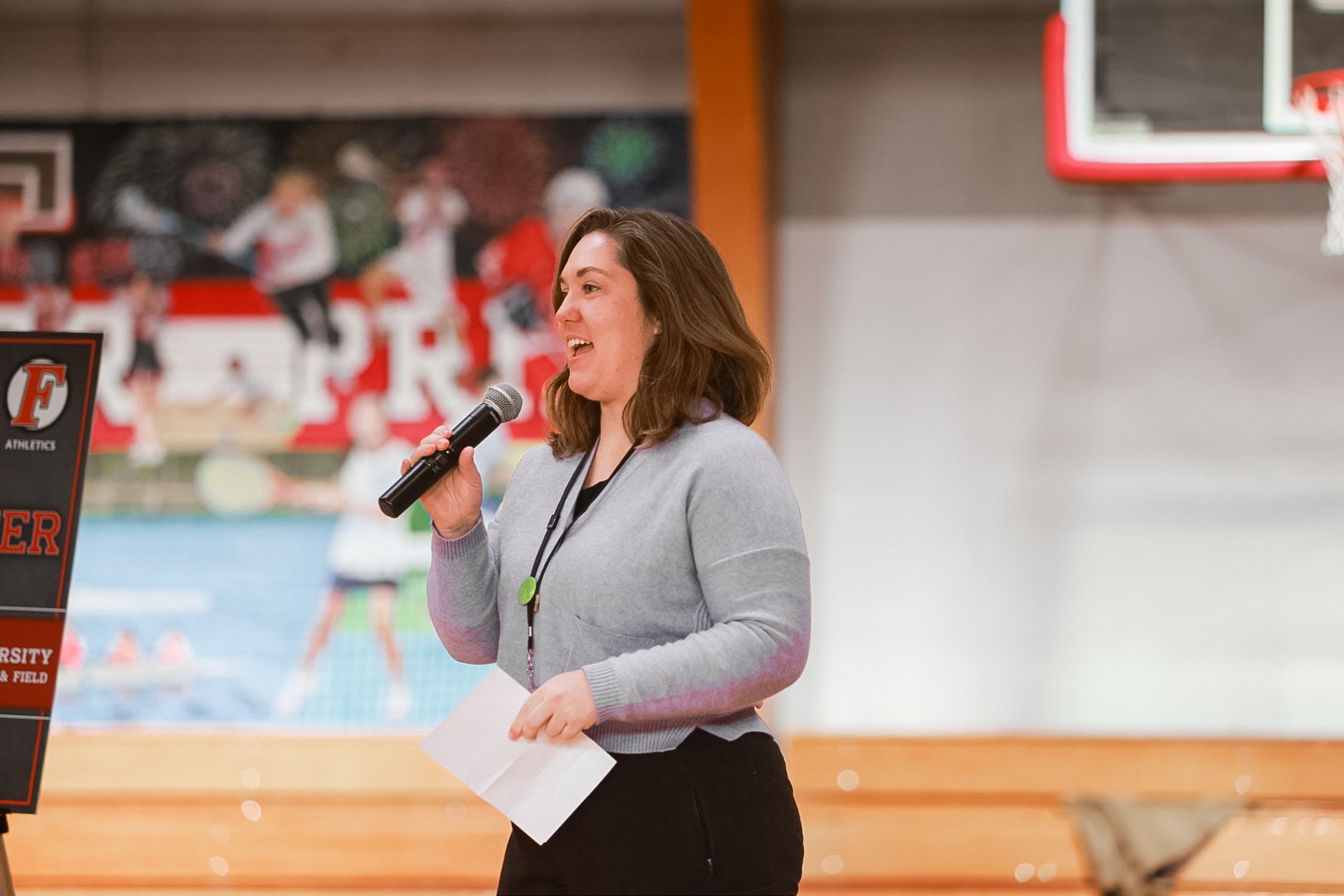 Missed the event? Click here to watch it via Instagram!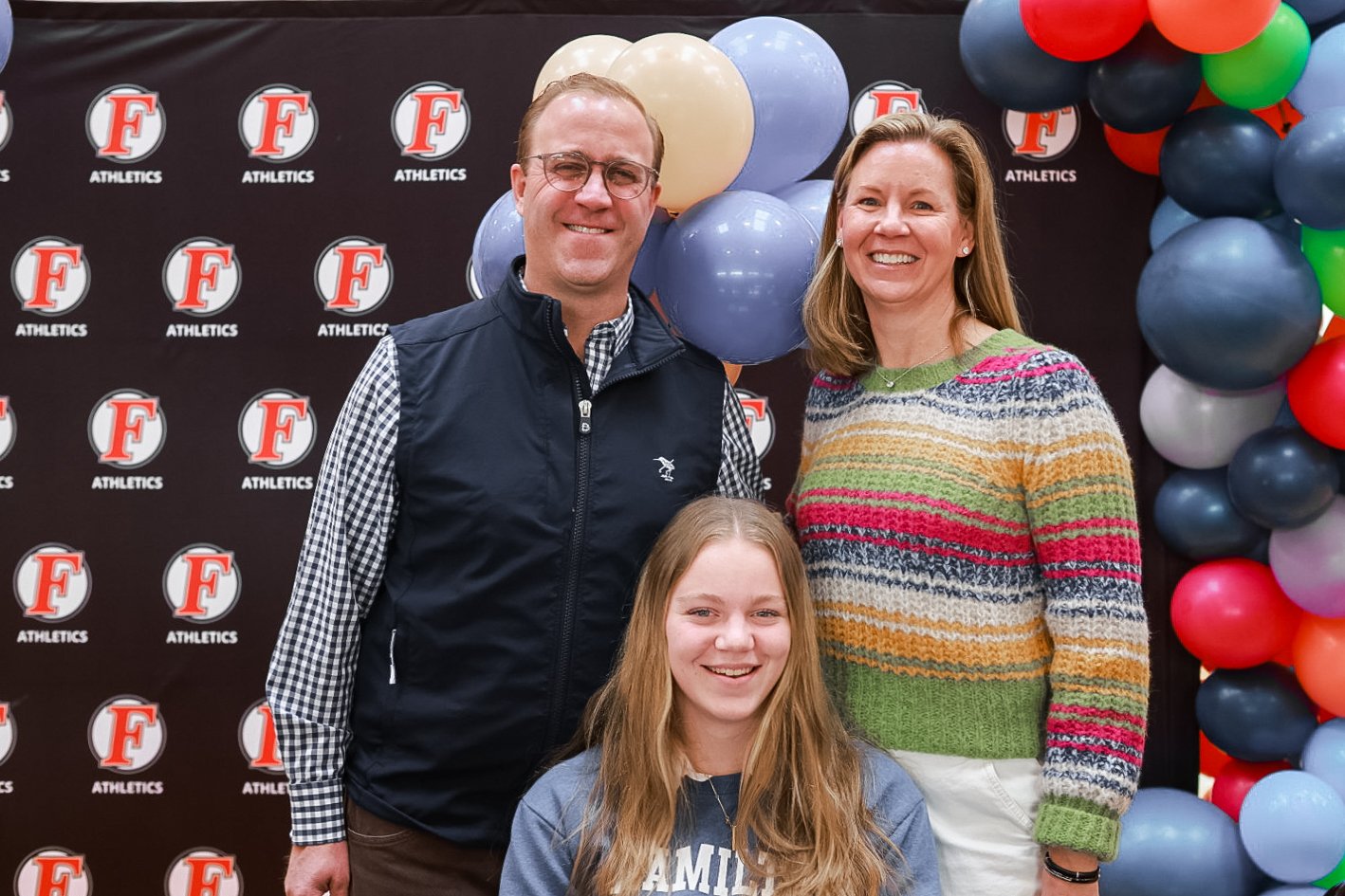 Photography by Alvin Caal/Friends Academy